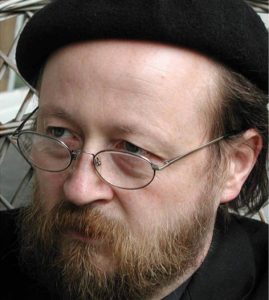 The following translation of Hermann Detering's review of Bart Ehrman's Did Jesus Exist? has been sent to me and I am thrilled to be able to make it available on this blog. It is over 7000 words, too long, I think, for a blog post, so I am posting here just the first part of the review. The rest to follow. I have modified the translation in a few places to make it flow easier and to iron out some obscurities. I have also replaced the English translation of Detering's German language quotes of Ehrman's words with the original English versions. All hyperlinks and notes in the "*see also" inset box are my additions, as also are the images. Endnotes are Detering's, of course, and I have relocated these in other inset boxes, too.
Prof. "Errorman" and the non-Christian sources
1. Bart Ehrman's book, Did Jesus exist?
The introduction to the book ushers us into the following scene: Bart D. Ehrman, PhD, Distinguished Professor at the University of North Carolina at Chapel Hill, actually wanted to write a completely different, more important work, namely about how a Jewish end-time prophet named Jesus became a divine being or God. But then he was startled by some emails. He suddenly found himself taken up by a scene that was apparently unknown to him until then: Mythicists who appealed to his authority for their claim that there had been no Jesus! Reason enough for a conscientious "New Testament scholar" to take a closer look at the matter.
Although Ehrman had by then read "thousands of books about Jesus in English and other European languages, the New Testament and early Christianity," he was "like most colleagues completely unaware of the extent of sceptical literature [on the subject]" (p. 2). For a professor of theology and biblical scholar who should be up to date and in daily conversation with his students, this long phase of ignorance is astonishing enough, especially since the question of the historical existence of the man from Nazareth must have occurred again and again in the mass of Jesus literature he read. For example, in The Quest of the Historical Jesus by Albert Schweitzer, often quoted by Ehrman, in which this very subject is dealt with on many hundreds of book pages. This book and others should at least have curbed Ehrman's boundless surprise and shown him that the question "Did Jesus exist?" is not an entirely fanciful one, and that New Testament research has been periodically occupied with it. Moreover, it is not just since yesterday that the question has been on the agenda of those American "humanists" who read his books and with whom, according to his own statement, he has been in contact for a long time.
However, not everything Ehrman writes should be taken quite so literally. The reader of his book, which is written in a casual conversational tone, has to get used to this and other contradictions. The "casual conversational tone" is not meant as hidden criticism: one should be grateful for the good readability, especially since it saves German readers with "mediocre" English skills a lot of reference work in the dictionary. The fact that the casual presentation and simple language always turns into pure superficiality is, of course, the other side of the coin that we still have to get to grips with.
Instead of immediately shining with new perspectives and objective examination of the mythicists' theses, Ehrman deals with the mythicists and – again and again with pleasure – with himself. Ehrman about Ehrman – a broad field… The professor strives for clear demarcation:
There — the "breed" (Ehrman in an interview*) of mythicists, a shadowy group that shies away from the light, concocting dark conspiracy theories in the worldwide channels of the network. With a few exceptions, neither academic degrees nor titles legitimize them to make a meaningful contribution to the difficult historical and religious-historical problems with which Professor Ehrman and his peers have struggled for decades at the forefront of science. In addition, loud, brash and aggressive in appearance, enemies of religion, atheists, and thrown from cliff to cliff by half-knowledge, stupidity and error. Avanti Dilettanti!
Here — the "New Testament scholar", in the full splendour of his academic titles, honours and prizes, among his numerous students, whose questions he answers conscientiously and competently, proven author of numerous non-fiction books, who as such receives tons of e-mails ("Like most authors, I receive tons of e-mail", p. 94) (apropos, how do you actually weigh e-mails?). A textbook example of biblical scholarship and theology as he is – imbued with his subject matter, which includes reading the Bible by him daily in the original Greek or Hebrew; who has been studying and teaching for over 35 years and "I don't plan to stop any time soon" (p. 36). Yes, why should he? Does anyone want to stop him? The mythicists for instance?!
And yet no apologist! Ehrman wants to be understood as a pure historian, who is only interested in historical evidence. "I am not a Christian, and I have no interest in promoting any Christian cause or agenda. I am an agnostic with atheist leanings and my life and views would be approximately the same whether or not Jesus existed… The answer to the question about the historical existence of Jesus will not make me more or less happy, content, hopeful, likable, rich, famous, or immortal" (p. 5f). Continue reading "Prof. "Errorman" and the non-Christian sources — Part 1 of Hermann Detering's review"