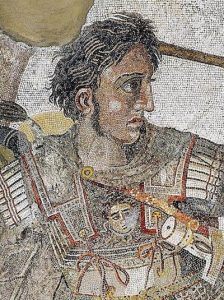 While looking over my notes from the past few years, I came across something I wrote to Valerie Tarico. She had asked Neil and me to take a look at an extended version of her article, "Why Is the Bible So Poorly Written" (which is, unfortunately, behind a paywall).
In the draft we received, she quoted Ken Jacobsen, a graduate of Princeton Seminary, from a comment he made at Quora. Here's what he said.
Koine Greek is pidgin Greek… developed by Alexander's armies to communicate, not to impress.  It's a step down from Classical Greek.
That statement is wrong in at least two respects. Below was my response to Valerie, edited slightly.
First, I would never call Koine a pidgin. Jacobsen should have called it a lingua franca. Koine Greek is simplified Attic Greek, where a great deal of case collapse, pronunciation collapse, smoothing, etc., has occurred, which makes it easier for foreign speakers to learn. (The process is often referred to as "dialect leveling.") You already know the history of its spread throughout the east.
The key point here is that Koine actually was a primary and a complete language, often used as a trade language.
On the other hand — "A pidgin is a language with no native speakers: it is no one's first language but a contact language." (Ronald Wardhaugh) Ref.: An Introduction to Sociolinguistics (p. 57 ff):
The reason for the roughness of Mark's gospel and for the dumpster fire of John's Revelation is not an intrinsic problem with Koine Greek, but with the abilities of those writers for whom Greek may have been a second (or even a third) language. Jacobsen calls it a "step down from Classical Greek," which is more of an aesthetic judgment call than a useful objective statement. After all, many writers from that period had no trouble at all expressing themselves in it — e.g., Polybius and Plutarch.
From Wardhaugh again, p. 55 (emphasis mine):
A lingua franca can be spoken in a variety of ways. Although both Greek koiné and Vulgar Latin served at different times as lingua francas in the Ancient World, neither was a homogeneous entity. Not only were they spoken differently in different places, but individual speakers varied widely in their ability to use the languages. English serves today as a lingua franca in many parts of the world: for some speakers it is a native language, for others a second language, and for still others a foreign language.
Unfortunately, too many NT scholars learn Greek from the inside out. They start with Koine, and they're lucky if they even dabble in the more ancient forms. They learn from their instructors that classical Greek was "more expressive" or "more elegant." This is nonsense. All languages used by humans serve the needs of their speakers. Is Elizabethan English "better" than Modern English? Is Chaucer's English "a step up from Modern English"? Of course not.
Beware: Many Biblical scholars don't know what they don't know.
The following two tabs change content below.
Tim Widowfield
Tim is a retired vagabond who lives with his wife and multiple cats in a 20-year-old motor home. To read more about Tim, see our
About page.
Latest posts by Tim Widowfield (see all)
---
If you enjoyed this post, please consider donating to Vridar. Thanks!
---