The previous post concluded with
Thus I think we need to look between 70 and 135 both for the author of the Vision and for the one who projected it into Paul's letters. We are not necessarily looking for two people. There is no reason why one and the same person could not have done both tasks.
Continuing . . . .
…
The Best Candidate
To my mind easily the best candidate for both tasks is a man whose name is variously rendered as Saturnilus, Saturninus, or Satornilos. A Latin mistranslation of the name in Irenaeus' Against Heresies is believed to be the source of the confusion. The original Greek version of that work is not extant, so there is presently no way to be sure. In this post I will use the first rendering: Saturnilus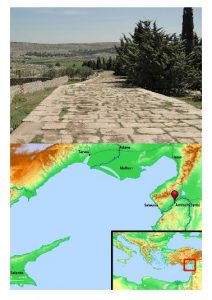 The information available on this man consists primarily of two paragraphs in the aforementioned Against Heresies (1.24.1-2). Though meager, I think it is sufficient to establish him as our lead candidate. He lived in Syrian Antioch and founded a Christian community (or communities) sometime within our target period of 70 to 135 CE. Prior to becoming a Christian he was a Simonian. Irenaeus says he was a disciple of Menander, Simon of Samaria's successor. At some point, however, Saturnilus apparently switched his allegiance. Although Simon and Menander had put themselves forward as Savior figures, it is Jesus who is named as Savior in the teaching of Saturnilus. Alfred Loisy puts it this way:
In many respects, therefore, he (Saturnilus) was a forerunner of Marcion. Though much indebted to Simon and Menander, he, unlike them, does not set himself up as the Saviour sent from on high, but attributes that role to Jesus. Consequently, heretic though he be, we cannot deny him the qualification of Christian, while, from the Christian point of view, Simon and Menander qualify rather for Antichrists. (La Naissance du Christianisme, ET: The Birth of the Christian Religion, translation by L.P. Jacks, University Books, 1962, p. 302).
Justin Martyr includes Saturnilians among those who consider themselves Christians, though he himself views them as "atheists, impious, unrighteous, and sinful, and confessors of Jesus in name only, instead of worshippers of him" (Dialogue with Trypho, 35). Justin's doctrinal objection is that "some in one way, others in another, teach to blaspheme the Maker of all things, and Christ, who was foretold by Him as coming, and the God of Abraham, and of Isaac, and of Jacob." According to Irenaeus, Saturnilus believed God to be "one Father unknown to all," and that the God of the Jews was in reality just one of the lower angels, one of the seven who made the world. Such beliefs are not explicitly present in the Vision of Isaiah but may be implicit. God there is called Father but never maker or creator of the world. In fact, the world is "alien" (Asc. Is. 6;9), and so is the body (Asc. Is. 8:14), and so are the inhabitants of the world (Asc. Is. 9:1). True, the angels of the world are not referred to as its makers either, but they appear to have been in control of it from the beginning and are not afraid to say "We alone, and apart from us no one" (Asc. Is. 10:13). Regarding Jesus, Saturnilus was a docetist, teaching that he only appeared to be a real human being (Against Heresies 1.24.2). As we have already seen, the Jesus of the Vision's "pocket gospel" was docetic.
Saturnilus' Simonian past, however, provides us with another connection to the Vision of Isaiah. The main storyline of that writing is an ancient one, going back, as Richard Carrier points out in his book On the Historicity of Jesus (pp. 45-47), to the Descent of Inanna. It is a storyline that has been adapted and adopted many times in history, including by Simon of Samaria and Menander. The points of contact are obvious in what Hippolytus says about Simon's teaching:
For as the angels were mismanaging the world, owing to love of power, he (Simon) had come to set things straight, and had descended under a changed form, likening himself to the Principalities and Powers through whom he passed, so that among men he appeared as a man, though he was not a man, and was thought to have suffered in Judaea, though he had not suffered. – Refutation of All Heresies, 6, 19.
And this from Epiphanius:
But in each heaven I changed my form," says he (Simon), "in accordance with the form of those who were in each heaven, that I might escape the notice of my angelic powers and come down to the Thought, who is none other than her who is also called Prunikos and Holy Spirit, through whom I created the angels, while the angels created the world and men. – Panarion, 2.2
The Vision of Isaiah could be yet another adaptation — this time a Christian one — of an earlier writing, and this time done by someone who was already familiar with such things — a former Simonian. God knows it has enough rough edges to justify seeing it as a reworked text. So I would slightly modify Simone Petrement's suggestion that "it may have been written by a Simonian, around the time of Menander" (A Separate God: The Christian Origins of Gnosticism, p. 326). Make that: by an ex-Simonian named Saturnilus.
…
. . . at a minimum, the Saturnilians are addressing the same kind of issues we see in addressed in Paul's letters. At a maximum, . . . 1 Corinthians could be providing us with a window . . . on the Saturnilian church sometime between 70 and 135 CE.
A Pauline Saturnilus
Having pointed out some possible connections between Saturnilus and the Vision of Isaiah, I want to now make a few observations regarding his brand of Christianity. Irenaeus doesn't say anything that expressly ties him to Pauline Christianity. Irenaeus does know, however, of Cerdo, who is the earliest figure expressly associated with a collection of Paul's letters. And Epiphanius says Cerdo, who "took his cue from Simon and Saturnilus" (Panarion, 41,1,1) immigrated from Syria to Rome in the time of Bishop Hyginus. This would put Cerdo first in the ambit of Antioch, possibly while Saturnilus was still alive. Then it next puts him at Rome shortly before Marcion's own arrival there. There is a definite family resemblance, say the early heresy-hunters, between Simon, Menander, Saturnilus, Cerdo and finally the ultimate Paulinist, Marcion. For this reason Saturnilus' Christianity is believed to have been of the Paulinist type.
Indeed when we examine closely the bits of information Irenaeus gives us about Saturnilian Christianity we find material that matches up reasonably well with issues treated in Paul's letters. For instance, Ireanaeus says that many Saturnilians abstain from eating meat. That means that some didn't. And the same could be said about Pauline Christians. Some abstained from meat. In Romans 14 they are called "the weak." The ones who didn't abstain are called "the strong." The situation is a bit fuzzy in Romans and so many commentators advise that we should turn to 1 Corinthians for clarification. There the meat problem is clearly related to its being offered first to the gods. Some Corinthian Christians had no problem with this since, they argued, the gods of the pagans don't have any real existence anyway. But others did have a problem, for they believed that some kind of communion with demons was established by eating the meat. It is almost as if we are sitting in on a church meeting and getting a number of viewpoints. Were all the viewpoints Paul's? Or are we getting the viewpoints of Spirit-filled Christian prophets who are channeling Paul? Hard to say. But this may be the context in which we should understand Saturnilian abstention from meat.
Another example: According to Irenaeus, Saturnilians say that marriage and procreation is from Satan. That belief is not as startling as it first seems. Saturnilians believed that the world was made by seven lower angels. So in attributing marriage and procreation to Satan they are merely assigning to one of those angels the words of Genesis: "Be fruitful and multiply." Satan appears to be their name for the world-making angel who went on to become the God of the Jews. (Satan means "adversary" and according to Basilides, another disciple of Menander, the God of the Jews was an adversary of the other world-making angels).
In any case, marriage would be downgraded by assigning it to any of the world-makers. And that seems to be the real issue here. Irenaeus doesn't say that Saturnilians reject marriage. He says they attributed it to Satan. So, in other words, they rated celibacy higher. And again, the same is true in Pauline Christianity. In chapter 7 of 1 Corinthians Paul is made to say that he wishes everyone was celibate like him. As a concession he allows the married to have sexual intercourse "so that Satan will not tempt you because of your lack of self-control" (1 Cor. 7:5). And again, was it Paul who wrote that? Or a Spirit-filled Christian prophet speaking in his name?
Another example: Irenaeus says Saturnilus taught that the angels made two kinds of people: good and evil. But Paul too seems to believe in two kinds of people. In Romans 9 he speaks of "vessels of wrath made for destruction" and of "vessels of mercy" (Rom. 9:22-23). By means of the first God desires "to show his wrath and make known his power;" by means of the second He "makes known the riches of his glory." Man has no right to protest, for "who are you, a man, to answer back to God? Will what is molded say to its molder, 'Why have you made me thus?'" (Rom. 9:20)
So it seems to me that, at a minimum, the Saturnilians are addressing the same kind of issues we see addressed in Paul's letters. At a maximum, many parts of 1 Corinthians could be providing us with a window not on the church at Corinth in the 50s, but on the Saturnilian church sometime between 70 and 135 CE.
…
Continuing….
The following two tabs change content below.
Latest posts by Roger Parvus (see all)
---
If you enjoyed this post, please consider donating to Vridar. Thanks!
---