The previous post concluded with
Thus I think we need to look between 70 and 135 both for the author of the Vision and for the one who projected it into Paul's letters. We are not necessarily looking for two people. There is no reason why one and the same person could not have done both tasks.
Continuing . . . .
…
The Best Candidate
To my mind easily the best candidate for both tasks is a man whose name is variously rendered as Saturnilus, Saturninus, or Satornilos. A Latin mistranslation of the name in Irenaeus' Against Heresies is believed to be the source of the confusion. The original Greek version of that work is not extant, so there is presently no way to be sure. In this post I will use the first rendering: Saturnilus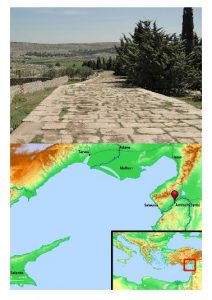 The information available on this man consists primarily of two paragraphs in the aforementioned Against Heresies (1.24.1-2). Though meager, I think it is sufficient to establish him as our lead candidate. He lived in Syrian Antioch and founded a Christian community (or communities) sometime within our target period of 70 to 135 CE. Prior to becoming a Christian he was a Simonian. Irenaeus says he was a disciple of Menander, Simon of Samaria's successor. At some point, however, Saturnilus apparently switched his allegiance. Although Simon and Menander had put themselves forward as Savior figures, it is Jesus who is named as Savior in the teaching of Saturnilus. Alfred Loisy puts it this way:
In many respects, therefore, he (Saturnilus) was a forerunner of Marcion. Though much indebted to Simon and Menander, he, unlike them, does not set himself up as the Saviour sent from on high, but attributes that role to Jesus. Consequently, heretic though he be, we cannot deny him the qualification of Christian, while, from the Christian point of view, Simon and Menander qualify rather for Antichrists. (La Naissance du Christianisme, ET: The Birth of the Christian Religion, translation by L.P. Jacks, University Books, 1962, p. 302).
Justin Martyr includes Saturnilians among those who consider themselves Christians, though he himself views them as "atheists, impious, unrighteous, and sinful, and confessors of Jesus in name only, instead of worshippers of him" (Dialogue with Trypho, 35). Justin's doctrinal objection is that "some in one way, others in another, teach to blaspheme the Maker of all things, and Christ, who was foretold by Him as coming, and the God of Abraham, and of Isaac, and of Jacob." According to Irenaeus, Saturnilus believed God to be "one Father unknown to all," and that the God of the Jews was in reality just one of the lower angels, one of the seven who made the world. Such beliefs are not explicitly present in the Vision of Isaiah but may be implicit. God there is called Father but never maker or creator of the world. In fact, the world is "alien" (Asc. Is. 6;9), and so is the body (Asc. Is. 8:14), and so are the inhabitants of the world (Asc. Is. 9:1). True, the angels of the world are not referred to as its makers either, but they appear to have been in control of it from the beginning and are not afraid to say "We alone, and apart from us no one" (Asc. Is. 10:13). Regarding Jesus, Saturnilus was a docetist, teaching that he only appeared to be a real human being (Against Heresies 1.24.2). As we have already seen, the Jesus of the Vision's "pocket gospel" was docetic.
Saturnilus' Simonian past, however, provides us with another connection to the Vision of Isaiah. The main storyline of that writing is an ancient one, going back, as Richard Carrier points out in his book On the Historicity of Jesus (pp. 45-47), to the Descent of Inanna. It is a storyline that has been adapted and adopted many times in history, including by Simon of Samaria and Menander. The points of contact are obvious in what Hippolytus says about Simon's teaching: Continue reading "Revising the Series "A Simonian Origin for Christianity", Part 2″