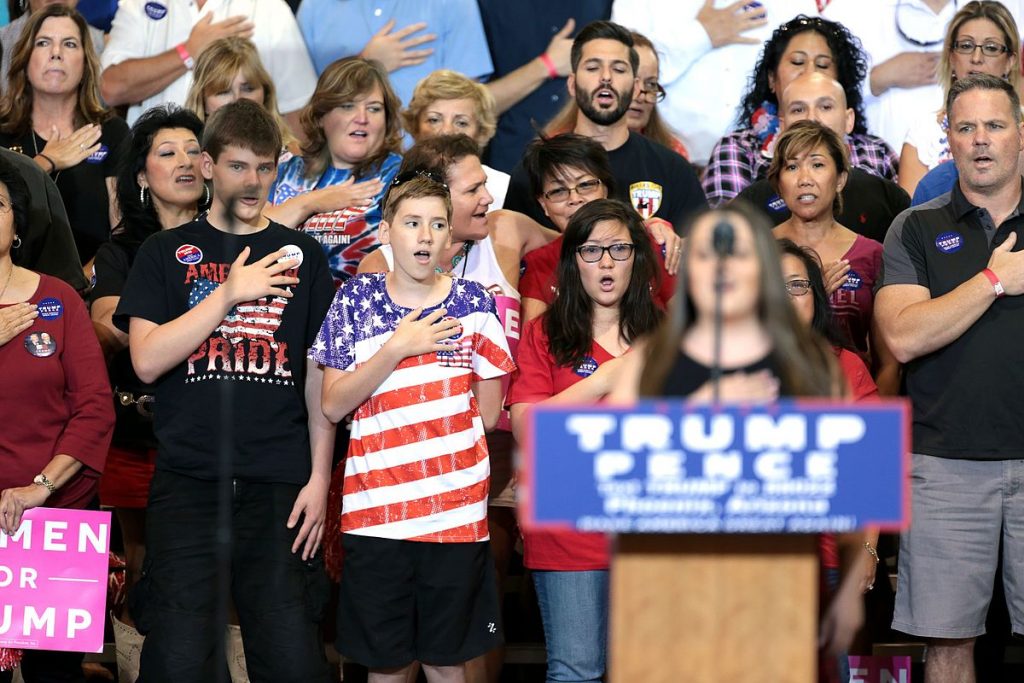 As many readers know I was a member of a religious cult for too many years in a former life and have since delved into some of the specialist literature by psychologists, sociologists and historians to help me reflect on and understand that experience.
I have mentioned before how fascinated I was when once watching a TV interview with several former members of the Hitler Youth and how some of their accounts of their experiences in that movement echoed so very clearly my own experiences in a religious cult. More recently I have posted on certain strong similarities in the radicalization processes that draw people into radical extremist groups, in particular Islamists, and the gradual "conversion processes" of cult members.
Others have made similar comparisons between the Trump phenomenon and cults. I think there may be something to these comparisons.
The Leader
One of the more striking points in common is the devotion to a charismatic leader. Behaviour that in other persons would normally mean their condemnation and ostracism from society is forgiven and excused in the cult's leader. Followers will even draw attention to those flaws to "prove" they do not "idolize" the man but "see him warts and all" and are therefore clear and rational in deciding to give him their loyalty. But that is an illusion. We know it is an illusion when we compare the process with the way religious cults will justify the most corrupt and hypocritical behaviour of their leaders by pointing to how God so loved great sinners like King David. Crimes, cruelty, hypocrisy, outright dishonesty are excused. Sometimes flatly denied even despite the clear evidence before everyone's eyes.
The leader is admired for his "strength". Such "strength" is contrasted with all who have gone before and all other "would-be leaders" he opposes today. Followers have lost their ability to discern the difference between "strength" per se and bigotry, intolerance and wilful ignorance. Indeed, those who speak up for compassion, for understanding, for tolerance and genuine democratic values are smeared as weak, fifth-columnists, subversives, wreckers of society and all that is good and pure.
Victimhood
And that leads us to the notion of a siege mentality. A persecution or victim syndrome. "Whites and Christians are the most disadvantaged groups in society", we hear. The leader is speaking up to defend and promote what has been in real danger of being lost to "political correctness", to "immigrants" — especially those from countries where people have a different religion and skin colour. Both the nature of these immigrants and the reasons for leaving their homelands are lied about to feed into popular (and the leader's) prejudices. Political correctness is also misrepresented as a tyranny against free thought. There is a failure to distinguish between genuine wrongs and wrong ideas and those that are validly critical of society's shortcomings. The leader represents a righteous push-back against all that is seen as corrosive of decent society.
"Truth"
And the leader is the primary source of truth. All criticism from the outside is "fake news". The leader can flat-out lie and followers will remain wilfully unaware, refusing to seriously countenance exposure of his lies and reflexively justifying all his lies, distortions, anti-social bigotry and the rest. It is the critics who are considered extreme, fanatical, wild-eyed terrified of what their leader represents.
The Emotional Factor
And that brings us back to the emotional component. Emotion is unavoidable. It is part of being human. But a clear headed rational debate about political and social problems and solutions is not in the Trump cult agenda. Emotional commitment leads and buttresses the views and loyalties and ignorance and prejudices of the cult followers. Emotional commitment means defensiveness, and defensiveness too often calls for attack. The racism, the ignorant bigotry against those who have long stood for democratic values and a humane society, that attacks are directed against the weak and vulnerable, — all of these and what their true character are hidden from view by the righteous emotion of the cult loyalists. Civil debate, seriously honest and open discussion of the issues, becomes impossible with the loyal followers of someone like Trump.
What has led us to this type of society is also worth exploring. We know what "radicalizes" individuals to join extremist groups and cults. Are there valid wider social parallels? Another post for that one.