Stephen Fry comments on the similarity between a couple of Greek myths and stories in Genesis in his recently published retellings: Mythos and Heroes. I am reminded of posts I completed some years back discussing Philippe Wajdenbaum's Argonauts of the Desert.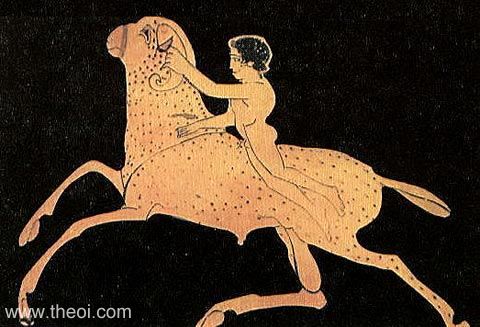 One story was about the requirement of a god for a king (so he believed) to sacrifice his son. The son willingly accepted his fate and laid himself out to be sacrificed but as the priest was about to bring the knife down a voice called out to stop the proceedings and a golden fleeced ram swept down from the heavens to carry him away. The poor ram was itself then sacrificed to Zeus. I posted the details of this story here and here back in 2011.
So I found it interesting to read Stephen Fry's comment on his own account of the myth:
In the Book of Genesis, you may remember, the patriarch Abraham was tested by God and told to sacrifice his son Isaac. Just as Abraham's knife was descending God showed him a ram caught in a nearby thicket and told him to kill the animal in place of his son. One version of the story of Iphigenia and Agamemnon, which helped set in motion both the Trojan War and its tragic aftermath, is another example of this mytheme – but it is not yet time to hear that particular tale.

(Heroes, p. 189)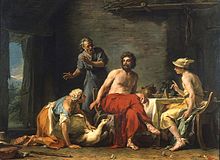 Another myth spoke of an elderly couple welcoming two strangers into their humble home. The strangers had met with inhospitality from others so they showed special kindness to this welcoming couple. It began to dawn on the hosts that there was something rather special about their two guests, and in fact they were gods in disguise. The climax of the story came when the divine guests ordered the couple to flee to the mountains so they could escape the destruction they were about to bring upon the rest of the village. Above all, they were ordered not to look back. The gods then proceeded to destroy the ungrateful town by a flash flood. Unfortunately the couple they enabled to escape did look back and so were turned into trees.
This theoxenia, this divine testing of human hospitality, is notably similar to that told in the nineteenth chapter of Genesis. Angels visit Sodom and Gomorrah and only Lot and his wife show them decency and kindness. The debauched citizens of Sodom of course, rather than setting the dogs on the angels wanted to 'know them' – in as literally biblical a sense as could be, giving us the word 'sodomy'. Lot and his wife, like Philemon and Baucis, were told to make their getaway and not look back while divine retribution was visited on the Cities of the Plain. Lot's wife did look back and she was turned, not into a linden, but into a pillar of salt.

(Mythos, p. 380)
What is interesting is that some sort of association between the Greek myths and Genesis stories is clear enough for anyone to see. Yet I suppose we will still find naysayers insisting that there can be no link because the "differences are greater than the similarities".
---
Fry, Stephen. 2017. Mythos. London, England: Penguin.
———. 2018. Heroes. London, England: Penguin.
---
The following two tabs change content below.
Neil Godfrey
Neil is the author of this post. To read more about Neil, see our
About page.
Latest posts by Neil Godfrey (see all)
---
If you enjoyed this post, please consider donating to Vridar. Thanks!
---