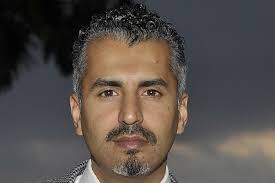 A autobiography I found of special interest in understanding how a British Muslim became radicalized and eventually de-radicalized was Radical by Maajid Nawaz. I discussed one aspect of it in the post The Conflict between Islamism and Islam. From his biography and in his online writings and talks I have read and heard since there is absolutely no way I could ever think of Maajid Nawaz as an "anti-Muslim extremist" as the Southern Poverty Law Center (SPLC) has branded him. (My reading of the SPLC's justification is that key persons in that organization fail to understand the difference between Islam and Islamism, and it is such persons whom Nawaz and others warn against. Incidentally, I have had to ask at least one Islamist to stop using the comments on this blog as a platform for spreading that ideology.)
Maajid Nawaz comes across to me as a flawed leader in the constellation of counter-extremist efforts. There is no one cause for radicalization and different motivations propel different persons in that direction. I once posted that I saw Maajid Nawaz as an example of a "status seeking" radical, following the descriptions of a wide range of historical extremists by Clark McCauley and Sophia Moskalenko in Friction. Such a motivation would explain what I think has been Maajid Nawaz's biggest mistake — collaborating with a genuine "anti-Muslim extremist", Sam Harris, with the publication and promotion of  their jointly authored book, Islam and the Future of Tolerance. The association has certainly lifted Maajid's public profile at a time when reports that he had not fully honest about his past began to surface, but it would have been, well, possibly more appropriate for him to admit and apologize for past errors and move on by building on his experiences instead of offering opportunities for the Sam Harris's and Jerry Coynes to falsely use him to promote prejudices he himself opposes. But, then again, there is money involved, and the need to sustain a cash flow for his organization, Quilliam. He has put himself in a difficult position.
Wheh! After all of that introduction, now to the point of this post. Salon.com has posted an interview with Maajid Nawaz where he is given a chance to explain himself and what he stands for, along with a commentary on the term he coined, "regressive left", that has taken on entirely new connotations among Islamophobes like Sam Harris and Jerry Coyne.
The following two tabs change content below.
Neil Godfrey
Neil is the author of this post. To read more about Neil, see our
About page.
Latest posts by Neil Godfrey (see all)
---
If you enjoyed this post, please consider donating to Vridar. Thanks!
---