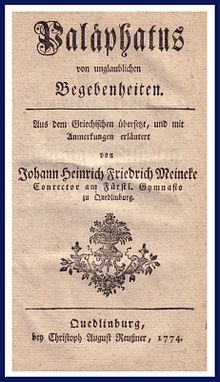 The Red Sea Exodus certainly did not happen as the Bible relates it, but many find a way to keep the story as "true" by rationalizing it: a smaller number of Israelites waded through at low tide, for example.
King David may not have ruled over a great kingdom as the Bible tells us, so he was probably a local bandit warlord at the very least.
Jesus surely did not heal merely with a command, so we believe he healed by means of ancient rituals which had some psychosomatic power.
The disciples obviously could not have literally seen Jesus alive after his death, so we must conclude that they had either some sort of hallucinatory experience or an inner conviction that convinced them he was resurrected.
In such ways many of us today find ways to cling to mythical tales. We discard anything that is contrary to our everyday experience and find a natural way to more or less explain how less sophisticated people came up with such mythical tales that are so important to us.
One example of an ancient philosopher doing just that very same thing is Palaephatus, someone who had been taught by Aristotle.
Look at how he rationalized the myth of Pandora:
The story about Pandora is intolerable — that she was fashioned out of earth and imparted her shape to others. It hardly seems likely to me. 

Pandora was a wealthy Greek woman: whenever she went out in public, she would dress up in her finest and rub her face with a cosmetic made of earth [i.e. white lead that Athenian women used to whiten their faces]. It was she who first discovered how to apply such cosmetics to her skin. Nowadays, of course, many women do so, and none of them gains any special renown because the practice is so common. 

This is what happened; but the story was twisted in an impossible direction. 

(Palaephatus, 34.Pandora, in J. Stern (1996), translator and commentator, On Unbelievable Tales / Palaephatus. Wauconda, IL, Bolchazy-Carduzzi.)
Only a fool would believe a human being could literally turn to stone:
They say that Niobe, a living woman, turned into stone on the tomb of her children. Anyone who believes that a human being turned into a stone or a stone into a human being is a fool. The truth is as follows. 

When Niobe's children died, someone made a statue of Niobe out of stone and set it on the tomb. Passersby would say: "A stone Niobe is standing on the tomb. We saw her ourselves." . . . . That is how it was, but Niobe herself did not turn into stone. 

(Palaephatus, 8:Niobe)
And so on and so forth.
Interesting to note the assumption that there must have been historicity, something historical, behind the myths. It is as if it were inconceivable that anyone would "just make up" such stories. Some form of evolving "social memory" is surely the source of significant cultural heritage. A wise man like Palaephatus would analyse the narrative and "discern" the most plausible "historical reconstruction" behind it.
And theologians have continued the tradition up to the present day, yes?
The following two tabs change content below.
Neil Godfrey
Neil is the author of this post. To read more about Neil, see our
About page.
Latest posts by Neil Godfrey (see all)
---
If you enjoyed this post, please consider donating to Vridar. Thanks!
---