The things they never taught us in school!
Two works I have read recently have been eye-openers for me.
When visiting Macquarie University (Sydney) a few years ago I was struck by a rather untypical statue on campus: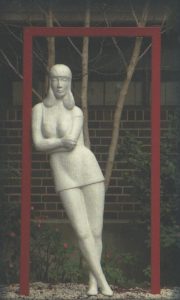 I could never figure out why or what it was about until I saw a photo of the same on the back cover of a book, Selling Sex: A Hidden History of Prostitution by Raelene Frances. Professor Frances's opening paragraph explains:
In the pages of this book you will meet many women who have sold sex at some stage of their lives. The first is called simply 'Joy'. For eighteen months in 1995-97 her larger-than-life figure leant against a red door-frame on the corner of Yurong and Stanley Streets in East Sydney. Being a statue, she is not really a sex worker. Or is she? The story of Joy became something of sensation in the mid-1990s, not just because she was said to be the only statue of a prostitute on display in public anywhere in the world, and not just because she personified the seedier side of Sydney. Surrounding the creation ofjoy was a quite extraordinary mystery. . . . 
The story of Joy, as well as the history of her statue, follows.
The above is just introduction to what particularly "struck" me, something that had never crossed my mind in my sheltered innocence and protective armour of national myths. Australian myth-peddlers and exploiters love to play on our belief in the "hard country" in which we have managed through toughness of character to survive. The "outback" is life-threatening and cannot be tamed, but it presence has been a major factor in the moulding of our "national character". Tough, resourceful, loyal to mates — traits we associate with the pioneers who settled there to plant cattle stations and with those who worked for them. Writers like Henry Lawson helped to grow the myth.
So it comes something of a . . . surprise, let's say, to read what apparently enticed men from the city to seek adventure and a financial start there and "build our nation":
A woman like Japanese prostitute Matsuwe Otana would no doubt have had many European and Chinese customers who were engaged in the pastoral industry, as well as the mines and the ports. Drovers or pastoralists in town on business or for a rest welcomed the services provided by the karayuki-san. More commonly, Europeans took Lheir sexual pleasures closer to the stations on which they worked. Here they had access to a plentiful and cheap, if not always willing, supply of Aboriginal women.

The use of Aboriginal women as 'stud gins' is a recurring theme across the northern frontiers, from the late nineteenth century in Western Australia and Queensland, and until the 1920s and 1930s in the Northern Territory. . . . .

In the Northern Territory, too, young Aboriginal women were used as 'bait' to attract or hold European men to station jobs. Writer Xavier Herbert maintained that the women had to be there: without available women, men would refuse to work on remote stations."
Oh. Suddenly puts the myth in a different light. Best not tell the children.
Then there's the Anzac myth. Continue reading "Realities behind Australia's national myths"