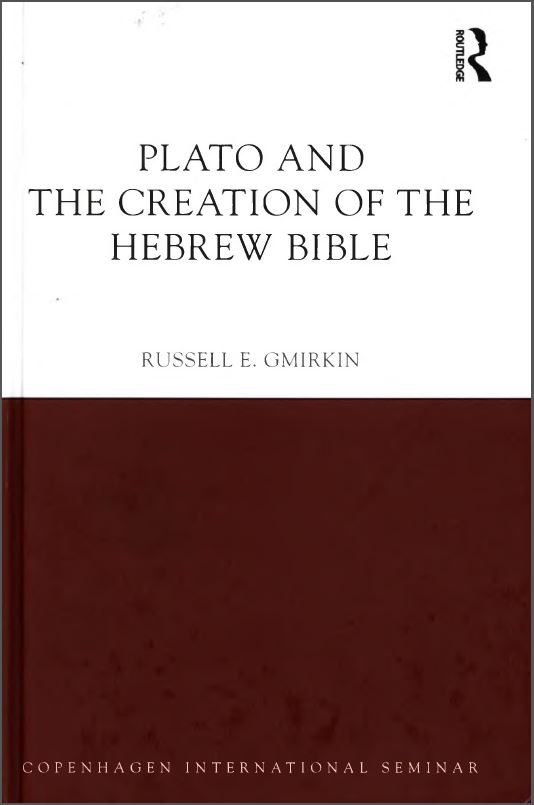 Russell Gmirkin continues to argue for much of the Old Testament having been written as late as around 270 BCE in his new book, Plato and the Creation of the Hebrew Bible. (He first made the argument in Berossus and Genesis, Manetho and Exodus, – link is to archived posts addressing various points in that work.) The book is priced for academic institutions so thankfully the publisher (Routledge) sent me a review copy that I am still reading. I have been relocating, renovating and slowly building up a new home office so progress has not been lightning fast, but small steps as opportunity arises are better than no steps so here's the next instalment.
Biblical laws have been compared often enough with those from the ancient Levant and Mesopotamia and Gmirkin continues to make the same sorts of comparisons. But he also compares the biblical laws with ancient Greek laws and law collections and finds the similarities on the whole to be more striking than with those of the Near East. Not only laws themselves but also the narratives in which they are embedded resonate strongly with Greek literature. Gmirkin's explanation is that the authors of the biblical texts were informed of legal ideals through Greek writings stored in the Great Library of Alexandria in the Hellenistic era.
Before addressing specific laws Gmirkin sets out comparisons of biblical (especially Pentateuchal) legal institutions with those of Greece. The chapter is thick with endnotes and citations and many of these have kept my reading at a snail's pace, but such slow reading is an enriching journey. I do find detailed discussions of legal, civil and religious institutions and offices becoming something of a blur, however, unless I take pen and paper and set out what I am reading in diagram form, and that's what I have been doing especially in the second half of the second chapter. So for my own benefit and the interest of anyone else I set out here tables of data collated by Gmirkin in his comparisons. (Diagrams would be far too time-consuming.) Not all details or explanations are set out here by any means, but I hope I include enough to grasp the main ideas that are argued for the primacy of Greek influence on what we read in biblical narratives. I attempt to give enough detail for readers to form their own questions and assessments.
I am sure I am not the only one who has become so familiar with terms like "elders" and "all the people of Israel" and imagined them in their "exclusively  biblical" context that it will come as something of a shock to make unfamiliar comparisons with Greek institutions and processes. Yet that's what Gmirkin does and the results are by and large interesting. Here's the first table; more to follow:
Table 1. Deliberative Bodies
Athens
Other Greek states
Moses / Joshua
King or Panel of Kings (2 kings in Sparta, religious and military duties)
Council – Elders, all being ex-magistrates — 70 or 71 or 72 — proportionately selected from the tribes.

Num 11:16 – must be elders and ex-magistrates

Known as the Seventy

Legislative, judicial and executive responsibilities.

Exodus and Numbers: called it the "seventy elders"

Exodus to Joshua: depict the Elders and Assembly as "national democratic institutions . . . subordinate to . . . Moses and Joshua"

Deuteronomy to Samuel: Assembly and Elders also appear at the local level administering town affairs (e.g. "elders at the gate").

Judges: Assembly and Elders were convened in times of crisis and for anointing of kings

In Hellenistic Judea: Assembly and Elders function; Council was known as gerousia in Greek Jewish sources

In Roman era: Council known as Sanhedrin

Two Councils:

1. Council (Boule) – numbers varied at different times (400, 500, 30) – proportionately selected from the tribes

Known as the Four Hundred, or the Five Hundred or the Thirty.

Drafted legislation for Assembly to approve.

This Athenian Council was chosen by lot; that is, did not consist of "elders".

2. Council of Areopagus – all members were elders (ex-magistrates)

Heard cases against magistrates

Sparta: Council of Elders (Gerousia) – 30 (The Thirty)

Cyrenaica: A Gerousia of 101

Assembly (qahal or edah) – all male citizens. All had the right

to speak (Judges 20:7)
and vote (see below)
and approve laws (See Deuteronomy where legislator Moses read laws to the Assembly that gave them formal, binding assent.) — This is comparable to Greek legislative procedures but with no known Near Eastern parallel (pp. 55f)

Nominated and appointed magistrates:

Ex. 18.13-26; Deut. 1.16-18: the magistrates over 1000s, 100s, 50s, 10s were nominated from the tribes but selected by Moses — similarly for the Seventy Elders (Num. 11.14-17).

1 Sam. 8.4-5: Elders requested a king but the Assembly was included in acclaiming the kingship of Saul. (Also Rehoboam and Jeroboam.)

1 Sam. 10.17-25: Election by lot from the Assembly.

"Biblical elections appear to have been recorded either by clapping (perhaps), as at 2 Kgs 11.12, or by audible assent ("amen") as at Neh. 5.13." (p. 55)

Deut. 16.18-18.22 (a constitutional sub-document) — the Assembly was to select both judges and king from among their peers.

Assembly (Ekklesia) – all male citizens, though limited at one time to 5000. All had right to speak and to vote and approve laws or edicts proposed by the Council.

"Appointment to many Athenian offices was made by lot, a procedure that was anciently thought to both be democratic and to contain an element of divine providence (Plato, Laws 6.759b-c . . .). . .

"Alternately, Athenian offices with special qualifications took place by citizen vote, either by show of hands or by secret ballot." (p. 55)

Sparta: Assembly of all citizens (Apella)

Cyrenaica: Boule of 500

Num. 11:14-17 — implies the Seventy had a judicial role sharing government with Moses.

If preliminary investigation by the judges (the Seventy or city elders) determined the case was a capital matter, the case came before the entire assembly (Deut. 22.20-21). The full assembly was involved in executing the verdict in homicide cases (Num. 14.10; 15.35-36…). It appears possible that the elders held a preliminary hearing while the entire assembly rendered the verdict. . .  Deut. 22.13-21 . . ." (pp. 54f.)

"Council often conducted preliminary investigations for cases to be later decided either by jury trial or, in the most serious cases, by the entire assembly." (p. 55)
Entire Assembly was convened to approve decrees of national policy such as

declaration of war (Judges 20.1-8)
establishment of treaties (Josh. 9.3-19)

Athens enabled the Assembly to vote on sending expeditions and accepting terms of surrender.
Just as the Gibeonites were permitted to address the Assembly of Israel so in Athens foreign delegations were able to address the assembly on national matters.
Israel's king is conspicuously absent from the above. That office deserves separate treatment. We will also look at the structure of the priesthood.
The following two tabs change content below.
Neil Godfrey
Neil is the author of this post. To read more about Neil, see our
About page.
Latest posts by Neil Godfrey (see all)
---
If you enjoyed this post, please consider donating to Vridar. Thanks!
---