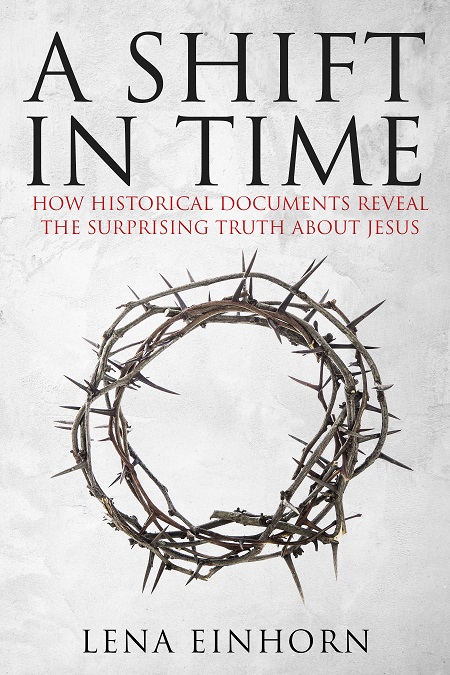 I recently completed reading A Shift in Time: How Historical Documents Reveal the Surprising Truth About Jesus by Lena Einhorn.
Lena Einhorn proposes a radical rethink of Christian origins and does so in a welcome methodical and understated manner. Far from being a sensationalist weaving of data into a mesmerizing filigree of yet another conspiracy or gnostic theory, Einhorn lays out clearly and concisely the evidence that she believes has been overlooked and on the whole leaves it to readers to draw their own conclusions, keeping her own conclusions largely in the background. By the time I had finished the book I found myself thinking that if there is evidence for the Jesus of the gospels being based on a historical person it could well emerge through an argument like Einhorn's. While I am not ready to embrace her own conclusions (I think much more data needs to be thrown into the mix for a full explanation) her book nonetheless raises very interesting questions.
The dust jacket blurb includes the line by Professor Philip R. Davies, "this book should make us think." And it does.
Anyone familiar with the Gospels and Acts who has out of curiosity also read Josephus has surely been struck by periodic reminders of what we find in the New Testament narratives and thought, "Interesting, but of course it can be nothing more than coincidence because the Jesus story happened much earlier." By taking these "coincidental" allusions and analysing them more systematically in comparison with the Gospels and Acts, Einhorn asks us to think through their implications and address new questions.
Einhorn's thesis is that many allusions and apparent anomalies in the Gospels and Acts coincide with and find historical setting in the events and personalities in the two decades leading up to the Jewish War with Rome. That is, about twenty years after the New Testament historical setting of the Jesus narrative. Sometimes further support for this "shift in time" comes from other sources (both Christian and Jewish) outside the writings of Josephus.
Einhorn has a gift for presenting complex data in a clear and comprehensible way for anyone not familiar with the history of the various regions around Syria-Palestine in the first century, or with the fundamentals of historical Jesus scholarship. Her frequent bar chart and table illustrations assist the reader in keeping track of the multiple parallels between the history found in Josephus and the Gospel-Acts accounts and their respective chronologies. Each brief chapter expounds a single thematic parallel.
An example
An example of the parallels discussed: In the Gospels-Acts narrative we find reference to the death of Theudas preceding the death of Jesus; allusions to activity of rebel-bandits and the crucifixions of them; a hostile Galilean-Samaritan rift; an attack on an otherwise unknown Stephen that precipitates a new wave of widespread violence; two contemporaneous high priests, conflict between the Roman procurator and a Jewish king; a Roman slaughter of Galileans; a visit of a messianic figure to the Mount of Olives just prior to the violent dispersal of his following . . . . None of these phenomena are testified beyond the New Testament to have been found in the time of Jesus and early Church (around the year 30 CE), yet curiously all are found recorded by Josephus about twenty years later. As one who has also tried to draw attention to the absence of evidence for popular messianic fervor in early first century Judea I found Einhorn's observations very attractive.
Are they real?
Are the parallels "real"? Einhorn herself raises this question several times but has enough respect for readers to allow them to decide. She is content to point out the unusual concentration of them within a narrow time frame and it is this detail that cries out for an explanation. We know coincidences do happen, sometimes quite complex ones. Recall the parallels between the Lincoln and Kennedy assassinations even allowing for some exaggeration and invalid data. We do have a natural tendency to find patterns "even where none exist". At the same time scholars studying the Gospels in relation to the wider literature of the day (e.g. Dale Allison Jr, Andrew Clark, Dennis MacDonald, Thomas Brodie are just a few examples whose work has been discussed on this blog) have established criteria for identifying "real parallels". Two criteria that regularly appear in such lists are the density of the parallels and their ability to generate new understanding of how and why the text may have come about. This is where the strength of the parallels in Einhorn's thesis lies.
How to test the thesis?
One type of test I would like to apply to some of Lena Einhorn's parallels is to review existing explanations or at least the contexts of the gospel parallels. Every thesis needs to be tested against alternative possibilities and there is much to consider here. (Perhaps I could examine some of the more significant passages in future posts.)
Einhorn herself occasionally defends evidence for a parallel by appealing to the criterion of embarrassment. This is a standard criterion frequently used by historical Jesus scholars and lies at the core of claims such as Jesus being truly baptised by his inferior, John the Baptist. The criterion insists that no-one would concoct such an incident that evidently proved to be embarrassing to the later Church that wanted to exalt Jesus to a much higher status than John. Unfortunately such criteria are themselves very often applied fallaciously in biblical studies as a growing number of biblical scholars acknowledge. With respect to the embarrassment criterion we have no way of knowing what was truly embarrassing to the original recorders of the story. Yet at the same time we do know that supposedly "embarrassing" details were in fact proudly boasted about simply to make a positive theological or religious point. Compare Paul's boasting of the crucifixion of Jesus and the worshipers of Attis glorying in his castration.
However, the criterion of embarrassment can be applied more validly in circumstances where there is less ambiguity. Jewish scholar Daniel Boyarim and some others (including Richard Carrier) have implicitly (and validly) used the criteria to argue that when we find evidence from the earliest centuries of Christian history that the Jews themselves believed that the Suffering Servant figure of Isaiah 53 was a prophecy of the suffering Messiah, we have to conclude that they did not borrow this idea from their anti-semitic Christian neighbours and that the interpretation was indeed their own. It is inconceivable that Jews would have decided to agree with the Christian teaching on that point. The more likely and embarrassment-free explanation for this Jewish interpretation that we find in the Talmud is that it originated in pre-Christian times and that the earliest Christians inherited the interpretation from the Second Temple Jews and applied it to their Messiah, Jesus. Similarly with Einhorn's appeals to the criterion of embarrassment: Why would some later Christians record as fact the belief that Jesus lived later than the time of Pilate and Tiberius and that this information derived from the very earliest records? There may be other answers to this question, but if so, they ought to be tested along with Einhorn's thesis. Here is another opportunity for a useful application of Bayes' theorem. Even without calculating numerical estimates the fundamental method is relevant. Let's step back and reconsider all our background information and see how it might bear upon the time shift thesis as presented by Einhorn, or on some modification of it. What are we to make of the alternative early Christian versions of the Jesus narrative in the context of the time shift proposal? Even in the Gospel of John we find indications Jesus was in his late forties before he was crucified. Other later records place him in the time of Claudius and Nero. We also find a noncanonical gospel accusing Herod, not Pilate, of crucifying Jesus. Einhorn of course mentions these alternative accounts in the data. I think they all deserve a careful think-through and A Shift In Time offers a new pathway to explore.
A pacificist foil to the failed violence of the rebellion?
My own conclusion at the moment is that Einhorn has presented considerable evidence that could suggest the authors of the narratives of Christian origins were strongly influenced by later events in Jewish history, specifically by events related to the lead up to the War with Rome and with the events of the War itself. Einhorn's suggestion is that several characters and events in the Gospels are re-written pacifistic versions of more bloody moments in a later date. The defeat of the Jews at the hands of Rome obliged a reassessment of and turning from the values of rebellion and violence. To accomplish this ideological revision a new time setting was called into service.
Compare
earlier posts
here on Clarke Owens' literary arguments in
Son of Yahweh
for the Gospel of Mark's focus on crucifixion being best explained in the context of the mass crucifixions during the Jewish War of 66-70 CE.
Similarly
, we have the biblical scholar Karel Hanhart's thesis in
The Open Tomb
that the empty tomb scenario in the Gospel of Mark was developed from a haggadic midrash on Isaiah 22:16's account of the destruction of the Temple.
Another post
addresses both Owens' and Hanharts' views.
The fundamental assumption of her interpretation of the significance of the parallels is the same as that of most biblical scholars, and that is that historical events of some kind foreshadow the characters, setting and narrative that have become largely mythologized in the canonical texts. My own view is that this common view itself is an assumption that needs to be tested and not assumed. (Such testing needs in part to be done through a deeper appreciation of the wider literature of the time.) I am not the only one who at times has wondered about certain overlaps between the persons and events in Josephus and those in the Gospels. Even names of certain Jewish rebel leaders overlap with names of leading disciples. The usual response is to brush aside such "coincidences" on the grounds that the names were very common. That might indeed be the appropriate response, but Einhorn does add enough more detail and context to make one pause before doing so again. Is it possible that the evangelists were in part inspired to write a parabolic narrative as a more godly foil to the mayhem of the years preceding the fall of Jerusalem? It is an interesting thesis and it would be an interesting exercise to test such an idea.
A new journey
I confess I still find it difficult to accept a strong one-to-one correspondence between Jesus, John the Baptist and "messianic" figures described by Josephus. I cannot deny certain overlapping events in relation to these figures (decapitation, wilderness and Jordan, prophetic expectations of the fall of Jerusalem associated with a Mount of Olive visit and an armed force dispersing them, and more). And Einhorn does make the interesting observation that if we do date the Jesus figure later so that his return from Egypt is not as an infant but has an adult (and Einhorn notes that there is some hint that Matthew 3:1 could be indicating an early view that John the Baptist was active in the wilderness "in those days" when Jesus returned from Egypt), then we do have some synchronicity with Jewish legends suggesting a mature Jesus came out of Egypt having learned magic there. So at first glance A Shift In Time does appear to offer in part an explanation for some other non-canonical accounts of Jesus. But then I wonder what we are to make of the evidence found in Paul's letters about the nature of Jesus and how might that factor into these parallels — if they are real? The possibility of the influence of Josephus, or at least of events he recorded and that occurred a generation after the Gospel time-setting, certainly does raise interesting questions. I'd like to explore further possible explanations before settling on Lena Einhorn's suggestions.
It is easy to dismiss Einhorn's parallels as chance and therefore meaningless coincidences but emotive dismissal is not critical engagement and certainly not a demonstration that they ultimately fail to explain as much as Einhorn's thesis would hope. A Shift In Time draws our attention to evidence that has often been overlooked and that potentially opens up a new way of understanding the origins of the Jesus story. Lena Einhorn presents the data in a way that ought to make us (re-)think what we think we know about the background to the Gospels and Acts.
The following two tabs change content below.
Neil Godfrey
Neil is the author of this post. To read more about Neil, see our
About page.
Latest posts by Neil Godfrey (see all)
---
If you enjoyed this post, please consider donating to Vridar. Thanks!
---