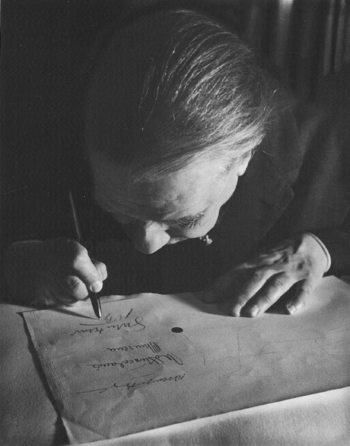 Ireneo Funes, the eponymous character in Jorge Luis Borges' short story, "Funes, the Memorious," lived the first part of his life completely in the moment. Recalling his first encounter with the enigmatic figure, the narrator relates an incident from long ago when he and his cousin Bernardo were racing on horseback, trying to outrun a storm. They heard, suddenly, the sound of footsteps on the brick footpath above. It was Funes.
Bernardo unexpectedly yelled to him: "What's the time, Ireneo?" Without looking up, without stopping, Ireneo replied: "In ten minutes it will be eight o'clock, child Bernardo Juan Francisco." The voice was sharp, mocking. (Borges, 1967, p. 36)
In those days, Funes always knew the exact time; he knew about now, but remembered nothing of the past. Later, when the narrator meets Funes, he explains how an accident changed everything.
For nineteen years, he said, he had lived like a person in a dream: he looked without seeing, heard without hearing, forgot everything — almost everything. On falling from the horse, he lost consciousness; when he recovered it, the present was almost intolerable it was so rich and bright; the same was true of the most ancient and most trivial memories. (Borges, 1967, p. 40)
A garbage disposal
The fall left Funes unable to walk, and that paralysis becomes a metaphor for the crushing weight of all remembrances, which immobilize and suffocate. For while he can remember everything, his mind is inundated with every detail about every moment that he has ever experienced — and not only the event itself, but the clear recollection of each time he has recalled that event. Continue reading "The Memory Mavens, Part 10: Memory and History (1)"