By the roots of my hair some god got hold of me.
I sizzled in his blue volts like a desert prophet.
— Sylvia Plath, quoted by Charles Camerson in So: How Does It Feel at World's End?, an exploration into the eschatological lure of ISIS.
Charles Cameron is blogging about a book of his that is hopefully will be published soon: Jihad and the Passion of ISIS: Making Sense of Religious Violence. The first of these blog posts is On the horrors of apocalyptic warfare, 1: its sheer intensity.
Cameron builds on a number of works that I have posted about here on Vridar, so I am looking forward to his own contribution. He writes:
We now have, I believe, a strong understanding of the Islamic State and its origins in such books as Stern & Berger, ISIS: The State of Terror, Jason Burke, The New Threat, Joby Warrick, Black Flags: The Rise of ISIS, and Weiss & Hassan, ISIS: Inside the Army of Terror. Delving directly into the key issue that interests me personally, the eschatology of the Islamic State, we have Will McCants' definitive The ISIS Apocalypse. My own contribution will hopefully supplement these riches, and McCants' book in particular, with a comparative overview of religious violence across continents and centuries, and a particular focus on the passions engendered in both religious and secular movements when the definitive transformation of the world seems close at hand.

What follows is the first section of a four-part exploration of the horrors of apocalyptic war.
Cameron draws upon a dramatically colourful Winston Churchill account to convey the power of the Mahdi on the imaginations of followers in his day.
In his second post On the horrors of apocalyptic warfare, 2: to spark a messianic fire he encapsulates the sense of apoclyptic fervour in a passage from another book on my "to-read list", Richard Landes'  Heaven on Earth: The Varieties of the Millennial Experience:
For people who have entered apocalyptic time, everything quickens, enlivens, coheres. They become semiotically aroused — everything has meaning, patterns. The smallest incident can have immense importance and open the way to an entirely new vision of the world, one in which forces unseen by other mortals operate. If the warrior lives with death at his shoulder, then apocalyptic warriors live with cosmic salvation before them, just beyond their grasp.
I'm looking forward to the remainder of Charles Cameron's series.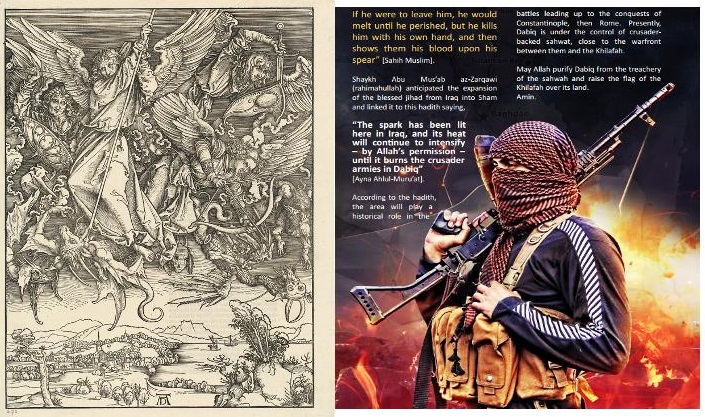 The following two tabs change content below.
Neil Godfrey
Neil is the author of this post. To read more about Neil, see our
About page.
Latest posts by Neil Godfrey (see all)
---
If you enjoyed this post, please consider donating to Vridar. Thanks!
---