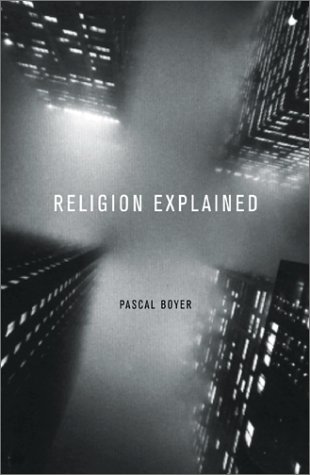 It is easy enough for us atheists to mock religion (and much of it is indeed "mockable") but we cannot ignore the fact that some very intelligent and well-educated people hold these beliefs. So is it really gullibility that is responsible for people believing that they go to a heavenly paradise or agonizing hell when they die, that some other-worldly power made the universe for his own and our benefit, and even that he made it in six days only a few thousand years ago, and so forth?
I can't forget how humiliated I felt after finally realising that much of what I had for long believed was nothing but a make-believe fantasy. Yet at the time preceding my conversion I was studying in one of the more reputable universities, and subsequently I studied at a post graduate level the processes of indoctrination and propaganda without my personal faith suffering the slightest dent. Crazy!
But are we crazy?
In my efforts to understand the scholarly research into extremist religious and political movements and behaviour, I have inevitably been led to try to grasp the nature of religion itself more clearly in the light of recent studies. I still have much to learn but in the meantime I think the following is worth sharing. It is from Pascal Boyer's Religion Explained: The Evolutionary Origins of Religious Thought (2001).
Boyer observes that religious beliefs are restricted to a certain range of beliefs. People don't just believe any impossible thing and make it part of their religion. That fact should alert us to something, he says. It may not be gullibility that is the responsible party. Maybe it is something about those specific types of beliefs that strike a plausible chord in many people. If so, we need to study what it is that distinguishes those beliefs from other types of nonsensical concepts and also, of course, the way the brain works in relation to beliefs generally.
Boyer sums up the main points of his argument on this specific question in three points:
• The sleep of reason is no explanation for religion as it is. There are many possible unsupported claims and only a few religious themes.

• Belief is not just passive acceptance of what others say. People relax their standards because some thoughts become plausible, not the other way around. 

• A different angle: We should understand what makes human minds so selective in what supernatural claims they find plausible. (p. 31)
He begins the question of gullibility by summing up his earlier discussion of other suggested reasons often posited for the origins of religion (my formatting) — pages 31-34:
If religion is reassuring, why does it create much of the anxiety it cures?

If it explains the world, why does it do it with such baroque complication?

Why does it have these common, recurrent themes rather than a great variety of irrefutable ideas?

Why is it so closely connected to morality, whereas it cannot really create morality?

As I said several times, we cannot hope to explain religion if we just fantasize about the way human minds work. We cannot just decide that religion fulfils some particular intellectual or emotional needs, when there is no real evidence for these needs. We cannot just decide that religion is around because it promises this or that, when there are many human groups where religion makes no such promise.

We cannot just ignore the anthropological evidence about different religions and the psychological evidence about mental processes. (Or rather, we should not; we actually do it quite often.)

. . . . . 

The main problem with our spontaneous explanations of religion lies in the very assumption that we can explain the origin of religion by selecting one particular problem or idea or feeling and deriving the variety of things we now call religion from that unique point. Our spontaneous explanations are meant to lead us from the One (religion's origin) to the Many (the current diversity of religious ideas). This may seem natural in that this is the usual way we think of origins. The origin of geometry lies in land-tenure and surveying problems. The origin of arithmetic and number theory is in accounting problems encountered by centralized agricultural states. So it seems sensible to assume that a "one thing led to many things" scenario is apposite for cultural phenomena.

But we can approach the question from another angle. Indeed, we can and should turn the whole "origin" explanation upside down, as it were, and realize that the many forms of religion we know are not the outcome of a historical diversification but of a constant reduction. The religious concepts we observe are relatively successful ones selected among many other variants.

. . . .To explain religion we must explain how human minds, constantly faced with lots of potential "religious stuff," constantly reduce it to much less stuff.

Concepts in the mind are constructed as a result of being exposed to other people's behavior and utterances. But this acquisition process is not a simple process of "downloading" notions from one brain to another. People's minds are constantly busy reconstructing, distorting, changing and developing the information communicated by others. This process naturally creates all sorts of variants of religious concepts, as it creates variants of all other concepts. But then not all of these variants have the same fate. Most of them are not entertained by the mind for more than an instant. A small number have more staying power but are not easily formulated or communicated to others. An even smaller number of variants remain in memory, are communicated to other people, but then these people do not recall them very well. An extremely small number remain in memory, are communicated to other people, are recalled by these people and communicated to others in a way that more or less preserves the original concepts. These are the ones we can observe in human cultures.
Boyer's book is an explanation of how variants of religious concepts are created and constantly eliminated in our minds. I've long hoped to post more about his research and the studies he relies upon, but I'm still in the process of reading more recent studies. As I've probably inferred already, Boyer's study is at the psychological level and based on a raft of studies.
The notion that what we find in cultures is a residue or a precipitate of many episodes of individual transmission is not new. But it became very powerful with the development of formal mathematical tools to describe cultural transmission. This happened because anthropologists were faced with a difficult problem. They often described human cultures in terms of "big" objects, like "American fundamentalism," "Jewish religion," "Chinese morality," and so on. Anthropology and history could make all sorts of meaningful statements about these big objects (e.g., "In the 18th century, the progress of science and technology in Europe challenged Christian religion as a source of authority.") However, this is a very remote description of what happens on the ground, in the actual lives of individuals. After all, people do not interact with such abstract objects as scientific progress or Christian authority. They only interact with individual people and material objects. The difficulty was to connect these two levels and to describe how what happened at the bottom, as it were, produced stability and change at the level of populations.
I find Boyer's point interesting. It makes sense to me. It is one thing to joke about starting up a new religion and introducing lots of bizarre beliefs, but the fact is that such jokes are clearly recognized as jokes. They don't go on to become major social movements like the Mormons or the Anglicans. So what is it about the human mind and certain types of beliefs?
The following two tabs change content below.
Neil Godfrey
Neil is the author of this post. To read more about Neil, see our
About page.
Latest posts by Neil Godfrey (see all)
---
If you enjoyed this post, please consider donating to Vridar. Thanks!
---