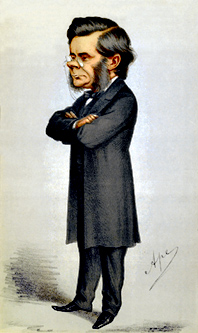 [Note: This post reflects my perspective. Neil is not responsible for any of the following content. –Tim]
We have Thomas Huxley to thank for the word Darwinism, which he coined in 1860 in a review of On the Origin of Species. In modern times, of course, creationists have misused the term, applying it to any theory of natural evolution, and even to the study of abiogenesis. They continue to embrace the "ism" since bolsters their assertion that evolution is a kind of belief system, just as irrational as religion.
What is Darwinism? 
Simply stated, Darwinism is the theory of biological evolution by means of natural selection. Technically, the terms Darwinism and biological evolution are not entirely synonymous, since theories of evolution existed before Charles Darwin. I recall being taken aback when I first read that Charles' grandfather Erasmus had written a poem suggesting all forms of life were interrelated and had evolved to their present state. And well before Charles published his book, Jean-Baptiste Larmarck had proposed a theory of evolution based on the idea that organisms acquire traits during their lives, and later pass them on (somehow) to their offspring.
Darwinism differs from other competing theories of evolution in its mechanism for change. It makes no sense, then, to apply the term to other theories that posit some process other than gradual modification through natural selection.
Nor is it technically correct to call today's modern synthesis "Darwinism," since it embraces two other important foundational concepts, namely mutation theory and Mendelian genetics. So those who would today call an evolutionary biologist a Darwinist betray their ignorance of evolution, Darwin, and biology in general.
A less familiar term, euhemerism, from time to time suffers similar misuse. How should we define this word? We might explain it, following Dr. Richard Carrier, as "doing what Euhemerus did."
But then we have to ask, "Well, what was that?"
What did Euhemerus do?
Euhemerus (also spelled Euhemeros) of Messene, as you may already know, wrote a book called Sacred History, in which he claimed to have visited a land called Panchaea, where he said he found evidence that Olympian gods were actually ancient kings who had been deified. Unfortunately, the book has not survived; we have only references to it in fragments by Diodorus Siculus. Worse than that, the fragments come down to us through Eusebius of Caesarea, so we can be fairly certain what we have is not exactly what Euhemerus wrote.
In Book VI, Diodorus notes that ancient people thought of some gods as eternal, existing "from everlasting to everlasting." The sun and the moon, for example, predate human existence and will be in the heavens long after we're gone.
But the other gods, we are told, were terrestrial beings who attained to immortal honour and fame because of their benefactions to mankind, such as Heracles, Dionysus, Aristaeus, and the others who were like them.
Euhemerus's possibly unique contribution was the notion that all Olympian gods existed one time as humans on earth. (N.B., however, that some scholars say that the myth of Zeus's tomb predates Euhemerus.) That is to say, at one time in the distant past, beings whom people later came to believe were eternal deities began their lives as men and women who had lived on Earth. In Sacred History, he wrote that he visited the island of Panchaea, where he met the natives whom he described as pious and honorable.
[6.1.6] There is also on the island, situated upon an exceedingly high hill, a sanctuary of Zeus Triphylius, which was established by him during the time when he was king of all the inhabited world and was still in the company of men. 

[6.1.7] And in this temple there is a stele of gold on which is inscribed in summary, in the writing employed by the Panchaeans, the deeds of Uranus and Cronus and Zeus. 

[6.1.8] Euhemerus goes on to say that Uranus was the first to be king, that he was an honourable man and beneficent, who was versed in the movement of the stars, and that he was also the first to honour the gods of the heavens with sacrifices, whence he was called Uranus or "Heaven." 

[6.1.9] There were born to him by his wife Hestia two sons, Titan and Cronus, and two daughters, Rhea and Demeter. Cronus became king after Uranus, and marrying Rhea he begat Zeus and Hera and Poseidon. And Zeus on succeeding to the kingship, married Hera and Demeter and Themis, and by them he had children, the Curetes by the first named, Persephonê by the second, and Athena by the third. (emphasis mine)
They weren't dead yet
I highlighted those words at the beginning of the block because they raise an important point. In The Ritual Theory of Myth, Joseph Fontenrose notes that Lord Raglan committed a common error when explaining the euhemerist position.
Raglan seizes upon the phrase "after death," supposing that the essence of Euhemerism is the worship of a dead king or benefactor. He has fallen into the common misconception of Euhemerisim; for Euhemeros did not say that the first gods were dead kings: he said that they were living kings. (Fontenrose, 1971, pp. 20-21)
Oddly enough, Carrier makes the same mistake in On the Historicity of Jesus, where he writes:
A popular version of this phenomenon in ancient faith literature was the practice of euhemerization: the taking of a cosmic god and placing him at a definite point in history as an actual person who was later deified. (Carrier, 2014, p. 222, emphasis mine)
As we see from Diodorus's fragments widely available in print and on line, Euhemerus wove his tale around a very pious and extremely remote people who worshiped a living Zeus. He wasn't "later deified"; he was worshiped while alive. I'm inclined to give Carrier a pass here, but only if we separate "doing what Euhemerus did" from doing what later euhemerists such as Eusebius and Clement of Alexandria did.
Euhemerus in Panchaea
Some scholars, a minority to be sure, still think that Gruppe was right and that Euhemerus was pulling our legs.
Carrier continues:
Euhemerus was a Greek writer of the early third century BCE, who wrote a book called The Sacred Scriptures [sic] in which he depicted an imaginary scholar discovering that Zeus and Uranus were once actual kings. (Carrier, 2014, p. 222, emphasis mine)
It is unclear why Carrier would choose the idiosyncratic translation of Ἱερὰ Αναγραφή (Hiera Anagraphē) as The Sacred Scripture, when most scholars call it Sacred History or Sacred Writings (with no definite article), unless perhaps it's because he's loosely translating the Latin version — but no matter. What does matter, I think, is the implication that Euhemerus invented some "imaginary scholar," when in fact that scholar was Euhemerus himself.
Quoting Diodorus again:
[6.1.4] Now Euhemerus, who was a friend of King Cassander and was required by him to perform certain affairs of state and to make great journeys abroad, says that he [Euhemerus] travelled southward as far as the ocean; for setting sail from Arabia the Blest he voyaged through the ocean for a considerable number of days and was carried to the shore of some islands in the sea, one of which bore the name of Panchaea.
Is Euhemerus recounting a tall tale? Absolutely. It is perhaps a philosophical travelogue or even, as some scholars have theorized, an elaborate piece of satire (as Otto Gruppe put it, "finding expression not so much in the form of crude satire, but as genteel irony" [my translation]). And here's a good reason not to say that euhemerization was "doing what Euhemerus did": We're not entirely sure what Euhemerus was doing. Some scholars, a minority to be sure, still think that Gruppe was right and that Euhemerus was pulling our legs.
Moreover, as we noted above, our fragments come to us third hand.
. . . it is clear that a summary passed on by Diodorus cannot be considered Euhemerus' original text. It is even less appropriate to treat Latin version of Euhemerus' text as fragments because here we are dealing with a rather free interpretation partially preserved in Lactantius' work (c. 300 AD), which was only indirectly based on Ennius' translation. Hence, we do not actually possess any fragments of Euhemerus' text in the strict sense of the word. (Marek Winiarczyk, 2013, p. 13)
Turning gods into men
An important thing to keep in mind when trying to understand euhemerization is what so-called euhemerists after Euhemerus did. One instructive case is Eusebius, who wrote about Belus (Bel Marduk) as if he were an ordinary mortal king.
Belus was the king of the Assyrians. During his reign, the Cyclopes brought lightning and thunder to assist Zeus during his battle against the Titans. At the same time, the kings of the Titans were in their prime — including king Ogygus.
Naturally, Eusebius was embellishing upon what he'd read in Diodorus's fragment (see 6.1.10). He was describing a fictional human past in which old, mythical gods supposedly arose from the memory of great kings. He's imagining a historical epoch when some highly respected men walked the earth, and whose reputations grew over time until they were revered as gods.
This sort of god-demoting apologetic became a familiar weapon in early Christianity. Fentriss and Wickham in Social Memory: New Perspectives on the Past write:
The subsequent history of the doctrine that the gods were once mortal men is no less interesting. The doctrine was quickly adopted by the Fathers of the Church, who used it as a weapon against pagans: 'Those to whom you bow were once humans like yourselves' (Clement of Alexandria, in [Jean] Seznec 1972: 11 [The Survival of the Pagan Gods]). Gradually, however, with the spread of Christianity, the euhemerist tradition lost this polemical function, being retained simply as a means of ordering information concerning pagan history, both classical and then, later, Celtic and Germanic. (Fentriss and Wickham, 1992, p. 83, emphasis mine)
Euhemerus's unique contribution
The authors quote Seznec's definition of euhemerism as the doctrine that "the gods had been recruited from the ranks of mortal men" (Fentriss and Wickham, 1992, pp. 82-83). However, that description isn't quite complete, at least as regards the question, "What was Euhemerus doing?" According to Winiarczyk, Euhemerus took several well-known existing ideas and blended them to develop his own theogony ("the genealogy or birth of the gods").
Euhemerus' religious views were not in any way original because he was referring to:

a) old Greek concepts (the apotheosis of heroes, gods founding cults and the tombs of gods),
b) the idea of euergetism,
c) rationalistic interpretation of myths,
d) Sophistic theories regarding the origins of religion,
e) the commander and ruler cults which began at the turn of the 4th century.

Nevertheless, Euhemerus did combine all these issues into an interesting whole, which meant that the Ἱερὰ Ἀναγραφή [Sacred History] influenced not only the Greeks but also, thanks to Ennius' translation, the Romans. (Winiarczyk, 2013, p. 108, reformatting and emphasis mine)
Winiarczyk focuses heavily on the concept of euergetism, by which he means benefaction or a person doing some good and noble work for others. For example, he reminds us that the Trojans called Hector a god, just as the Greeks sometimes called Achilles a god. He gives many other examples of sacrifices and praise given to human benefactors, concluding:
At the core of this belief was the conviction that one of the most important attributes of a deity was the performance of benefactions (τὸ εὐεργετεῖν). By performing good deeds a person likened himself to a god. (Winiarczyk, 2013, pp. 41-42)
Such benefactions included the promulgation of just laws and the support of inventions that benefited humankind. Recall again that Euhemerus said that the people of Panchaea worshiped the men Zeus and Uranus while they were alive, erecting temples in their honor. While touring the world, other peoples from distant lands paid similar homage. Diodorus writes:
[6.1.10] . . . And coming to Cilicia he conquered in battle Cilix, the governor of the region, and he visited very many other nations, all of which paid honour to him and publicly proclaimed him a god. 
So, what exactly did Euhemerus do, and why did he write Sacred History?
The author of the Ἱερὰ Ἀναγραφή [Sacred History] (c. 300 BC) wanted to show that the Olympian gods were deified people. That is why Euhemerism is sensu stricto the reduction of the Olympian gods to the role of deified humans. It is not proper to call Euhemerism the apotheosis of people who had achieved things for humanity, as this concept had existed before Euhemerus. The notion of the apotheosis of people stemmed from three other concepts:

[a] euergetism,
[b] the conviction that Heracles and other heroes had been deified
[c] as well as the theory of the Sophist Prodicus stating that religion emerged out of a sense of gratitude.

(Winiarczyk, 2013, p. 123, emphasis mine)
Later euhemerists' contributions
For Plutarch it was enough to know the basic idea to reject it as impious atheism. But for the early Christian Church Fathers it became a useful weapon to combat paganism.
Obviously, what Euhemerus had in mind is not identical with the ideas of subsequent euhemerists. He continues:
In discussing the reception of Euhemerism I shall nevertheless take into account the view that it was the performing of benefactions (εὐεργεσία) which led to deification because Euhemerism is so perceived by many scholars. On the other hand, it is decidedly wrong to term rationalistic interpretations of myths as Euhemerism. Nor was it writing about the tombs of certain gods, since the tradition of the deaths and tombs of particular deities (Zeus and Dionysus) preceded Euhemerus. Nevertheless, one has to admit the Christian writers willingly used this tradition to show that the pagan gods were ordinary human beings. (Winiarczyk, 2013, p. 123, emphasis mine)
Looking over the evidence we can see that most people who invoked the name of Euhemerus had never actually read his work, and probably only knew of a brief synopsis. (And despite their brevity, the extant fragments apparently go unread even today.) For Plutarch it was enough to know the basic of the idea to reject it as impious atheism. But for the early Christian Church Fathers it became a useful weapon to combat paganism.
We should note that besides what is known as positive euhemerism, we also have negative euhemerism. In the latter, Christian writers argued that the deified rulers were not benefactors (εὐεργέται) but wicked people who committed many evil deeds. (Winiarczyk, 2013, p. 123) Even so, the Christian practitioners of euhemerism — positive or negative — stuck fairly close to the script, so to speak. They invented backstories in which ancient gods turned out to be famous humans from the past.
In modern descriptions of euhemerism you'll often find watered-down or even misunderstood versions. For example, in D.M. Murdock's Christ in Egypt, you'll find this terse definition in one of the footnotes:
One of the relatively few actual instances of what is called "euhemerism" or "evemerism"—making a human into a god or goddess, also deemed "apotheosis"—apparently occurred with the Egyptian architect Imhotep [citing Donald Redford, The Ancient Gods Speak: A Guide to Egyptian Religion] . . . (Murdock, 2011, p. 10, emphasis mine)
What's wrong here is the simple equating of euhemerism to apotheosis. Carrier in a blog post from July 2015 correctly notes:
I do wonder where the confusion arose among people (and I've seen a lot of them online) thinking euhemerization means turning a real person into a god. That's not euhemerization. That's deification. Julius Caesar was deified. He was not euhemerized. Euhemerized gods are always historically non-existent.
Demythologizing the gods: Rationalism run amok
As you can easily see from the examples above, the earliest euhemerizers in the Christian tradition did something similar to what Euhemerus himself did. They constructed fictional histories and genealogies for beings who had once been considered eternal gods. Notwithstanding Euhemerus's ultimate aim, later euhemerizers were doing it in order to demythologize or, more to the point, desupernaturalize pagan gods. This trend continued into modern times where even medieval heroes and kings such as St. George the dragon slayer and King Arthur were imagined to have existed as ordinary men.
Anyone who has read Lord Raglan must recall his astonishment at the lengths to which euhemerizers were willing to go. Surely by now, he argued, everyone should consider King Arthur to be a mythical character.
That he is not so is due to two causes. The first is the extreme lengths to which euhemerism has been carried by modern scholars. Whereas Euhemeros was content to claim that the gods had once been great men, it now seems to be generally held that such a thing as a purely mythical character has never existed. The second cause is that Arthur is supposed to have lived among the post-Roman Britons, a people of whom we know almost nothing, and about whom, therefore, those who attach little weight to evidence can speculate with considerable freedom. (Raglan, The Hero: A Study in Tradition, Myth and Drama, 1936/2003, p. 70, emphasis mine)
Raglan championed the cause of anti-euhemerism for mythical characters who were obviously mythic. He was fighting against rationalism run amok. For ultra-euhemerists, nothing was ever pure myth; everything had some kernel of truth with some real person at the center of it all.
And in the end, that's what euhemerism became: the rationalization of divine (or superhuman) beings by proposing ordinary human histories. In its extreme form, obviously mythical or even fairytale-like people can be euhemerized. Whether false or not, the aim is to create an alternative, anti-supernatural history. Remember Clement's line:
"Those to whom you bow were once humans like yourselves."
Was Jesus euhemerized?
So if Carrier says Jesus was euhemerized, then who were the euhemerists? Specifically, here's the big question: Was the author of the Gospel of Mark a euhemerist? Carrier says:
Mark's euhemerization would logically transfer Jesus' demonic enemies to earthly ones, leading to the allegory of internecine betrayal in the Judas narrative (where the whole world conspires to kill him: Romans, Jews and 'Christians'). (Carrier, 2014, p. 560, n. 62)
Wait. So, were all the gospels really euhemerizations of a cosmic Jesus?
The Gospels were simply constructed to euhemerize Jesus, as all mythical demigods had been (Element 45) . . . (Carrier, 2014, p. 613)
I want to be generous, but I can't make any sense these statements. For Carrier to be correct, then the word euhemerize would have to be identically synonymous with historicize, and that cannot be the case. If Carrier is right, we would have to leave aside the bulk of what Euhemerus and later euhemerists said and did.
Were the evagelists rationalizing Jesus? Were they desupernaturalizing him? Absolutely not. They may well indeed have been historicizing the life of Jesus on Earth. And that's a perfectly fine way to put it. Let me be clear: My quibble isn't with Carrier's overall thesis. I merely contend that his use of the terms euhemerist, euhemerism, and euhemerize conflicts with Euhemerus's own writings and all euhemerist practitioners thereafter.
Answering one of his critics online, Carrier writes:
You seem to be confusing Euhemerus creating a historical man out of a celestial god (the actual thing Euhemerus notably did) and Euhemerus doing so without making that historical man magical. Those aren't the same thing. And the latter is not what euhemerizing is. . . . Not all euhemerizers were rationalists like Euhemerus, BTW. Romulus and Osiris were euhemerized, but they were miracled up a bit. So was Dionysus. And Hercules. And Isis. Etc.
He has vigorously defended this position before. For example back in October of 2013 he wrote:
Osiris and Romulus were once non-historical cosmic gods, and then centuries later were transformed into historical men later deified. That is euhemerization. That cult believers then embraced both is also well in evidence, so again it doesn't matter why or how that happened, we still know it happened.
If gods, demigods, and heroes were being euhemerized (according to Carrier's definition) even before Euhemerus existed, then what was his contribution? Why bother naming it after him? People well before his lifetime had historicized mythical characters. They had applied rational explanations to supernatural stories. His building blocks had been around for decades, if not centuries. What Euhemeris did, as Winiarczyk pointed out, was to "combine all these issues into an interesting whole." 
It gets worse in On the Historicity of Jesus, when Carrier introduces the concept of "instant euhemerization."
First, a deity can easily be euhemerized from day one. It does not require any time lag at all. Especially if that deity is euhemerized to cre­ate an exoteric allegory for both the public and new initiates, whose esoteric meaning is explained only to more advanced members (Elements 13 and 14). Although the deities and heroes in the Rank-Raglan class were either euhemerized centuries after they were first worshiped as deities (like Osiris), or at the moment of their invention they were placed centuries in the past (like Jason), this was not because either was necessary for the process to work. (Carrier, 2014, p. 249)
By now, Carrier's definition of euhemerization is all but unrecognizable. If Jason was "instantly euhemerized," then any number of heroes from the past can be construed along the same lines, which goes well beyond with anything Euhemerus or any subsequent euhemerist ever imagined.
Conclusion
I'm arguing here not so much for a strict definition of euhemerism, as for a coherent one. As we've seen, later euhemerists may have stretched the meaning slightly, but in every instance, they were rationalizing well-known divine, semi-divine, or heroic beings by creating mundane histories.
This usage is backed by a well-documented pedigree. The word "euhemerism" entered the English language back in 1846 (see the OED Compact Edition, 1986, p. 902). According to Max Müller (1864):
. . . Euhemerism has become the recognised title of that system of mythological interpretation which denies the existence of divine beings, and reduces the gods of old to the level of men. Distinction, however, must be made between the complete and systematic denial of all gods, which is ascribed to Euhemerus, and the partial application of his principles which we find in many Greek writers. (Müller, 1864, p. 397)
Müller perhaps overstated the case with respect to Euhemerus, but he was correct in that euhemerism is the application of what later writers (not only Greek, but Roman as well) believed to be euhemerist principles, and therefore the verb to euhemerize derives from that practice, and not strictly from Euhemerus himself.
Consequently, taking into account the writings of euhemerists in the past as well as its usage by scholars in modern times, euhemerism cannot refer to the gospels, since none of the evangelists were trying to rationalize a celestial Christ. They may have been creating legendary terrestrial events in a reconstructed life of Jesus, but they were clearly not consciously creating history in order to demythologize Jesus. If anything, they were adding to the miraculous nature of a celestial Christ who once walked on Earth — building him into a beloved teacher, a healer, a miracle worker, a wise man, a champion of the poor, a great prophet who stood up to the corrupt priests, a deep thinker who jousted with Pharisees and Sadducees, a true friend of his followers, a ransom for many, the beloved son of God.
We began this post by discussing the roots and meaning of the word Darwinism. One could argue, à la Carrier, that it's "doing what Darwin did," which would be to claim that all species have descended from a common ancestor, through a process of gradual change, effected by natural selection. Similarly, "doing what Euhemerus did" would be to claim that certain beings we now think of as divine (or semi-divine or heroic) are really just ordinary men and women who once lived among us, were revered because of their good works, and eventually became thought of as gods.
To think of euhemerism as something other than this specific method of rationalization and demythologizing is to misunderstand its proper usage and to misrepresent its well-documented history.
[Note: This post reflects my perspective and mine alone. Neil is not responsible for any of the above content. In other words, don't blame him; blame me. –Tim]
---
Carrier, Richard
On the Historicity of Jesus: Why We Might Have Reason for Doubt, Sheffield Phoenix Press Ltd., 2014
Fentriss, James and Wickham, Chris
Social Memory: New Perspectives on the Past, ACLS Humanities E-Book, 2008
Fontenrose, Joseph
Ritual Theory of Myth, University of California Press, 1971
Müller, Max
"The Mythology of the Greeks" in Lectures on the Science of Language, Vol. 2, Longman, Green, Longman, Roberts, and Green 1864
Murdock, D.M.
Christ in Egypt: The Horus-Jesus Connection, Stellar House Publishing, LLC, 2009
Raglan, Lord (FitzRoy Somerset)
The Hero: A Study in Tradition, Myth and Drama, Dover Publications, 2011
Winiarczyk, Marek
The "Sacred History" of Euhemerus of Messene, De Gruyter, 2013
The following two tabs change content below.
Tim Widowfield
Tim is a retired vagabond who lives with his wife and multiple cats in a 20-year-old motor home. To read more about Tim, see our
About page.
Latest posts by Tim Widowfield (see all)
---
If you enjoyed this post, please consider donating to Vridar. Thanks!
---