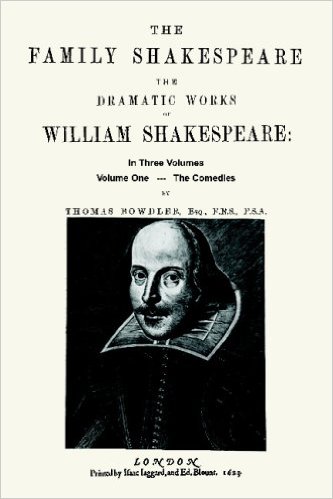 Imagine for a minute that you're administering a test on the history of English literature, and one of your questions asks the students to explain in a short essay the meaning of word bowdlerize. Now imagine I've taken your test, and my essay begins:
"To bowdlerize something means doing what Thomas Bowdler did."
I'm off to a bad start. But it gets worse. I continue:
"We can debate about why he expurgated Shakespeare's plays, but what matters is what not why he did it."
Then, oddly, I cite Aristotle's four causes as if they have any relevance to the meaning and history of a word. Next, I veer off into a discussion about what other bowdlerizers have done.
"Some were offended by sexual innuendo, while others were put off by curse words and impiety. But it doesn't matter why they did what they did, nor does it matter what the effect was. What they all did in common is the same one thing: expurgate works of literature. A trend begun by Bowdler. And thus so called."
If I were you, I wouldn't give me any points. The tiny part I happened to get right is overshadowed by the rest. We'll see why as we go on.
Euhemerism, again
Richard Carrier, in his recent "Brief Note on Euhemerization," provides a helpful TL;DR, which begins:
Euhemerization is doing what Euhemerus did: convert a non-historical deity into a deified historical man (in contrast to deification, which is when an actual historical man is converted into a deity).
Everything after the colon is generally correct, albeit incomplete. But in the first part of the sentence Carrier commits the same error I did concerning the word bowdlerize. He has demonstrated a rather extreme case of the etymological fallacy. Usually, that would mean that he knew the original meaning of the word and discounts the current meaning. However, in this case, he has gone all the way back to the word's eponymous roots.
That isn't how English works. That isn't how any language works. Words gain meaning through usage, which explains why Oxford, Collins, Merriam Webster, et al. keep vast repositories of lexical citations. You can't understand what a word means without knowing how people use it. Living languages are not prescribed; they are described.
Further, when a word is a term of art — such as bowdlerize and euhemerize — it matters how professional practitioners in the relevant fields use them. When experts in literature say somebody bowdlerized a poem, a novel, a film, etc., they mean more than just cutting out the naughty bits. It makes a difference why and how the self-righteous censor did it. For a clearer understanding of what the word means, you can hardly do better than the article on Thomas Bowdler in the Encyclopedia Britannica of 1911:
The official interpretation is "to expurgate (a book or writing) by omitting or modifying words or passages considered indelicate or offensive." Both the word and its derivatives, however, are associated with false squeamishness. In the ridicule poured on the name of Bowdler it is worth noting that Swinburne in "Social Verse" (Studies in Prose and Poetry, 1894, p. 98) said of him that "no man ever did better service to Shakespeare than the man who made it possible to put him into the hands of intelligent and imaginative children," and stigmatized the talk about his expurgations as "nauseous and foolish cant."
Well, I said you could hardly do better, but I think the post at tvtropes.org is even clearer:
But true Bowdlerizing starts when you actually lower the quality of the art or story in some way in the editing, sometimes as little as spoiling jokes or perhaps making villains not look quite as evil, but escalating to damaging the plot, making dialogue confusing, and making heroes look pure and shiny. And at its very 'best,' it can make a situation less acceptable.
Where I failed
It isn't wrong to define a word by its usage. In fact, that is the only valid way to define a word.
I wrote in my short essay that it didn't matter why Bowdler did what he did; only the "what" matters. That's wrong at its core. It actually doesn't matter what Bowdler actually did or why he actually did it. What matters is what people thought he did. In fact, if you do a little research on the matter, you'll find that many historians now think his sister, Henrietta, probably made most if not all of the "improvements" to Shakespeare's works.
But my definition really misses the mark because I mistakenly assumed that my iffy understanding of the word's etymology trumps its usage. If you've ever argued with somebody who "knows" the real meaning of the word decimate because he took a semester of Latin, you know how hard it is to convince some people how human language works. It isn't wrong to define a word by its usage. In fact, that is the only valid way to define a word.
I also failed because I rejected its primary characteristics as secondary and superfluous. "Expurgation" is a tolerable definition for a pocket dictionary, but understanding the term in its full literary sense means that I have to mention the false squeamishness imputed to bowdlerizers, and the ruined works they leave in their wake. Nor is it simply the removal of words or sentences that offend; it includes replacing words that might make good Christian ladies blush.
By the way, you may have read that Bowdler changed "Out, damned spot!" to "Out, crimson spot!" But that appears not to be the case, as you can see here: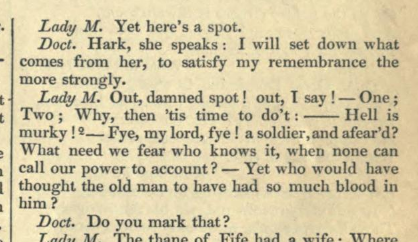 Bowdlerism resembles euhemerism in that today both exist mainly as accusations. Nobody will proudly announce, "Hey! I just bowdlerized your book!" Similarly, when you see somebody use the word euhemerize today, they're often accusing people of hyper-rationalizing, taking myths or legendary figures and theorizing about historical people as plausible antecedents.
Where Carrier thinks I failed
Carrier says that in my earlier post on Euhemerism, my analogy to Darwinism fell flat.
This is the problem with trying, as Widowfield does, to create an analogy between Darwinism, which is by definition not teleological, with an actual goal-oriented human activity. The latter differentiates between the act itself and its purpose. And as such, the same act (smelting steel, say) can be turned to many more purposes than its originators intended or imagined (you can smelt steel to make swords, plowshares, or literal flying machines). What you create is different from how you use it. Euhemerus did not invent his idea, but he popularized it. How people thus inspired then used that idea varied, as each user had their own goals, which his idea could be turned to accomplishing.
By comparing Darwinism to euhemerism, I had merely hoped to show how various people have misused both terms. In most cases, they misuse them because they don't know their defining characteristics. Euhemerus's method caught on in the Greco-Roman world, first and foremost, because it offered a naturalistic explanation for the gods. Carrier confuses this defining characteristic with a variable result.
Different people may smelt steel and end up with a sword or a pruning hook. Correspondingly, when Eusebius rationalized pagan gods as ancient kings, he did it to discourage people from worshiping them. But medieval European noblemen rationalized legendary demigods in order to claim descent from heroes. The defining characteristic remains the same, but the motives and outcomes are different.
In any case, as I said above, usage determines meaning. And in the case of a term of art, it matters especially how experts use it. As an example, in Utter Antiquity: Perceptions of Prehistory in Renaissance England, Arthur B. Ferguson writes:
Euhemerus himself had satisfied the naturalistic instincts never far from the surface of Greek culture by popularizing the idea that the gods had once been mortals deified by a grateful people for some signal service; and the idea continued to satisfy those in later centuries who, for one reason or another, likewise preferred to explain the gods in quasi-historical terms rather than as fantasies born of fear or favor. Palaephatus, his successor as a prophet of euhemerism, showed how obviously fabulous elements in the historical fables could be explained away, leaving standing a true history. And Dioclorus Siculus, whose universal history, though pagan, enjoyed a considerable currency in the early church, went one step further than Palaephatus by retelling the stories of the gods as though they were chapters in the history of the world. (Ferguson, 1993, p. 13, emphasis mine)
Will the real euhemerists please stand up?
Historians such as Ferguson, as well as anthropologists, sociologists, and classicists agree. Euhemerism is rationalization by the invention of historical figures. Ironically, while Carrier mistakenly calls Mark a euhemerist, he seems to have missed the fact that real euhemerists walk freely among us today.
Can you think of anyone who rationalizes "obvious fabulous elements in the historical fables"? Who do you know that explains away miraculous material in ancient texts, "leaving standing a true history"? That's right. All of the historicists who vigorously insist that they can carve away the implausible parts of the New Testament and leave behind the bare bones of the real Jesus are euhemerizing him. They're not "doing what Euhemerus did," but rather doing what euhemerizing has come to mean through its usage — which, by the way, is amply demonstrated in the historical record.
The following two tabs change content below.
Tim Widowfield
Tim is a retired vagabond who lives with his wife and multiple cats in a 20-year-old motor home. To read more about Tim, see our
About page.
Latest posts by Tim Widowfield (see all)
---
If you enjoyed this post, please consider donating to Vridar. Thanks!
---