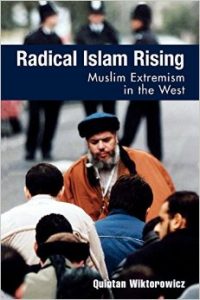 Dr. Quintan Wiktorowicz works with CEOs and senior leaders to leverage high impact outreach and engagement, partnerships, and innovation to create opportunities and manage risk. He is an internationally recognized author and expert on national security engagement and counter-terrorism and served in two senior positions at the White House, where he led efforts to advance national security partnerships and innovation at home and abroad. Prior to joining the White House, Dr. Wiktorowicz developed ground breaking counter-radicalization initiatives for the Intelligence Community and the Department of State. Before his government service, he was a social movement theorist and one of America's leading academics on the Muslim World.
Extract from The Huffington Post biography [link no longer active: Neil Godfrey, 24th July 2019]
Over my end of year break as I was catching up with Quintan Wiktorowicz's Radical Islam Rising: Muslim Extremism in the West(2005) I was somewhat amazed at the extent to which my own personal experiences as a member of a Christian cult many years ago overlapped with what I was reading about the factors that lead people into extremist Islamic movements.
Wiktorowicz's case study was the British based and now banned Al-Muhajiroun (= "The Emigrants"). My own experience was with the Worldwide Church of God and has since been further informed through a wide reading about other religious cults, the comparable experiences of others and some of the research into why people join them, why they remain and why they leave.
Similarity #1
On page 47 Wiktoriwicz has a section headed REQUIREMENTS FOR THE COMMITTED ACTIVIST. It begins (with my own bolding):
Al-Muhajiroun activists participate in a dizzying array of required weekly activities, and the tempo of activism is fast-paced, demanding, and relentless. Activists commit to an assortment of lessons, public outreach programs, protests, and countless movement-sponsored events, all of which consume tremendous amounts of time, energy, and resources. They center their lives around the movement and in the process frequently sacrifice work, friends, family, and leisure time. To put it simply, al-Muhajiroun participation is an intense experience.

Wiktorowicz, Quintan; Wiktorowicz, Quintan (2005-07-21). Radical Islam Rising: Muslim Extremism in the West (p. 47). Rowman & Littlefield Publishers. Kindle Edition.
Oh yes! That is very much a mirror of what one finds among religious cults. Mid-week evening Bible Study meetings (the family, children included, generally expected to attend); all day sabbath services and related activities; day of preparations work to be sure everything is in place for the sabbath "rest"; daily minimum of half hour prayer and half hour personal bible study — but with the constant message that the servant who does only the minimum expected is an "unprofitable servant" destined to be "cast out" in the final judgment; active participation in other social events and promoting of "the work" — e.g. letter box drops, maintaining stalls, local fund-raising; volunteering to work at youth camps; setting aside (in Australia) two tenths of one's gross income for donations to "the work" and compulsory holy day festival attendance in addition to "voluntary offerings", and twice in seven years setting aside a third tenth of one's gross income ostensibly for "the poor". Two magazines and a lengthy co-worker letter were produced monthly and were required reading. Other self-improvement activities were constantly promulgated: a regular speaking club for men; fitness and diet schedules; dress codes; correct habits of speech; the requirement to keep up to date with current news.
The Church or "Work" is one's whole life. Birthdays, Christmas holidays, Easter, — these were all shunned as "pagan" so one necessarily withdrew from family and former friends. If sabbath and holy day festivals clashed with job requirements then so much the worse for the job.
The details of what keeps members busy and committed varies from cult to cult, but the effect is the same. Such a routine functions to immerse the member in the thought-world of the organisation. There is no time for serious, independent reflection.
Religious training lies at the core of activism: committed activists must master religious doctrine and movement ideology so that they can effectively promote al-Muhajiroun's ideological vision of an Islamic state and society. To ensure that they are intellectually equipped with "proper" (i.e., movement) religious beliefs, formal members are required to attend a two-hour study session held by the local halaqah (circle) every week. Attendance is mandatory, unless the individual cannot make it because of travel constraints, a sick family member, or an emergency. In each country where al-Muhajiroun is active, the country leader may excuse absences for additional reasons deemed acceptable under Islamic law.

Wiktorowicz, Quintan; Wiktorowicz, Quintan (2005-07-21). Radical Islam Rising: Muslim Extremism in the West (p. 47). Rowman & Littlefield Publishers. Kindle Edition.
Reminds me of our mandatory two-hour weekly Bible Study sessions. Members who regularly absented themselves from weekly Sabbath services and also failed to have a good reason for skipping mid-weekly Bible Studies were noted (a few trusted members were assigned the surreptitious maintenance of attendance sheets) — and paid a visit by the ministry. Continue reading "Islamic Radicals and Christian Cults: Cut from the Same Cloth"