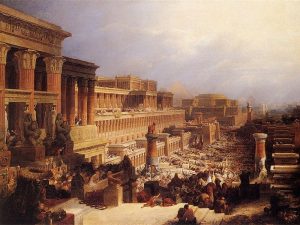 Dr. Hector Avalos has posted at Debunking Christianity his thoughts on the documentary film, Patterns of Evidence: Exodus produced by Timothy Mahoney, and reasons to discount the historicity of the Exodus. Film trailer.
I posted various views of the origins of the Exodus story in a number of posts now.
So speaking of Exodus, here I want to continue on from a 2014 post, Transvalued Folktales & Classifying the Bible's Narratives, and see how a contemporary specialist in Exodus identifies the signs of folklore or fairy tale in this biblical narrative.
William H.C. Propp sees in the Exodus tale the same nuggets that go into the making of folktales or fairy tales and that were set out by another Propp (no relation), Vladimir Propp in 1968, The Morphology of the Folk Tale. For an outline of these structural elements see the Wikipedia article on Vladimir Propp. William Propp's argument is found in his commentary, Exodus 1-18: a new translation with introduction and commentary, pp. 32 to 34
William Propp begins by acknowledging that Exodus is far more complex than the ordinary folktale. For a start Exodus has not one but three heroes: God, Moses and Israel. Other tale types intrude as well. Nonetheless, "the overall sequence of events follows [Vladimir] Propp closely."  Continue reading "Exodus as a Fairy Tale"