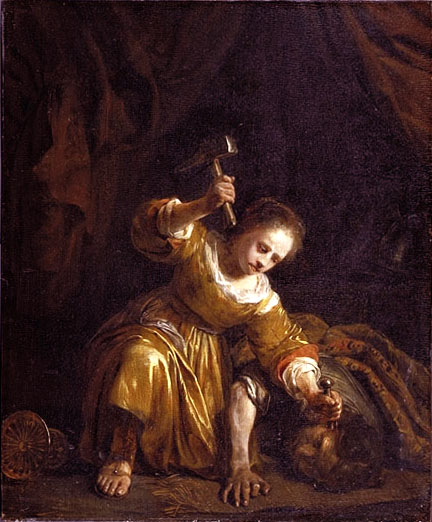 The Song of Deborah in the fifth chapter of Judges, according to most scholars, contains some of the oldest material in the Hebrew Bible. However, Serge Frolov in a journal article and an online post notes several clues that should make us suspect that it's a later work retrojected into the past. For example, he writes:
Another clue is what the text says, intentionally or unintentionally, about the author's world. The U.S. Constitution was clearly written for a country that practiced slavery. Deborah's song just as clearly has a monarchic political state in mind. It addresses "kings" and "potentates"; describes those who answered her battle cry as "princes," "holders of the marshal's staff," and "lawgivers"; and portrays Sisera's mother as a royal figure, complete with "princesses" waiting on her. Archaeology tells us that ancient Israel first became a monarchy in the 10th or perhaps even the ninth century B.C.E. Before that, its population simply had no concept of such aristocratic titles as "prince" for Israelites. (Frolov, 2016)
Given the linguistic content of the material, then, it would appear that someone perhaps even as late as the Babylonian Exile may have written the song in an archaic form of Hebrew as a deliberate affectation.
In any case, my interest at the moment is not so much the song itself, along with its lurid details and grotesque schadenfreude concerning Jael crushing Sisera's skull (which is apparently an irresistible subject for artists), as its unexpected use in a particular event in British Colonial American history.
Just what are you guys doing over there?
Many of the Separatist Congregationalists who left England in the early 17th century tried making a go of it in Holland but eventually came to the conclusion that living among the Dutch presented the temptation of too much freedom. Nor were they happy with the prospect of their children assimilating culturally into a non-English society. The decision to leave Holland and sail to a new, wild continent had little to do with the religious freedom of the individual, but everything to do with the religious liberty and solidarity of the group. Within their new, ideal community, they would stay focused on what they believed to be important and would bind themselves together via a legal compact.
Ostensibly, though, this self-enforced deportation from Mother England would be temporary. Their example may, they reasoned, serve as an object lesson on how free and pious people should live together. Of course, the Separatists represented a small percentage of Puritan dissenters; most had decided to remain and resist. Michael Kammen, in his essay entitled "Some Patterns and Meanings of Memory Distortion in American History" says:
A majority actually chose the latter option [to tough it out] and stayed, but a minority migrated to the Massachusetts Bay Colony with this rationale: because the Church [of England] was hopelessly unreformed, they were obliged to leave in order to save their souls. But their mission would most likely not result in a permanent transplantation. The New Jerusalem that they expected to create would be so successful, such a model community in covenant with the Almighty, that they would eventually be recalled "in glory" to recreate their New Jerusalem at home. (Kammen, 1995, p. 331, emphasis mine)
As time went on, and especially once the English Civil War broke out in the 1640s, those who had stayed behind began to ask some rather pointed questions of their brethren across the sea. In The Puritan Ordeal, Andrew Delbanco writes:
Indeed, with the outbreak of war in England, irritable questioning had turned increasingly to righteous anger. . . .

Meanwhile, Judges 5:23 became a favorite text of the parliamentary preachers: "Curse ye Meroz, said the angel of the Lord, curse ye bitterly the inhabitants thereof; because they came not to the help of the Lord . . . against the mighty," a text rarely invoked by the Puritans in America until Davenport used it twenty years later to thrash those who faulted him for aiding the regicide judges. 

"There are [some] . . . who stand as neuters," declared Stephen Marshall in the House of Commons, "who stand aloofe off, shewing themselves neither open enemies nor true friends" to the soldiers of the Lord. Though the Puritan warriors under Cromwell had in mind a variety of malingerers, mainly domestic, their exegesis carried specific embarrassment for New England. "I could never learne," Marshall added, "whether Meroz were a Citie or a Province . . . If they were a Province, their Land proved a desolate Wildernesse." (Delbanco, pp. 101-102, bold emphasis and reformatting mine)
Come on home!
Had they stayed true to their own rhetoric, they probably would have gone back to "Old England." But most had already begun to think of the colony as home, and they enjoyed their freedom and autonomy. But surely, once their side had won the war, their entire case for separation melted away, hadn't it? As Kammen puts it:
After 1647 and the triumph of Oliver Cromwell's New Model Army and the creation of a Puritan Commonwealth, surely the self-exiled Puritans no longer had any excuse to remain overseas. According to their own explanations at the time of emigration, they should have returned to England to reinforce the new polity of Saints. The New Jerusalem was imminently at home. (Kammen, 1995, p. 331, emphasis mine)
Yet the majority had no desire to return. Their emerging resolve to remain in the New World, combined with the recent memory of their clearly stated reasons for coming to America, brought severe cognitive dissonance, but this mental conflict quickly dissipated as the colonists constructed new mental scaffolding upon which they hung distorted social memories.
So they stayed put and thereby provide us with an intriguing example, from the very onset of American history, that memories can readily, with scant embarrassment or challenge, be quietly repressed within a generation and replaced by alternative explanations, credible and defensible, for human impulses of the most elemental sort — such as relocating to a brave new world in quest of religious purity and autonomy. (Kammen, 1995, p. 331-332, emphasis mine)
Converting the savages
One of the less convincing new reasons for staying was the supposed missionary work among the native population. If they had really been engaged in such an effort, they had reason for embarrassment over their lack of success. If anything, colonists were more apt to "go native" than for the locals to join them. By the time the Pequot War broke out anyone should have recognized it as an unmitigated failure.
The shift from conversion to conquest was by no means considered an acceptable change of tactics to fulfill a scriptural destiny; looking back on it was not a matter for resigned equanimity. It was nothing less than the collapse of a major, if belated, justification for their venture. (Delbanco, pp. 107, bold emphasis mine)
While some Puritan thinkers chalked it up to the Indians' baser heritage, claiming they had descended from the "dark brothers" of Scripture — Cain, Ishmael, Esau — others insisted they were the progeny of the lost Ten Tribes of Israel. In any case, attempts at converting the natives came to naught.
As the idea of Jewish Indians declined into a crackpot theory and the claims surrounding it proved spurious, an enervating effect could be felt upon New England's collective morale. By the end of the century lists of possible Indian genealogies were still being compiled, but with hardly a mention of the theory of Jewish origin. There was, moreover, no compensation for the failure of conversion in reverting to the idea of Indian savagery — "What God will do for the future with America," remarked Increase Mather, "is not for us to determine . . . but . . . the Lord has not hitherto seen meet to shine upon this so as on the other Hemisphere. The greatest part of its Inhabitants are Pagans. Most of those that have any thing of the Christian Name are really Anti-Christian . . . a Scandal to any Religion." This is not a righteous call to arms. It is a confession of abject failure. And it goes some distance (along with the many other portents of disaster) to explaining why second-generation Puritans attended to predictions from England that America was likely to become "one of the dolefullest spots of Ground on the face of the Whole Earth." (Delbanco, pp. 107, bold emphasis mine)
Social frameworks as sources for distortion
Kammen's paper goes on to list other turning points in the history of the United States in which collective memory changed in order to conform to a new social norm. The reasons for these changes need have nothing to do with sinister forces and deliberate deception.
As I tried to suggest at the outset, the distortion or even the manipulation of collective memory does not always, or inevitably, occur for cynical or hypocritical reasons. That has certainly been the case on occasion, as we have seen; but memory distortion also occurs commonly in post-colonial situations where the creation of national identity is necessary for functional reasons of political and cultural cohesion. (Kammen, 1995, p. 340)
The processes he describes are normal and natural, and they are not unique to the American experience. It only seems remarkable to us as we read these examples, because when we experience the phenomenon firsthand, we barely notice it. In fact, the general populace quickly assimilates and digests the new, distorted memory.
Moreover, even when leaders (political and spiritual) do engage in memory distortion or "practice" historical amnesia, we must recognize that members of the public at large are often likely to believe and internalize the rationalizations they receive. Frequently, as we have seen, the willful alteration of collective memory becomes a necessity for a viable, progressive society. How else can it coherently adapt to change, often desirable change, without being plagued by a sense of inconsistency or sham? (Kammen, 1995, p. 340)
We cannot predict just exactly how a society will "reconfigure" its collective memory in response to radical changes. Sometimes existing memories will find a new purpose, undergoing a commensurate radical reinterpretation. Other times, entirely fabricated memories will appear and become part of the social conscience.
Nor can we predict the speed at which memory will change. Social amnesia can occur gradually or practically overnight. Consider how quickly the "states rights" reinterpretation became the dominant explanation for secession after the American Civil War ended. Nobody wants to be caught standing on the wrong side of history.
Distortion or refraction?
Experts who write about memory distortion do not always explain what they mean by the term. I understand it as an umbrella term, covering the processes of perception, encoding, categorizing, storing, and retrieving information. At any point along the line, individual and social memory may deviate from "the truth." In Michael Schudson's paper, "Dynamics of Distortion in Collective Memory," he writes:
The notion that memory can be "distorted" assumes that there is a standard by which we can judge or measure what a veridical memory must be. If this is difficult with individual memory, it is even more complex with collective memory, where the past event or experience remembered was truly a different event or experience for its different participants. (Schudson, 1995, p. 346)
As with individual memory, collective memory can change over time. As we said above, distortion can simply be an existing memory that gains new meaning, or it can be a partial or complete fabrication. Presented with the finished product, we may have few, if any, remaining clues that some memories are pure (albeit useful) fiction. In part 2 of this series, we noted that the widely believed collective memories of people changing their names at Ellis Island had no basis in fact. Nearly three years ago, we looked at reasons for people inventing stories about Christopher Columbus.
These case studies should encourage caution on the part of anyone who writes about history. I continually check and double-check items that I think are factual. You probably have the same experience — things we take for granted often have no corroborating evidence. And upon further review, they turn out to be myths, or perhaps assertions by one source that we simply can't verify.
With all the foregoing in mind, I think you'll understand why I find the following quotation from Anthony Le Donne quite distressing:
In order for a series of refractions to be trustworthy, they must seem plausible. If they are distorted in a way that makes them look like a kaleidoscope, we will be confused and we will not trust our memories. Memory is a series of slight refrac­tions along a trajectory. It is this continuity of slight refractions that renders memory intelligible. If there are dramatic shifts or large gaps in this continuity, we will notice a problem. Most often we don't — memory is simply taken for granted. (Le Donne, 2011, p. 109, emphasis mine)
Triangulation of what?
[Le Donne] has missed the point entirely, which is that
the new interpretation or the new fabrication must conform to the new social frame
. As long as it does — that is, 
as long as it serves its purpose
— the new configuration will stick.
I am not quoting La Donne's statement out of context. On the contrary, his triangulation theory depends on these naïve assumptions.
What is vital to this model is the concept of mnemonic continuity. In order for successive memory distortions to be thought of as a "trajectory" there is little room for dramatic distortions. Once a perception has been localized within a particular mnemonic category, the distortions thereafter will constitute only incremental modifications to that category. This, of course, is not an absolute. Certainly, human history is measured in terms of paradigm shifts. For example, the perception of celestial bodies underwent a dramatic shift in the post-Copernicus era. Or, on a more personal level, a severe traumatic experience can have a similar effect. But even in such cases, societal constraints and the need for internal continuity tend to temper such paradigm shifts so that their effects are felt over a longer period of time. More commonly, memory progresses without dramatic shifts. (Le Donne, 2009, p. 72, emphasis mine)
And in his rebuttal to Zeba Crook, he writes:
Crook completely overlooks my third argument. As such, he misses the heart of my method: the possibility for mnemonic triangulation. If memories distort in patterns, they can be charted. The Jesus tradition is diffuse and betrays several mnemonic trajectories. Sometimes, these trajectories seem to emerge from a common mnemonic sphere and, sometimes, these trajectories distort in opposite directions. In these cases, the exaggerated (and even manufactured) memories of Jesus can be triangulated to postulate the mnemonic sphere from which they emerged. (Le Donne, 2013, p. 94, emphasis mine)
Le Donne's assertions are wholly unsupportable. Time after time we see examples of group amnesia combined with the adoption of radically new memories or of wholesale reinterpretations of existing memories — even in literate societies with written records. Le Donne says that can't happen, or else "we will be confused and not trust our memories." He has missed the point entirely, which is that the new interpretation or the new fabrication must conform to the new social frame. As long as it does — that is, as long as it serves its purpose — the new configuration will stick.
Consider again our case study at Ellis Island. No "societal constraint" kept people from inventing stories of faceless bureaucrats forcing immigrants to change their surnames. On the contrary, the new social framework itself encouraged the fabrication of memory. In this case, it was not a damper; it was a lubricant.
Because Le Donne mistakenly believes that social memory nearly always evolves in "a series of slight refractions along a trajectory," he is predisposed to see patterns that do not exist. From an imagined past to common stories in the gospels, he draws lines that diverge and intersect, like so many Martian canals.
Conclusion
In the next few installments, we'll look more closely at social memory distortion and how the Memory Mavens deal with it. We will see how easily we humans can accept distortions as long as they help us deal with our changing environment. As it applies to the New Testament, I will focus on what I think is the single greatest event or series of events that affected early Christians, namely the war with Rome waged in Judea, followed by the siege of Jerusalem and the destruction of the Temple in 70 CE.
---
Delbanco, Andrew
The Puritan Ordeal, Harvard University Press, 1991
Kammen, Michael
"Some Patterns and Meanings of Memory Distortion in American History" in Memory Distortion: How Minds, Brains, and Societies Reconstruct the Past (pp. 329-345), Harvard University Press, 1995
Le Donne, Anthony
The Historiographical Jesus: Memory, Typology, and the Son of David, Baylor University Press, 2009
Historical Jesus: What Can We Know and How Can We Know It?, Wm. B. Eerdmans Publishing Company, 2011
"The Problem of Selectivity in Memory Research: A Response to Zeba Crook" in Journal for the Study of the Historical Jesus, vol. 11, Issue 1 (2013), pp. 77-97.
Schudson, Michael
"Dynamics of Distortion in Collective Memory" in Memory Distortion: How Minds, Brains, and Societies Reconstruct the Past (pp. 346-364), Harvard University Press, 1995
The following two tabs change content below.
Tim Widowfield
Tim is a retired vagabond who lives with his wife and multiple cats in a 20-year-old motor home. To read more about Tim, see our
About page.
Latest posts by Tim Widowfield (see all)
---
If you enjoyed this post, please consider donating to Vridar. Thanks!
---