Legends that stick
Some myths have extraordinary staying power. Because modern media causes us to believe we're witnesses to real events, we often reject good evidence that disproves what we think we saw and heard personally. I grew up thinking that the embarrassing mistakes Kermit Schaefer presented on his record albums were completely authentic. We all rolled on the floor laughing as we listened to cuts from Pardon My Blooper, but what my family and I didn't know was that if Schaefer couldn't obtain the actual recordings, he'd pay actors to recreate them.
[youtube=https://www.youtube.com/watch?v=kvyISMXVrmY&start=116&end=152&rel=0]
"Goodnight, little friends, goodnight."
Lots of people still think they know Uncle Don referred to his audience as "little bastards" over an open microphone. Even after you tell them that Schaefer forged the recording (with no warnings on the record, by the way), and even after you show them evidence that it never happened, they're just so sure of their memories, they can't quite believe it.
There's something about hearing it on the radio or on a recording, or seeing it on television or in a movie that makes us complicit in the social memory of an event. We don't think of the event as something "out there" in the past, but rather something we're part of. In a sense, the event is part of us. So, for example, even a fictional story like The Godfather can become part of the fabric of our memory, especially the cultural memories of place and time: namely, the United States in the early 20th century.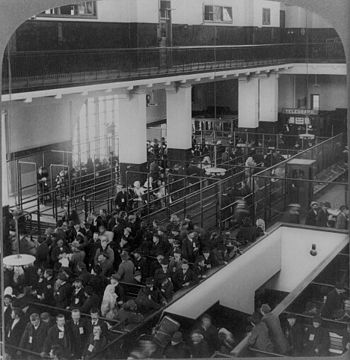 "They changed our name."
In The Godfather II, we learn that Vito Corleone's real surname is Andolini, but that the workers processing immigrants at Ellis Island mistook his home town for his last name and made Andolini his middle name. In the public's mind these sorts of mistakes went on all the time. Sometimes, it turns out, they just bungled the transcription, and people had to live with their new, misspelled names. Worse than that, sometimes, perhaps many times, those faceless bureaucrats would force immigrants who had strange names to change them to something that sounded more "American."
Yet, despite the widespread belief in such events, it's all a myth. In fact, in the novel Vito Corleone deliberately changed his own name. And in real life, we know immigrants were not given new names at Ellis Island. The workers who processed immigrants simply took the names from the ship manifests (usually compiled at the port of embarkation) and transcribed them. They had no authority to modify what they found on the manifests, and they would not have had any incentive to do so.
Nor were they confused by the foreign languages of the incoming passengers. Most of them could speak and read those languages (Italian, German, Polish, etc.), or they could rely on translators standing nearby to help them.
Family memories
This social memory of Ellis Island as a place where heartless government administrators arbitrarily Americanized people's names corresponds to the family memories of many next-generation ethnic Poles, Italians, Serbs, Croats, Czechs, etc., who learned early on that their name in the Old Country was one thing, but upon arrival, "They changed our name." Sometimes the new name began with the same letter, but was Anglicized. Or sometimes it was simply translated. So, perhaps Wallechinsky became Wallace or Schmidt became Smith.
Continue reading "The Memory Mavens, Part 2: A Case Study at Ellis Island"