Related pages:
After addressing the introduction to James McGrath's initial post reviewing Richard Carrier's On the Historicity of Jesus I now discuss his primary focus — the Ascension of Isaiah (Asc. Isa.I). I should be able to say that I will discuss McGrath's treatment of what Carrier himself writes about the Asc. Isa. but just as we saw with McGrath's treatment of Earl Doherty's mythicist case McGrath gives readers very little idea of what Carrier himself is actually arguing.
One does read at length McGrath's own viewpoint but without fairly addressing Carrier's own point the reader has no way of understanding the potential validity of McGrath's criticisms. No-one reading McGrath's review would realize, for example, that Carrier includes strong arguments for believing that significant sections of the original text describing the details of Jesus' crucifixion and its aftermath (including a one and a half year span of time in the lower firmament) have been lost.
Anyone who has read Carrier's book also quickly realizes McGrath has read little more than the pages he is discussing.
Carrier introduces the Asc. Isa. as part of his definition of "the minimal Jesus myth theory".
For those not aware of the Asc. Isa., the Asc. Isa. is an early Christian composite text:
chapters 1 to 5 describe Isaiah's altercations with false prophets and culminate in his martyrdom;
the second half (6 to 11) narrates a heavenly vision in which a Beloved Son, one who is predicted to be called Jesus on earth, descends to the lower regions to be crucified, resurrected and exalted again in the highest of the seven heavens;
nested in this second part is another section (11:3-22), in the view of many scholars evidently much later and quite out of character with the style and theme of the surrounding vision, that pictures graphic details of Jesus' nativity and his crucifixion outside Jerusalem.
That outline is a simplified overview (other verses are also thought to be interpolations and there is some debate about sequences of interpolations) but the general idea can be grasped from this image (also simplified). I have also tried to capture the different viewpoints one is likely to encounter in the various studies on this text: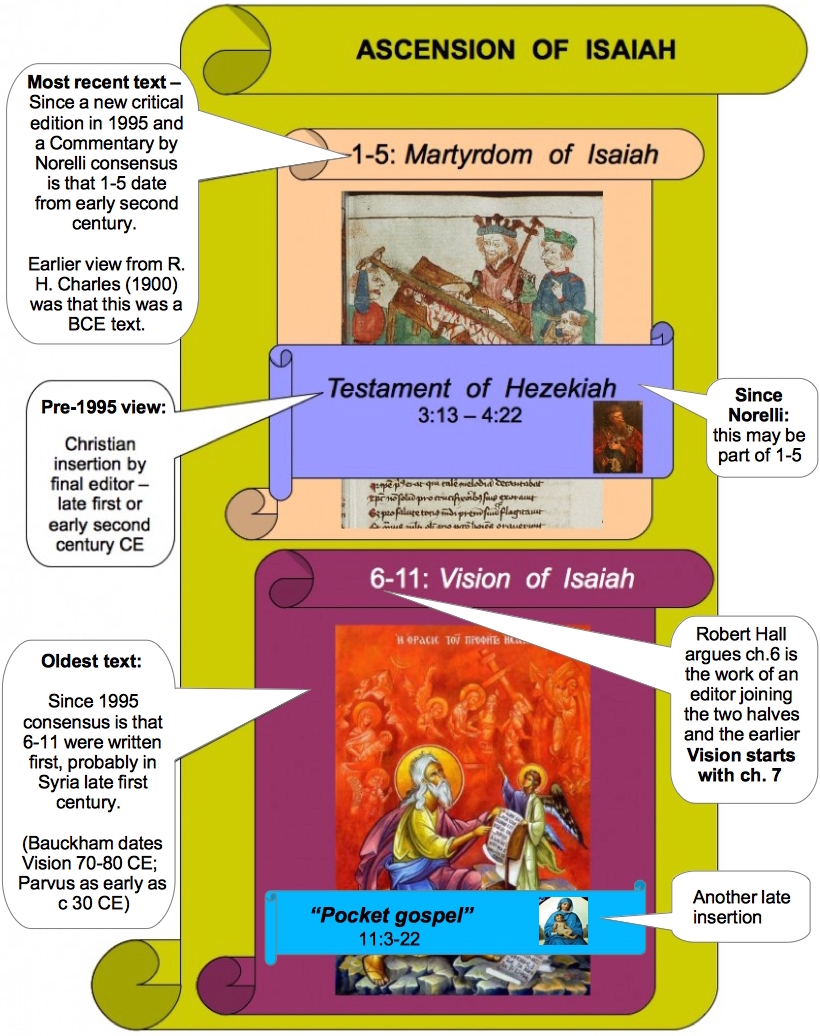 1995 was a turning point in the study of the Asc. Isa.. That year saw two pivotal Italian works that have paved the way for a new consensus:
Ascensio Isaiae: Textus, ed. P. Bettiolo, A. Giambelluca Kossova, E. Norelli, and L. Perrone (CCSA, 7; Turnhout, 1995);
E. Norelli, Ascensio Isaiae: Commentarius (CCSA, 8; Turnhout, 1995).
These were both included in volumes 7 and 8 of the Corpus Christianorum Series Apocryphorum in 1995.
Significance of the Asc. Isa.
Richard Carrier, like Earl Doherty, argues on the basis of the New Testament epistles that the earliest Christian belief about Jesus was that he was understood to have carried out his works of salvation in the heavenly realm and not on earth. Other texts from the era are drawn in as supporting evidence for this belief. Both Carrier and Doherty see in one of these supporting texts, the Asc. Isa., direct evidence external to the epistles for an early Christian belief that Jesus was crucified by demons in a region above the earth.
How Early is the Asc. Isa.?
Continue reading "McGrath Reviews Carrier: Part 2, Ascension of Isaiah"