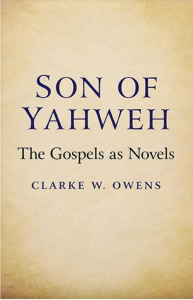 One of the gold nuggets in Clarke Owens' Son of Yahweh: The Gospels as Novels is its simple explanation of how how to distinguish between historical persons (e.g. Socrates, Thales, Alexander, etc) and fictive ones like (as we shall see) Jesus. I say it's a "simple explanation" but maybe that's because I am biased towards the idea of studying how literature works and the importance of understanding the nature of a literary source before we can know how to interpret its story.
I can already hear the groans of people thinking, "But we all know the Gospel Jesus is not the historical Jesus; we all know the Christ of the Faith is not the historical person," and so forth, so what's the point? Answer: In a future post we shall see that the very idea that the Gospels can even be used as sources through which theologians can dig to find history beneath them — an archaeological image often used by HJ scholars — is a fallacy.
Let's return again to John P. Meier. (We've spotlighted him a lot lately, and not only with these Owens posts. The price of scholarly renown!)
In The Marginal Jew, v. 1, page 12, Owens focuses on Meier's bald assertion that literary criticism is of no use to scholars who are seeking to discern genuinely historical material behind the Gospels. (I have argued that that is nonsense but in this post I will try to channel Owen's voice as much as possible.) And what are Meier's grounds for giving a priori confidence in the Gospels as gateways to historical information lurking behind the texts?
1st-century documents of Christian propaganda . . . advanced truth claims about Jesus of Nazareth, truth claims for which some 1st-century Christians were willing to die. . . .
Against these tired claims we do know people die for all sorts of nonsense and delusions;
we also know — well many of us do — that the stories of early Christian martyrdoms have been greatly exaggerated into mythical dimensions;
and we also know — at least many of us do — that there are more plausible explanations of Christian origins than a handful of devotees coming to feel a new inner-presence of their master who had been killed as a social and political outcast. (This is nothing other than a rationalistic paraphrase of the myth.)
Is not this a scholarly version, a slightly diluted version, of: "The Bible claims to be the Word of God and since the first generations of Christians willingly died for its message it must be true! No-one would die for a lie!" Scholar's edition: "The Bible claims. . . . and since Christians died. . . . there must be some truth somewhere there if we look with the proper tools." Both the conservative believer and the critical scholar in the service of increasing the credibility of theology to the modern world rhetorically conclude: How else do we explain the martyrdoms? How else do we explain Christianity?
When John Meier in his opening chapter of volume one discusses the "basic concept" of "The Real Jesus and the Historical Jesus" he creates the illusion of starting at the beginning but in fact he leaves the entire question of historicity begging.
Of course we can't know "the real Jesus" given the time-gap and state of the records; after all, we can only partially know "the real Nixon" despite his recency and the avalanche of material available on him.
Of course it becomes increasingly difficult to assess "the historical" the further back in time we go; it's hard enough knowing what to make of Thales or Apollonius of Tyana "or anyone else in the ancient world" and the evidence is just as scant for Jesus.
Owens identifies what Meier has done in making such comparisons (my bolding in all quotations):
An implication exists in the double comparison, which is that Jesus is as real as Nixon and as historical as Thales but the explicit point is that there is less 'reality' data on Jesus than on Nixon, and as meager 'historical' data on Jesus as on Thales.

We note that what we might consider the "first question" of any book purporting to deal with the issue of a 'historical Jesus' – the question of whether or not Jesus existed — is being set up to go begging. 'Reality' is impossible, and 'history' is impossibly difficult, so we are to assume both, as we do with Nixon and Thales.

(Owens, Clarke W. (2013-07-26). Son of Yahweh: The Gospels As Novels (Kindle Locations 216-221). Christian Alternative. Kindle Edition.)
Is Jesus really as historical as Thales?
No. And the reason the answer is No is because the qualitative difference between the literary evidence for the existence of Thales and the literary evidence for the existence of Jesus. (John Meier introduced the comparison of Thales so Clarke Owens takes this as a case-study to illustrate his argument.) Continue reading "Jesus Is Not "As Historical As Anyone Else in the Ancient World""