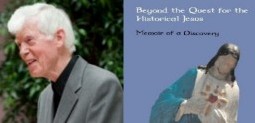 Brodie's final chapter* is essentially an attempt to justify religious faith or belief. How can one believe in the New Testament (or God)? (This is the final post on this book: the complete series is archived here.)
He begins by suggesting it is quite possible to believe the New Testament's message "as a parable". One can "believe a parable", he writes. He means that one can believe that its story conveys "an ultimate truth". The details of the Good Samaritan and the Prodigal Son stories are not true but "we believe" their message. One can even accrue some reassurance from reflecting upon all the witnesses of countless others who have believed through the ages.
Recall John Dominic Crossan's The Power of Parable: How Fiction By Jesus Became Fiction About Jesus. As pointed out here over three posts Crossan argues that the Gospels are not historical reports but theological "parables" about the meaning of Jesus. One may wonder if he is stretching the meaning of "parable" to breaking point, but larger argument is really not very distant from Brodie's. Naturally readers will ask themselves whether Jesus himself is a parable if all the stories about him are parables, so Crossan reassures readers that yes, Jesus was historical nonetheless. Indeed, it was his remarkable character that inspired all the parables about him. John Shelby Spong argues the same (Liberating the Gospels and Jesus for the Nonreligious). No doubt Crossan and Spong are not the only scholars to have settled upon such a view.
Virtually all the stories about Jesus are judged to be adaptations of Old Testament narratives in the judgment of Crossan and Spong (not too far from Brodie's own argument) but Jesus himself was real. Jesus is real even though he is the central character of "parables" and "theological fictions" and his own name is itself a pun on his role in those "Gospel myths".
Unlike Crossan and Spong, Brodie has concluded that the character Jesus is just as "parabolic" as any other person in the Gospels. (Even the historical Pilate was turned into a fictional character of "parable" in order to fit the theological agendas of the different evangelists.) In the same sense that he can "believe" the parables of the Good Samaritan and Prodigal Son he can "believe" the parable of Jesus Christ.
What good is Reason?
Brodie acknowledges the "struggle" many have with believing in a deity or spiritual dimension and this leads him into a discussion of belief and reason. Of course we know reason alone is not enough to create a good society, but Brodie appears to assume that what is missing is a spiritual dimension. For Brodie, the big questions revolve around reason and belief. Continue reading "Making of a (Christian) Mythicist, Act 5, Scene 4 (To Believe or Not to Believe the Parable) — Conclusion"