I very much doubt that it is possible to tell the gender of an author simply from reading the author's works. (Surely there are too many times women authors have fooled reading publics with male pen-names and male authors of romance are also on record as having fooled even literary judges with female pseudonyms.) But the women in Luke-Acts are sometimes singled out as indicators that the author at least had a special interest and affection for women.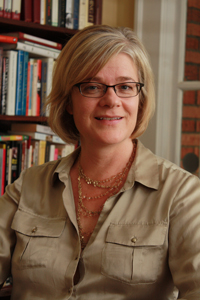 So while we still have the Acts Seminar Report fresh in mind let's see what Shelly Matthews, one of the Seminar Fellows, has to say about the women in Acts. She has a "cameo essay" addressing this topic in Acts and Christian Beginnings (the main title of the report).
Matthews writes:
[C]areful consideration of how women characters function in this narrative [Acts] suggests that the overarching rhetorical aim of this author is not to demonstrate friendliness toward women, but rather to circumscribe women within limited social and ecclesiastical roles. (p. 193)
Certainly there are more misogynist ideas extant in the second century than we find in Acts, Matthews continues:
The Pastoral Epistles insists women have no teaching authority and offer them salvation only through child-rearing.
The Gospel of Thomas has Peter declare that women are not worthy of eternal life.
Contrast women in Acts:
Lydia is a female head of a household who hosts Paul in Philippi
Priscilla is acknowledged (along with her husband) as a coworker of Paul
Priscilla (along with her husband) instructs Apollos more correctly in the Way
There are four daughters of Philip who are prophetesses
But none of this dents the "text's overarching androcentrism." Shelly Matthews shows that on closer inspection even these examples are not particularly favourable to women.
The vanishing of Mary Magdalene
Recall how in the Gospels of Mark, John and Mary that Mary Magdalene is clearly a more faithful disciple than Peter at the time of the fiery trial of the crucifixion. But the author of Acts has Peter add a "male only" requirement to be eligible for the job of apostle. See Acts 1:21
Therefore it is necessary to choose one of the men (ἀνδρῶν) who have been with us the whole time the Lord Jesus was living among us . . .
Thus the primary witness of the crucifixion and the resurrection is excluded on gender grounds!
Moreover, Mary Magdalene is removed entirely from the historical record of the post-ascension church. Women are mentioned
only as unnamed companions to the men in the upper room (1:14).
No prophetic speech of a woman (or male slave) is recorded
In his Pentecost speech Peter quotes a passage from Joel that points momentarily to a utopian vision of women, both free and slave, being among those who share the outpouring of God's prophetic spirit (Acts 2:17-18).
But this glimpse of a relatively utopian prophetic movement is framed by an emphasis on the masculine space in which Peter speaks. Peter addresses his audience with gender specific references to "men" and "brothers" and, aside from the reference to Joel, gives no indication of women either among those speaking in tongues or those receiving the speech. In spite of the promise of Acts 2:17-18, no prophetic speech of a female Jesus follower (or a male slave) is recorded in subsequent narratives. (p. 194)
Other passages
Shelly Matthews looks at some of the other references to women in Acts:
The widows in Acts
In some church traditions such women are said to be leaders, but not in Acts. Rather, widows are a source of dissension in Acts 6:1.
Lydia
Yes, Lydia hosts Paul in Acts 16, as a good hostess should. But "she does not spar with him over theological issues, as Euodia and Syntyche apparently do in Philippians (cf. Phil. 4:2)."
Philip's seven daughters
Yes, Philip has prophesying daughters, but what they prophesy is of no interest to the author.
Priscilla
Pisca or Priscilla is the only one from the list of female co-workers Paul lists in Romans 16 who makes it into Acts. The epistle tells us that Priscilla risked her very life for Paul's sake (16:4) but the author of Acts tells us nothing of her heroism. We have no idea how she risked her life for Paul.
The same epistle singles out as noteworthy for their deeds other women, too — Phoebe, Mary, Junia, Tryphena and Tryphosa, Julia, the mother of Rufus — but the author of Acts has no interest in any of these.
So . . .
It would appear that the author of Acts would have had plenty of information about women prominent for their supportive role to Paul, some performing outstanding works. The author had well-known women who held fast as pillars of faith and loyalty to Jesus whom he ignored in his account of the post-ascension church. Women's role in church affairs is a modest one and consistently overshadowed by the male-dominated functions.
Shelly Matthews does not mention it in this essay, but I would not be surprised if the frequent mention of women in Acts had more to do with the author's "catholicizing" agenda. Given the wide diversity of Christianity at the time, and the fact that women did have prominent roles in several widespread Christian factions that the author appears to have viewed as somewhat on the side of "heresy" (cf. Marcionism; Acts of Paul and Thecla), we may be right to read Acts as being in part an effort to subdue and circumscribe the place of women in the "correct/catholic" church.
The following two tabs change content below.
Neil Godfrey
Neil is the author of this post. To read more about Neil, see our
About page.
Latest posts by Neil Godfrey (see all)
---
If you enjoyed this post, please consider donating to Vridar. Thanks!
---