[I edited this post on Friday, July 5. See the Addendum at the bottom of the page.  –taw]
Well, it was fun while it lasted. I was really rooting for the Time-Lord option for Joel, but Samphire has proved, to my satisfaction at least, that Joel did not jump into his TARDIS and return to Wednesday, June 26.
It's about time
First, let me explain to the Windows users out there how the Macintosh Menu Bar and Dock behave. In Microsoft Windows, each application has its own menu bar. That is, each window usually has its own bar that contains the standard menu items:  File, Edit, View . . . Help. Nonstandard apps like Chrome may break that convention.  Each software vendor has the ability to change these user interface characteristics. It's a free-for-all. Or perhaps a "mess" is a better description.
It isn't like that on the Mac. The menu bar "belongs" to the operating system. So when each application (e.g., Firefox, Finder, Microsoft Word, etc.) comes to the foreground, its "File-Edit-etc." menu is anchored to the same place. Apple touts this behavior as a convention that enhances ease of use.
The Dock on the Macintosh is similar to the Windows Taskbar, but with key differences — one of which is the way minimized windows zoom down to the Dock. They remain in a minimized state, visible as a small icon. As with the Windows Taskbar, you can move the Dock to either the side of the desktop, but I think most users keep it on the bottom of the screen.

One feature the latest versions of Windows and OS X have in common is the ability to synchronize time with a trusted network host. In the old days, we used to synchronize our servers with "tick" and "tock": two Network Time Protocol (NTP) servers run by the U.S. Navy. But nowadays, most people in America either use the NTP servers run by NIST or the vendor-operated NTP servers like time.windows.com or time.apple.com.
And that brings us back to the question of time. As you can see from the screenshot of my Macintosh (see Screenshot 1), which shows the Date & Time Preference Panel, I'm letting Apple's time server act as the trusted date and time reference for my system. You can see that the main application running in the foreground is System Preferences. If I minimize the Date & Time window, it'll get sucked down into the Dock.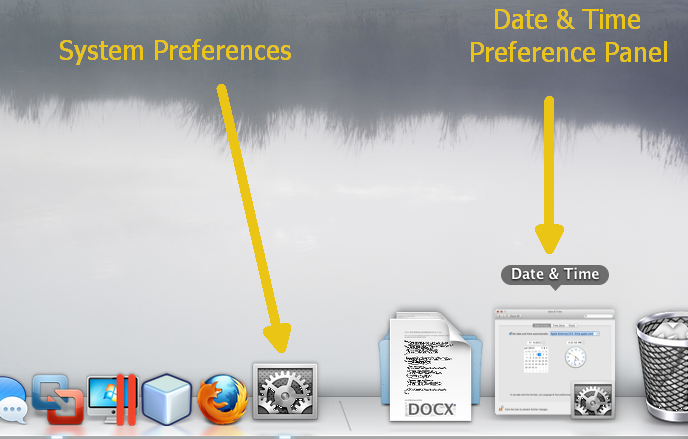 The System Preferences application is still considered to be "in the foreground." (Incidentally, that's why we still see the words "System Preferences" next to the Apple icon in Joel's desktop screen capture.) However, the Date & Time panel is tucked away until I need it again.
In Screenshot 2, you can see that the minimized icon for the Date & Time Preference Panel is actually a snapshot of exactly what it looked like before I minimized it. And you can tell that it belongs to the System Preferences application, because of the tiny "gears" image pasted in the icon's lower right-hand corner.
So now that we have all that background knowledge out of the way, let's take a look at the new evidence that Samphire has just now brought to light.
Watts up, Dock?
Samphire wrote:
I went to Watt's own full screenshot displayed on his webpage and found that down at the bottom right of his screenshot the minimised icon of the Date & Time icon could be seen (it's pretty distinctive even when minimised) sitting on the Dock.
Let's take a closer look for ourselves.  Here's Joel's desktop image again — cropped and enlarged:

The icon in question is the one just to the left of the trash icon and to the right of a minimized Outlook email message window (see the yellow "O"). Are we really looking at the minimized Date & Time Preferences Panel? Well, we can compare it to an image of my own desktop, where we know for sure what the icon is:

My screen capture has a higher resolution, so you can tell very clearly that it's the Date & Time icon. What happens if I blur the image a bit in order to simulate a lower-resolution capture?

Now let's look at all three icons, side by side.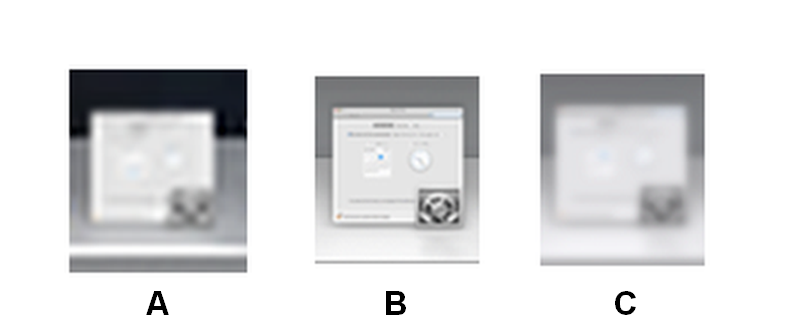 Not only can we see that Joel did in fact have the Date & Time Preference Panel open, but we can also see that there is a blue dot where the calendar day is highlighted. Mine is in the upper right of the calendar (July 4), while his is at the bottom in the center (June 26).
I know what you did last . . . Wednesday?
The reason Joel had the Date & Time panel open was to change the date back to June 26 and forge the email. He opted to minimize the panel rather than close it completely, because he knew he was going to change the date right back after he was done creating his lie. And now, by the way, we know another reason why Joel turned off his Wi-Fi networking. First, he needed to be sure that Outlook wouldn't try to synch up with Gmail. But he also wanted to make certain that his Mac didn't try to go out to the NTP server and correct his system's date and time — not before he had finished his dirty deed.
This is very bad behavior. Joel needs to come clean and repent publicly, not for shutting down Vridar — no, believe it or not I don't think he ever truly intended to snuff us out — but for lying to everyone, and then covering his lies with more lies. I believe his conscience will continue to bother him until he admits what he did and asks for forgiveness.
[youtube=http://www.youtube.com/watch?v=XfIieHxfF3o&start=179]
Addendum: Experimenting with Outlook on the Mac
I don't use Outlook anymore. I figure if nobody is holding a gun to my head, then why should I? However, I do own a license for a copy of the latest version of Outlook for the Macintosh. Overnight, I had some nagging questions about Joel's original screenshot and why things looked the way they did. So today I started playing around with Outlook while disconnected from the Internet.  After just a few minutes of tinkering, here's what I came up with.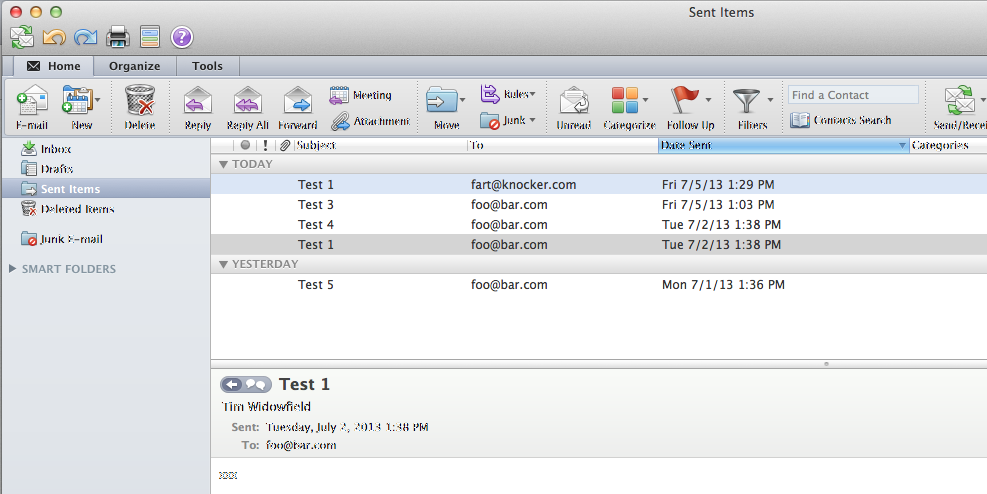 First of all, I was confused about row background colors in Joel's screen capture. Now I see what's going on.  If the Subject line is the same, then Outlook highlights all matching emails with a pale blue background. It's a way of telling you, "These messages probably belong to the same thread." In the image above, you can see that "Test 1" occurs twice. The highlighted message appears in gray (because I'm focused on the message pane and not the email list), and the presumably related message (addressed to fart@knocker.com) shows up with a blue background.
Conclusion: Joel has three messages with a Subject line of "Joel." One is selected. The other two are "related." Note: I've been using email since the heyday of CompuServe, and I have never written an email with "Tim" as the subject line. But perhaps that's just me.
Second, and more importantly, you'll notice that I had set my calendar back to July 2. How can you tell?  Because Outlook always assumes that the previous calendar day is "Yesterday." You can see that I was creating drafts and dragging them into the Sent Items folder. I can assure you that not a single message was created before noon on the 5th. All I had to do was change the date, double click on the message, and re-save it. And even though the column header says "Date Sent," I swear to you that no mail was ever really sent. (I've never set up any accounts for sending or receiving.) The date that appears under Date Sent is simply the last time it was saved.
To reiterate, here's how easy it is.
Disconnect from the network.

Stop synchronizing your time with time.apple.com.
Change the date.
Open a message in your sent mail.
Edit that message with a new addressee and/or a new subject line.
Save it.
That's why Joel's system date and supposed sent date (of the forged email to Neil) are exactly the same. He saved it and immediately captured the screen image.
By the way, the only possible way to show July 5 and July 2 as "Today" and July 1 as "Yesterday" is to tamper with the system clock. Finally, there is absolutely no credible scenario in which these steps could happen by accident.
The following two tabs change content below.
Tim Widowfield
Tim is a retired vagabond who lives with his wife and multiple cats in a 20-year-old motor home. To read more about Tim, see our
About page.
Latest posts by Tim Widowfield (see all)
---
If you enjoyed this post, please consider donating to Vridar. Thanks!
---