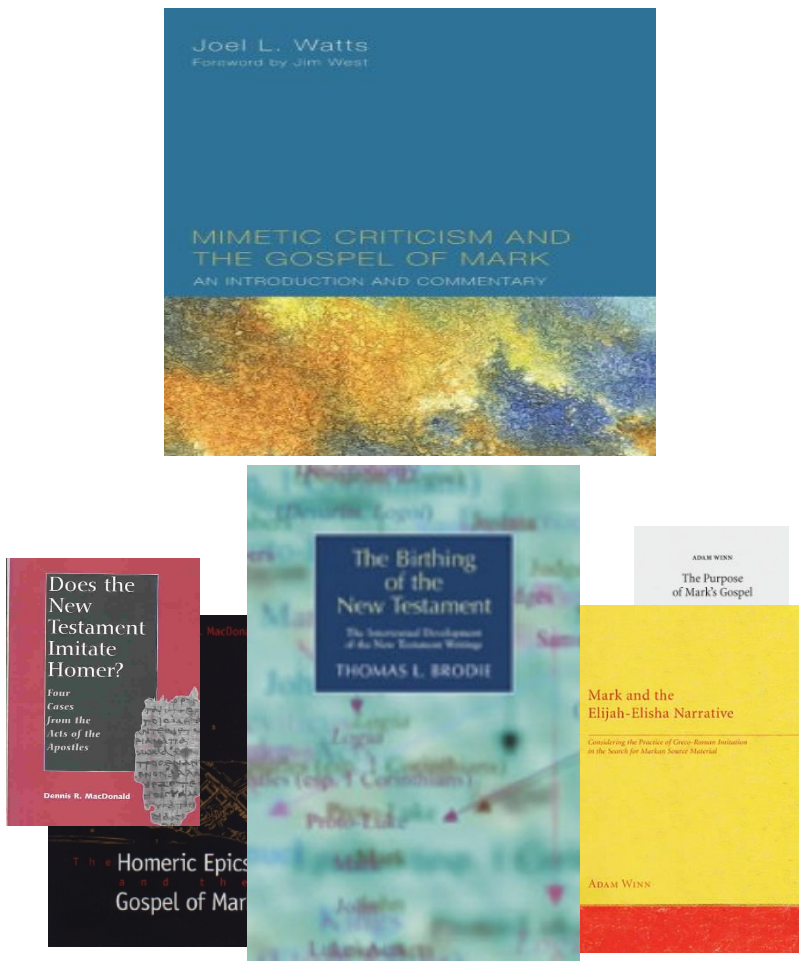 Rabid anti-mythicist Joel Watts has hailed the major work of mythicist Thomas L. Brodie, The Birthing of the New Testament, as "a masterpiece" in his own newly published book, Mimetic Criticism and the Gospel of Mark:
[Brodie's] 2004 work, The Birthing of the New Testament, exploring the answers to the creation of the New Testament, stands as a masterpiece. His thesis is rather remarkable and easily within the realm of Roman literary tradition. . . . Brodie . . . has provided us with a better methodology . . . (Mimetic, p. 19)
In The Birthing of the New Testament Brodie, who has since "come out" confessing that his work led him to conclude Jesus did not exist (see various posts in the Brodie Memoir Archive), expounds in depth his methods and arguments for the literary sources of the Gospels, and effectively demolishes any need for a hypothetical "oral tradition" to explain any of their narrative input. The deeds, teachings and even the characters in the gospels are for most part re-writings of the Jewish Scriptures.
But Joel Watts, who has nothing but verbal slime to flick at the intellectual competence and personal character of anyone who leans towards a mythicist view, did not know that when he wrote that Brodie's arguments were "a masterpiece"!
My my, what one will acknowledge if one does not hear the M word in what one is reading!
This brings to mind Brodie's own observation that other scholars and teachers did not have a problem with his methods, only his conclusions:
He listened to me patiently, and looked carefully through some of the manuscript. I brought the conclusions to his attention.

'You cannot teach that', he said quietly.

I explained that I didn't want to teach the conclusions, just the method, as applied to limited areas of the New Testament. If the method was unable to stand the pressure of academic challenge, from students and other teachers, then I could quietly wave it good-bye and let the groundless conclusions evaporate in silence.

It was a Saturday afternoon. He needed time to think it over. He would see me in a few days. (Brodie, Beyond the Quest for the Historical Jesus: Memoir of a Discovery, p. 36)
Brodie learned to keep silent about the implications of his arguments in his earlier published works. He explains why in his Memoir. He was advised by publishers and scholars that his conclusions (not his methods) were unacceptable.
Other scholars who have advanced similar arguments have evidently been aware of the conclusions to which they intuitively lead. They have therefore made a point of explicitly reminding readers they are not questioning the historicity of Jesus or the fundamentals of the Gospel accounts. That they need to protest so consistently tells me they well understand the logical conclusions to be drawn from those arguments — but faith (or security of academic tenure according to Joseph Hoffmann) must, as always, override reason. More on this at the end of this post.