I have to thank Manoj Joseph for pointing out some date/time oddities in Joel's testimony concerning exactly when he emailed Neil about the DMCA takedown. With all the work I had to do to bring Vridar back to life, I barely had time to skim a handful of the relevant posts around the web.
But now with the passage of couple of relatively peaceful days, I think it's time to reflect on what happened. In particular, we should look more carefully at those screenshots that Joel so graciously provided. I just checked his site, and they're still there, but just in case he catches on to his mistake, you will still be able to find them in various web caches.
Watts the story?
Joel says he warned Neil on the 26th. Explaining his actions, he begins by showing a screen capture of a comment by Neil. He writes: "I then sent an email to him, shortly there after [sic] . . .  Note the time difference. I know he's in Australia."
That's a curious little side note from Mr. Watts. The WordPress administrator tool in the screen capture shows a local time (EDT) of 12:43 AM. WordPress doesn't show you the local time of the sender; that would be insane. No, this is Joel's local time: Eastern Daylight Saving Time.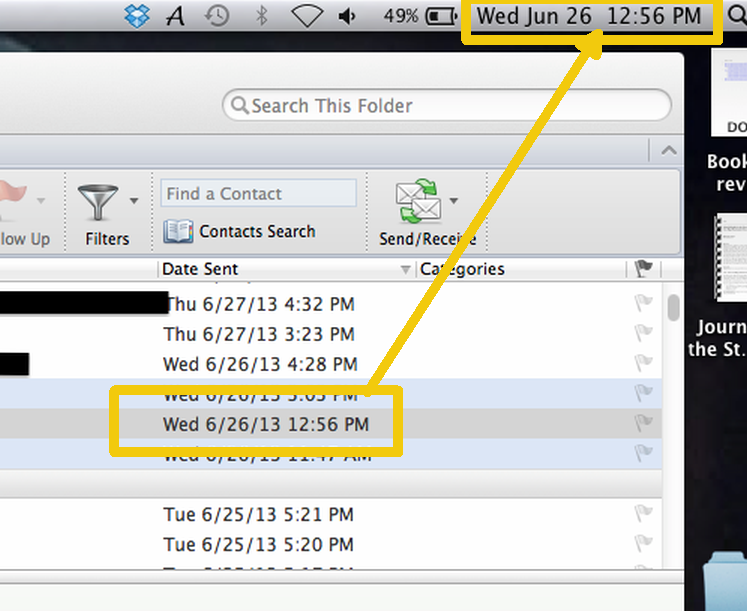 So what's this business about a "time difference"? Joel wants to prepare us for a little con job that he's about to foist on us. It reminds me of short-change artists who confuse you with their nonsensical patter just before they coax you to give them an extra 20-dollar bill.
Nothin' up my sleeve
Next, Joel kindly shows us an image capture of his desktop. Looking at his Sent Items folder, we're led to believe that he sent an email to Neil at 12:56 PM on the 26th. So, Neil posted shortly after midnight (EDT) on the 26th. Joel allegedly sent his mail "shortly there after [sic]" — I guess 12 hours is a "short time" in Joel's mind. No matter.  It is, after all, the same calendar day.
But hang on.  Compare the wall clock time on Joel's Macintosh to the time on the email. Remember: These are all local times of the sender. Outlook doesn't show the local time of the recipient; that would be crazy.
Fast fingers
Imagine how difficult it would be to send an email, then open your Sent Items folder and take a screen capture all in the same minute. Ah, but there's more. He's dropped off his Wi-Fi, too. So, he must have sent the email, then switched to his sent folder, then turned off his Wi-Fi, and then snapped the image.
If you look at the full size image over at his site, you can see that he's also disconnected from Gmail. So that's one fast dude. I would be all thumbs. Then again, I'm still somewhat of an OS X novice, and I can never remember the key combination for snapping an image. Always have to look it up.
So, kudos to Joel for quickly . . .  Hey, wait a second! How did he know he needed to capture his screen right after he sent his mail to Neil? He must be very wise to know that he would need that for future reference.
Except . . . (or in Joel-ese, "Egg-cept") Now that's strange.  How are we able to see email messages that Joel sent in the future? There it is, June 26th, and yet we can see mail from 4:32 PM the next day. That's 28 hours in the future. How is that possible?
"Look what I can do!"

Let's take a close look at that desktop image again. It appears that he's in the middle of a Microsoft Outlook session.  And he is, but he's also been fiddling around with his system settings. Now there are lots of reasons why one might be messing around with System Preferences on a Macintosh. But it wouldn't be to turn off his Wi-Fi.  No, you can do that right from the menu bar icon.
It's clear what happened. Joel wrote that he "wanted to post a few things, to help my defenders along." So he changed the time on his Mac, manufactured an email (with the highly unlikely Subject line of "Joel"), and took a screen cap. Only he forgot to crop the image to hide three incriminating pieces of evidence:
The system time matches the sent time exactly, which is highly unlikely.
The system time is 28 hours behind the most recent visible sent email.
Joel has clearly been editing his System Preferences just before taking the screen capture.
How are we to explain this evidence? But more importantly, how do we judge Mr. Watts' unbelievable claims?
Option 1: Lunatic
Joel doesn't know what he's doing. He's been so busy writing silly trash for his blog and for the HuffPo, along with all the work for his doctoral dissertation, that he's sleep-deprived. Joel's claims are the product of an unbalanced mind.
Option 2: Liar
Joel is just a plain old, garden-variety liar. He didn't follow the instructions for the DMCA complaint, and when it blew up in his face, he invented a story. See how easy it is to create history? Maybe the early Christians would die for a lie.
Option 3: Lord
Joel is a Time Lord! At last we know the truth. This is why he's such good friends with James McGrath. Joel Watts got in his TARDIS and went back to last Wednesday. After a really big lunch (time traveling is hard work), he dropped off an email to Neil, and then popped back to the present.
What an interesting week this has turned out to be.  First, Vridar rose from the dead. (We're now prepared to bless you with post-Easter instruction.) And now Joel has blown his secret identity on the web for all to see.
Joel Watts . . . Time Lord!
The following two tabs change content below.
Tim Widowfield
Tim is a retired vagabond who lives with his wife and multiple cats in a 20-year-old motor home. To read more about Tim, see our
About page.
Latest posts by Tim Widowfield (see all)
---
If you enjoyed this post, please consider donating to Vridar. Thanks!
---