Please don't eat the Bible
I was glancing over at the Exploding Cakemix recently, keeping abreast of the latest mythicist-bashing, and I happened to notice a story about a guy who said:
[I]f anyone can find a full professor of Classics, Ancient History or New Testament in any accredited university in the world who thinks Jesus never lived, I will eat a page of my Bible, probably Matthew chapter 1. (Dr. John Dickson, PhD, Ancient History)
Now I've heard of people using the Bible for rolling papers in a pinch (not recommended), but it never occurred to me to eat it. I know that if you're stuck on a disabled bus in the wilderness you should eat your boots and the seats before you eat your fellow passengers. But the Bible? I'd need loads of ketchup.

Anyhow, it turns out this John Dickson guy is a real professor with a doctorate and everything. He teaches real students at a real college university for real cash money. So we should sit up and take notice.
The historical Tiberius versus the historical Jesus
Dickson's post is the usual litany of supposedly solid evidence that we've all seen before. Most of it is of the "throw-it-on-the-wall-and-see-what-sticks" variety. But there was something new there, at least for me. He writes:
The [sic] Tiberius provides a good example (he was the emperor when Jesus was crucified). Our best sources for Tiberius are Tacitus and Suetonius, both composed eighty or so years after the emperor's death in AD 37. The New Testament writings were composed much closer in time to their central figure. Several of its sources – Mark, Paul, Q, L and James – date to within 25 years of Jesus, and one crucial passage is dated to within a few years of the crucifixion, ruling out the suggestion that even the basic details of Jesus were part of a process of legendary accumulation.
My interest is piqued. I like Roman history. But what's this claim from our expert about the "best sources" for Tiberius? Emperors, even mediocre or bad ones, leave big footprints. But sometimes it's the smallest bits of evidence that persist. Like this one: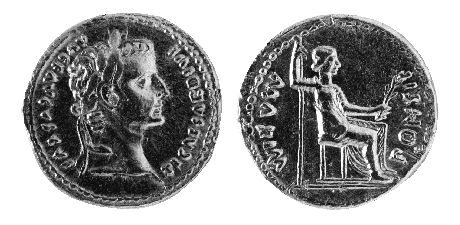 Moving the goalposts
If you take a few minutes to read the comments, you'll see that someone mentions the fact that the Romans minted coins during Tiberius's reign, and that we actually have some that we can pick up and hold in our hands. In the ancient history trade they call that "primary evidence." He or she goes on to explain why it's important to corroborate claims in texts with primary evidence.
And certainly the coin is persuasive physical evidence, but, as some guy who goes by the initials RMW explains, it's like totally unfair. He responds:
To the best of my knowledge, statues, coins or images are most often associated with emperors, so what you are saying is only emperors can be proven.
Now, I know what you're thinking. "Look, we didn't bring up Tiberius. You did." I hate to tell you, but that's not how this game is played. As Daniel Dennett points out, it's like playing tennis, but when it's their turn to hit the ball, the net comes down. Don't bother complaining. It's just the way things are.
So forget the coin. What about written sources? Well, I pulled out my old Roman history text book from college to see if I could find any contemporary references. It seemed to me that although we'd lost a lot of stuff from the early Principate, there was something . . . Yeah, here he is: Marcus Velleius Paterculus, historian. Tiberius was his patron. You can even read his Tiberian Narrative in English.
Where does this crap come from?
By now you might be wondering how a guy with a PhD in ancient history could manage to remain ignorant on such a simple, basic matter. And you might also be wondering, as I did, where such strange horsecrap masquerading as knowledge comes from. I was keen to find out.
My search led me to a web site run by a guy named Matthew Ferguson. In his post Ten Reasons to Reject the Apologetic 10/42 Source Slogan he tracks down the origins of the Tiberius claim. He says he Googled it and quickly found an article at CARM (Christian Apologetics & Research Ministry). Ferguson writes:
Even Turner really does not deserve credit for the research on the CARM page, since half of the article was merely a direct quote out of Gary Habermas and Mike Licona's The Case for the Resurrection of Jesus from the appendix of the book (pg. 233). Finally, after some muckraking I had dug up the original source coming from some big name apologists! Habermas is regarded as an "expert" on the resurrection of Jesus and Licona is his apprentice in the Dark Side. (Star Wars joke aside, I am grateful since then that Licona has since acknowledged the error.)

Ryan Turner's article is titled "Did Jesus Ever Exist?" and he gives the 10/42 statistic as proof that "If one is going to doubt the existence of Jesus, one must also reject the existence of Tiberius Caesar." This is a typical apologetic fallacy of false alternatives. Nevertheless, I will be clear from the beginning that, while I do not regard mythicist scholars, who doubt Jesus' existence, as "radical skeptics" like Turner, I personally take the position that Jesus was more likely an obscure historical figure.
What is the 10/42 statistic? It's the claim that "42 ancient sources record Jesus 150 years within his lifetime, whereas only 10 mention the contemporary Roman emperor Tiberius." Of course, it's utterly wrong, but it sounds nice, apologists enjoy saying it, and people who need to be comforted lap it up. There's a loyal audience out there for the lies these apologists manufacture. Demand is strong. The eager believers can't wait for new factoids to post on Facebook.
Anyhow, I highly recommend reading Ferguson's post. He thoroughly debunks 10/42 and comes up with his own statistic: 14/0. The number of actual contemporary writers who mention Tiberius stands at 14. For Jesus we have none at all.
What just happened here?
All right, how did I end up rummaging through old history books and scouring the web for information about Tiberius? It's as if Dickson rolled up a ball of tinfoil, waved it in front of my eyes, and then tossed it into the woods.
"See this, boy? See it? Go get it!"
Several hours later I think to myself, how did I get here? And consider poor Matthew Ferguson. He has spent an enormous amount of time debunking this claim. It's a thorough job. He nailed it. Squashed it flat.
But here's the problem: It doesn't do any good. It won't change anyone's mind. The people who come up with these "facts" don't care about whether they're true or not.
"So it was wrong. So what? I've got a thousand more balls of tinfoil, ready for tossing. And guess what? You'll go chase them every time."
Consider Dickson's claim about non-Christian sources for Jesus. He includes "Mara," by which he means Mara Bar-Serapion. Only in the study of the historical Jesus would a letter dated between 73 C.E. and the third century with a vague reference to the execution of the "wise king" of the Jews be considered "hard evidence."
Nuts. I did it again. Put down the tinfoil, Tim.
Protecting the Status Quo
We need to recognize this strategy for what it is. They're building a hedge around the historical Jesus. The endless stream of books, essays, blog-posts, and videos provide a barrier that protects their Jesus. Not every part of the hedge, not every brick in the wall, not every "fact" needs to be true. As long as it keeps everybody busy out on the periphery, it has done its job.
And here's the wonderful thing. Even if a false fact is debunked, they get to use it again. As we've mentioned before here on Vridar, it's always Groundhog Day for historical Jesus apologists.
I think it's time to reassess what we're doing. What do readers of Vridar think? Are we wasting our time when we try to engage in an honest debate with these people? Is there a more effective way to get the truth out, or is it a hopeless cause?
In the meantime, here are two videos I hope you'll enjoy. One of them stars Dr. John Dickson; the other, his mentor.
[vimeo 3861772]
---
[youtube=http://www.youtube.com/watch?v=T9CZUEVVpvA]
The following two tabs change content below.
Tim Widowfield
Tim is a retired vagabond who lives with his wife and multiple cats in a 20-year-old motor home. To read more about Tim, see our
About page.
Latest posts by Tim Widowfield (see all)
---
If you enjoyed this post, please consider donating to Vridar. Thanks!
---