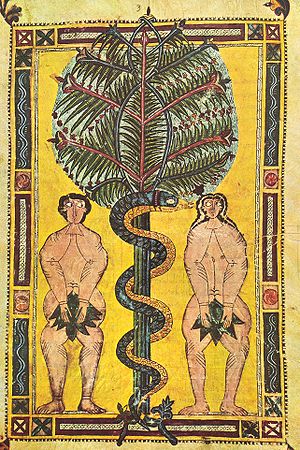 Grants for serious studies
Yesterday (13 February), James McGrath posted a congratulatory note to two winners of the latest Evolution & Christian Faith (ECF) grant competition. [biologos blog is undergoing reorganizing: hopefully the link (currently at http://biologos.org/blog/evolution-and-christian-faith-grantees-announced?utm_source=RSS_Feed&utm_medium=RSS&utm_campaign=RSS_Syndication)  will be restored before too long. Neil – 23rd July, 2019]. The ECF panel faced some hard choices. They fielded requests from scores of applicants, but had only about $3 million to shell out.
You'll be happy to learn that a number of the fortunate grantees will be working on important projects related to "questions about Adam and Eve, the Fall, human identity, and Original Sin—some of the most critical interpretive issues for evangelical theology."
BioLogos: Who are these guys?
I suppose on the face of it, nonbelievers shouldn't care if Christians want to embrace biological evolution. In fact, it sounds like a promising idea. However, if that embrace suffocates the scientific method, then we can hardly call it a victory. Indeed, if we look at the BioLogos charter do we find science and religion viewed as a partnership of equals? Hardly.
Under the heading "What We Believe," they state:
7. We believe that the methods of science are an important and reliable means to investigate and describe the world God has made. In this, we stand with a long tradition of Christians for whom Christian faith and science are mutually hospitable. Therefore, we reject ideologies such as Materialism and Scientism that claim science is the sole source of knowledge and truth, that science has debunked God and religion, or that the physical world constitutes the whole of reality. (emphasis added)
All right. It isn't something I would sign onto. And I confess I get a little uncomfortable when Christians use the term Scientism, since it's clearly an invented derogatory term that doesn't mean much outside their echo chamber.
Science is useful, as long as it conforms to what we already "know"
But it's their deal. So if it gets them on board, "no harm, no foul," right? Maybe not.
8. We believe that God created the universe, the earth, and all life over billions of years. God continues to sustain the existence and functioning of the natural world, and the cosmos continues to declare the glory of God. Therefore, we reject ideologies such as Deism that claim the universe is self-sustaining, that God is no longer active in the natural world, or that God is not active in human history.

9. We believe that the diversity and interrelation of all life on earth are best explained by the God-ordained process of evolution with common descent. Thus, evolution is not in opposition to God, but a means by which God providentially achieves his purposes. Therefore, we reject ideologies that claim that evolution is a purposeless process or that evolution replaces God. (emphasis added)
Oh dear. I'm afraid their concept of evolution has almost nothing in common with evolution as I understand and accept it. Their kind of evolution merely acknowledges the observed facts that the universe is billions of years old and that life forms evolve over time. Lamarckians did that, but they were wrong, too.
And the weirdness continues:
10. We believe that God created humans in biological continuity with all life on earth, but also as spiritual beings. God established a unique relationship with humanity by endowing us with his image and calling us to an elevated position within the created order. (emphasis added)
So now we begin to understand the questions above about "Adam and Eve" and "the Fall." Imagine believing that God created the first humans, but not out of mud. Instead, somewhere, eons ago, a non-sentient primate became "endowed" with God's image.
Did Adam's Grandpa have a soul?
Back on the grantees page, we learn that:
Pastor Michael Gulker and philosopher James Smith, leading a large team from The Colossian Forum, ask a related question: if humanity emerged from non-human primates—as genetic, biological, and archaeological evidence seems to suggest—then what are the implications for Christian theology's traditional account of origins, including both the origin of humanity and the origin of sin? (emphasis added)
I might actually enjoy reading the results from that project, but then again I'm a big fan of science fiction. When and how did this transition take place? Did a separate group of hominids reach a certain point at which their brains could handle a "soul"? And where was the cutoff point? Can you imagine the heartbreak of knowing your mom and dad aren't endowed with the image of God?
Try this on for size: "Grandma and grandpa aren't going to heaven — not because they sinned, but because they were animals."
Believe it or not, some people actually wonder if the first soul-endowed hominids were a group or just a pair — i.e., Adam and Eve.
Theologian Oliver Crisp of Fuller Seminary will take an analytic theology approach to ask to what extent a theological account of the origin of human sin depends upon the evolution of modern humans from one and only one ancestral pair—especially if that pair does not appear to correspond to what we would think of as modern human beings. 
I didn't highlight any portion of the above text in bold, because it's all equally absurd.
Are these our allies?
Here's a serious question: Is it better to believe that God created the universe 6,000 years ago with everything in place, and made it look old?  Or is it better to believe that God created the universe in the Big Bang, around 13.77 billion years ago, then guided it until humans evolved (i.e., subtly overseeing the mutation of our ancestors), and finally "endowing" them with his image?
Both of these world views tell science to take a back seat. The second world view might even be more noxious, because it pretends to be scientific, but allows for the pseudo-science of Intelligent Design. I'm not invoking a slippery slope here. It's in their own writings (caution: link leads to PDF). Denis Lamouruex writes:
Does not the evolutionary creationist portrayal of the Creator provide the most magnificent reflection of intelligent design? This is how I see design in evolution. Yet despite differences between Christians on how intelligent design arose in the world, we must never forget that we stand united in affirming that nature clearly reflects the designing intelligence of our Creator.
These people reject natural selection and embrace ID. They are, by their own admission, "creationists." They just believe that the creation time scale is very long and the creation method is somewhat less direct.
So I ask you, are these creationists our allies?
The following two tabs change content below.
Tim Widowfield
Tim is a retired vagabond who lives with his wife and multiple cats in a 20-year-old motor home. To read more about Tim, see our
About page.
Latest posts by Tim Widowfield (see all)
---
If you enjoyed this post, please consider donating to Vridar. Thanks!
---