Hoffmann is continuing his "engagement" with mythicism. My initial thoughts on his latest post follow.
Whatever else Paul was, he was the greatest revolutionary in history when it comes to the God-concept. His ideas were completely unhistorical and at odds with Jewish teaching: he finessed his disagreements into a cult that turned the vindictive God of his own tradition into a being capable of forgiveness. Needless to say, the way he arrives at this is angstful and tortured, but he gets there in the end–not through tradition and law, but through a strategem: "Christ the Lord." His turnabout from Judaism was so complete that his only intelligent interpreter, Marcion, believed he must have been speaking of a completely different God. . . .
Hoffmann has argued that the most fundamental reason we should believe Jesus was a historical figure (at least the figure Hoffmann sees after he strips away most of what the Gospels say about him) is that he was so typical of his time. Paul, on the other hand, must be seen as so atypical of his time.
But leaving that discussion for another time, what I find odd in Hoffmann's claims here is his view of Judaism in the time of Paul. He equates Judaism of Paul's time with a vindictive God tradition incapable of forgiveness. I am astonished that Hoffmann would write such unsupportable caricature as if it were fact. His view is surely out of touch with most scholarship that has addressed this question.
Sad, it seems to me, that so much of the mythicist argument is based on what Paul does or doesn't say about Jesus, considering there is a world of thought there that, cast to one side, makes it virtually impossible to know what Paul was talking about. Mythicism, among it many other dubious achievements, has achieved a new level of illiteracy in relation to Paul's ideological and religious world. . . .
And this comes from someone who has recently argued that we can know that Paul was addressing the illegitimacy of Jesus when he wrote that Jesus was "born of a woman, born under the law" in Galatians 4:4! I have often addressed current scholarship on the writings of Paul. I know of mythicist arguments that draw reasoned conclusions on the basis of the scholarship specializing in Paul. I would like to see Hoffmann himself engage with Pauline scholarship itself, and arguments based upon it, rather than appear to completely bypass it and fault mythicists who take the trouble to take it seriously.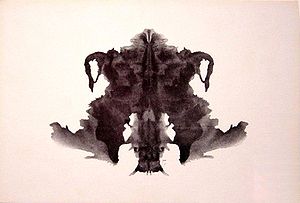 His "biographers" tell the story of a man who preached a kind of mock civil disobedience, but was as critical of Jewish legalism and ritualism as it was of Roman boots in Jerusalem. They tell us he gathered an unpromising following of women and yokels (Celsus's words, not mine), failed to achieve whatever it is he wanted to achieve, and died among thieves as an enemy of the nation.

There is absolutely nothing improbable about this story. . . .
Unfortunately for Hoffmann's case, this is the very story that the "biographers" do not tell about Jesus. This story is entirely what Hoffmann sees when he looks at the Gospels as if they are a Rorschach test. Now Hoffmann has claimed to have found around 35 details about Jesus that are "probably true" from his Rorschach reading of the Gospels. (If he understood the principle of Occam's parsimony he would also understand that such a reading makes his Jesus less likely rather than more likely.) The way Hoffmann needs to be able to establish the validity of his reconstructed Jesus from texts that portray a completely different sort of Jesus is to do so without reference to his 3 Cs.
That is, he needs to show that his particular Jesus is objectively or at least validly drawn from the evidence of the Gospels and not just another case of question-begging. If his interpretation is based on his 3 Cs then his method has guaranteed he gets the Jesus he wants to find, a 3C Jesus. He needs to establish for us that his Jesus is constructed independently, and that then lo and behold, the end product is indeed "historical". I don't believe he can do that (he would be the first in the history of HJ scholarship to manage such an achievement for his HJ), but I'm willing to be surprised.
One has to be committed to the view that Jesus was the son of God to think he was unusual. One has to be committed to the view that he cannot have been what the gospels say he is (and they say different things, not one thing) to deny his historical existence. . . .
This is garbled. To be a mythicist one has to be committed to the view that Jesus was not really the person the Gospels portray? Does anyone (apart from the devout faithful) really believe that the way the Gospels portray Jesus reflects a historical person? Hoffmann himself does not think this.
I happen to think that the way the Gospels portray Jesus is exactly the way Jesus was — a literary figure, a creation of theological imagination. I also read current scholarship demonstrating that the NT models of oral transmission either have no counterpart in reality or are inconsistent with the evidence in the Gospel texts. I am also reading current scholarship that demonstrates the logical fallacies that have underpinned the form and redactional criticisms that have been the basis of many HJ reconstructions. Hoffmann does not appear to be up to speed with what his happening in his own field.
For the critic, the "unbeliever," the mythicist, the gospels are simply not telling the truth or so packed with lies that it is a waste of time sorting out the true from the false, the plausible and the perhaps. . . . .
Again this is nonsense. It is the historicists, not the mythicists, who say this. It is the job of the historicists to try to sort out the "historical kernels" from the "mythical accretions" in the Gospels. Some historicists themselves say that it is a waste of time trying to sort out the true from the false. So we have Crossan, Spong, Le Donne, Allison now arguing that we should accept "general impressions" or "something in between" rather than any specific, concrete details about the life of Jesus (except, of course, his birth, baptism, preaching, confrontations, disciples, death, ensuing "easter experiences" of his followers . . . )
The mythicist arguments that I read hang on the argument that the Gospels are not full of lies or hiding some reality, but are exactly what they appear to be and can be demonstrated to be — theological tales adapted from other theological tales. The mystery and secrecy is a problem that is generated by the assumption of historicity. Don't forget the parsimony.
My own argument is a bit different. It does not begin with a sacred text but a religious artifact dating from the first century of the common era. It is a story about a man named Jesus the Nazarene who was a healer and magician, and who followed in the radical apocalypticism of someone named John the Baptist, fell out with his Jewish contemporaries over how the law should be interpreted, and was put out of business through a conspiracy between the pharisaic sect and a few law-and-order Roman officials who feared, more than anything else, another Palsetianian revolt. I am not reading between any lines to see this in the gospels. This is the story at the most superficial of levels. . . .
The problem here is that Hoffmann has confused his own Rorschach reading of the Gospels with a "religious artifact dating from the first century of the common era."
A key detail about Hoffmann's Jesus is that he supposedly "fell out with his Jewish contemporaries over how the law should be interpreted". To support this, Hoffmann needs to be able to explain why the words of Jesus that we read in the Gospels are so controversial in the Second Temple Jewish context. To think they were controversial is to bring into the Gospels the anachronistic debates between rabbinic Judaism and Christianity of the second century. Many of Hoffmann's peers acknowledge this. (But Hoffmann does not seem to have much respect for the scholarship of many of his peers.)
So one of the problems facing other NT scholars (not Hoffmann) is to try to explain why a teacher of such uncontroversial views was crucified.
Hoffmann says he is not reading between any lines to see this in the gospels. Let him quote the passages then that apparently elude his own scholarly peers who are also anti-mythicists. Mere assertion is not argument.
Further, I would like to see Hoffmann justify his other assertions, too. All of them. But let's begin with Jesus being a follower of John the Baptist. Does Hoffmann have anything other than a rejection of the Gospel narratives to support this view? Every argument I have seen for Jesus being a follower of John the Baptist is based upon a rewriting of the evidence so it is no longer a literary-theological tale. But this process is never justified. It is taken for granted that Jesus was a follower of John the Baptist so the evidence must be re-written. We are asked by the historicists to believe that the evangelists wrote lies about the true history and we can only know what really happened by getting rid of their lies and substituting something they never did say. Pass me the parsimony, please.
Appian tells us that when the slave rebellion of Spartacus was crushed (71 BCE), the Roman general Crassus had six thousand slave prisoners crucified along a stretch of the Appian Way, the main road leading into Rome (Bella Civilia 1:120). As an example of crucifying rebellious foreigners, Josephus says that when the Romans were besieging Jerusalem in 70 A.D. the Roman general Titus crucified five hundred Jews in a day. In fact, so many Jews were crucified outside the walls of Jerusalem that "there was not enough room for the crosses and not enough crosses for the bodies" (Wars of the Jews 5:11.1). History has singled Jesus out of this crowd for other reasons, but crucifixion was so common a punishment for slaves, rebels with various causes, and common criminals that Valerius Maximus scoffs at is as "a slave's punishment" (servile supplicium; 2:7.12), . . .
Exactly. As some of Hoffmann's peers have noted, the Romans never did just crucify the leader when they wanted to send a message: they crucified the whole gang. So it's not mythicists' fault when they say in unison with certain NT scholars that if Jesus was seen as a threat to law-and-order by any Romans then the disciples would have been crucified beside Jesus.
I'd find Hoffmann more interesting if he could give us any evidence he has been following and engaging with the scholarship of his peers.
In arguing that Jesus is plausible, I am simply saying that the undecorated preacher of rebellion against the enemies of God and the corruption of the temple cult was transformed into the decorated embodiment of the power of God against the power of sin, mostly through the work of one man–Paul–who knew a few stories about Jesus but had never met him in the flesh.. . .
So the really remarkable origin of Christianity was accomplished by the most untypical person of his time. Okay. I think I get that.
From the way the argument goes, I guess Paul could have taken the story of any anti-Roman rebel in Judea of the day and turned him into Christian icon. The only difference would have been that Christians today would be praying to Zacchaeus Christ or Reuben Christ or Judas Christ, or any other typical 3C character of the day. Luck would have it that we got Jesus Christ.
The following two tabs change content below.
Neil Godfrey
Neil is the author of this post. To read more about Neil, see our
About page.
Latest posts by Neil Godfrey (see all)
---
If you enjoyed this post, please consider donating to Vridar. Thanks!
---