Let's try to make it clearer with a picture. Mark Erickson has attempted to have Joseph Hoffmann and Stephanie Fisher clarify their central argument for the historical Jesus:
"The political and religious conditions of the time of Jesus plausibly give us characters like Jesus. This is a tautology that must be confronted."
Hoffmann attempts to clarify with this (unedited):
The poltical (sic) conditions of the time of late republican Rome give us characters like Antony and Caesar. Not characters like Sargom(sic), Elijah or Darth Vadar (sic). if (sic) then I have literary artifacts that conform to those condtions (sic) and contexts, how should they not be facors (sic) in establoishing (sic) the historicity of it. It's basic historical process–the 1000 pound premise mythtics (sic) routiney (sic) dance past in their quest for improbable substitutes and "parallels" that explain the sources.
I think what Hoffmann means is that he gets cranky with anyone who suggests the source of the Jesus we find in the Gospels was, ultimately, not a historical Jesus and but some other mythical deity like Attis or Hercules.
I don't think the evangelists were thinking of Attis or Hercules when they wrote about Jesus, and I don't know many mythicists who do think like that, so as far as I'm concerned I'm not the least interested in his having a go at something that looks like a straw-man.
But let's look at his "one airtight argument" Hoffmann has for the historical Jesus. As Stephanie expressed it:
The one airtight argument in [Hoffmann's] piece [is] that the conditions for the existence of Jesus necessarily produce people of like description, so to choose an analogous over a known figure is non-parsimonious and tautologies are eo ipso true statements.
Question for Steph: Steph, are you saying that Hoffmann's argument is true because he has expressed it as a tautology?
Tautology (rhetoric), using different words to say the same thing, or a series of self-reinforcing statements that cannot be disproved because they depend on the assumption that they are already correct
Let's start with a graphic to try to get this clear in our heads. (See the previous post where the 3 C's are explained: Conditions, Context and Coordinates):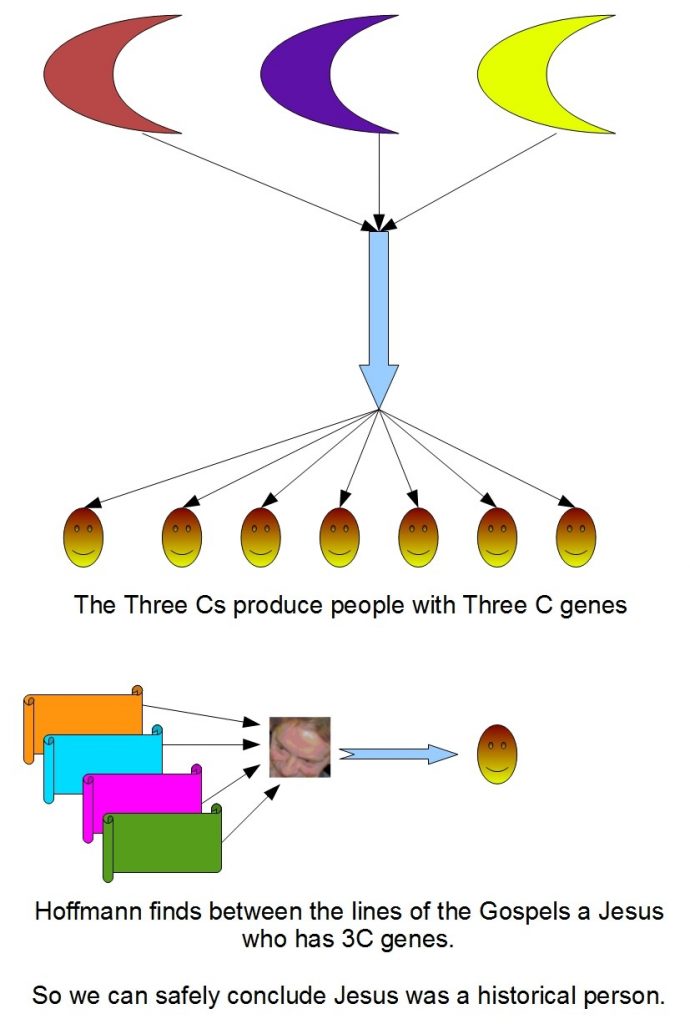 Hang on! Isn't this the same text-book fallacy we (should) know so well?
Mrs Smith's farm produces green apples.  (The 3Cs produce this type of person)
This is a green apple. (Jesus is this type of person)
Therefore this apple comes from Mrs Smith's farm. (Therefore the 3Cs produced — historically, not just literarily — Jesus)
And that's before we even get to finding out how Hoffmann managed to find (something like his own reflection in the Gospels and call it) Jesus with the 3C traits. (I look forward to reading how Hoffmann does that without begging the question.)
If I am wrong and am misrepresenting Hoffmann I am sure Steph or someone will let me know. . . . .
1. The three Cs (conditions, context, coordinates) produce people like within the range of V to Z.
2. Jesus Christ (the one Hoffmann has discerned lying behind the gospels conforms to people within the range of V to Z.
3. Therefore the simplest explanation for this Jesus is that he really did exist within that range.
Hoffmann will quickly add that concluding #3 is a lot simpler than concluding that the gospels drew upon some character from range A to D (say, Apollo to Dionysus) instead.
Hoffmann's quick addition is right as far as one accepts all of his premises. But it does nothing to solidify his own argument for historicity.
Look at it this way.
1. The three Cs pass on their genes to people we can see ranging from V to Z. All these people have 3C genes, let's say.
2. Jesus Christ also has 3C genes (that's the JC Hoffmann found behind the gospels) — so he falls within the V to Z range.
3. Therefore it is entirely reasonable, even the simplest explanation of all, to conclude that Jesus existed.
Did that last step elude you a bit?
Let's work this thing backwards, then. And then the graphic. . . .
1. How do we know Jesus Christ came from the 3C gene pool?
2. Because he has 3C genes.
3. How do we know he has 3C genes?
4. Because that's what Hoffmann saw when he examined his genetic code in the Gospels.
5. We can therefore be confident Jesus existed.
Still not quite sure how that last point follows?
Nor am I. Let's home Mark Erickson can elicit clear explanations from Hoffmann. As far as I can see, all Hoffmann has done is to argue that a literary character or source of the day and that day's culture will be a product of that day and its culture. Historicity has nothing to do with it.
Lots of literary characters were created in that day who are just like real people of that day. What does this prove?
How about one more time:
1. How do we know Jesus came (historically, of course, not as a literary figure) from the 3Cs?
2. We know he came from the 3Cs because he has all the genes (characteristics) that 3C people have.
3. How do we know he has all those 3C genes?
4. Because Hoffmann has examined his genetic code in the Gospels and will explain it all in his book.
Another point I'd be interested to hear Hoffmann explain is this one:
The poltical conditions of the time of late republican Rome give us characters Antony and Caesar. Not characters like Sargom, Elijah or Darth Vadar.
I'd be interested to hear Hoffmann explain, unambiguously, how characters like Antony and Caesar are different from characters like Sargon — with reference to the 3Cs of course.
But that's just the beginning of a number of questions his argument raises.
.
I've spent enough time on Hoffmann. He doesn't even want to engage with mythicists — just denounce them. I think he's wise for taking this approach. It protects him from the risk of coming face to face with the fallacies of his argument and he hasn't even written it up in his book yet.
The following two tabs change content below.
Neil Godfrey
Neil is the author of this post. To read more about Neil, see our
About page.
Latest posts by Neil Godfrey (see all)
---
If you enjoyed this post, please consider donating to Vridar. Thanks!
---