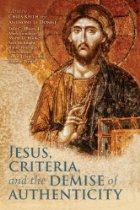 Well, well, well. After all of Dr James McGrath's attempts to tell everyone that historical Jesus scholars use the same methods as any other historians, and that I was merely some sort of bigoted idiot for saying otherwise, what do I happen to run across while serendipitously skimming my newly arrived Jesus, Criteria, and the Demise of Authenticity? This:
Jens Schroeter

The idea of formulating certain "criteria" for an evaluation of historical sources is a peculiar phenomenon in historical critical Jesus research. It was established in the course of the twentieth century as a consequence of the form-critical idea of dividing Jesus accounts of the Gospels into isolated parts of tradition, which would be examined individually with regard to their authenticity.

Such a perspective was not known to the Jesus research of the nineteenth century and it does not, to my knowledge, appear in other strands of historical research.

In analysing historical material scholars would usually ask for their origin and character, their tendencies in delineating events from the past, evaluate their principal credibility — for example, whether it is a forgery or a reliable source — and use them together with other sources to develop a plausible image of the concerned period of history. (pp. 51-52, my formatting, underlining and bolding)
That's by Jens Schröter, Chair and Professor of Exegesis and Theology of the New Testament and New Testament Apocrypha at the Humboldt University.
But don't misunderstand. Jens Schröter does understand why this difference has arisen and explains his view of the reason. Historical Jesus studies have traditionally been necessarily different because the earliest sources about Jesus' life (the Gospels) are theological narratives, and as a consequence,
historical data are interwoven with quotations from Scriptures of Israel, early Christian confessions, and secondary elaborations of earlier traditions . . . It has been argued that the faith of earliest Christianity has imposed its character on the historical data and must therefore be distinguished from Jesus' word and deeds themselves.
It is at this point that Schröter sees historical Jesus studies as having jumped the rails. What has happened is that HJ scholars have taken this starting point as a rationale for trying to locate a more authentic event or saying that lies behind the Gospel narratives. That is not how other historical studies work.
This approach [using criteriology to find the historical event behind the text] fails in acknowledging that doing history always means to scrutinize the sources as selective, often incomplete, remains of the past.

It never means to go behind the sources to the "real" events.

Therefore, what can be gained by pursuing the quest of historical Jesus as a historical enterprise is a portrait developed on the basis of critical scrutiny of the earliest narratives under the presuppositions of the present knowledge and ethical norms. (p. 70, my formatting and bolding)
But what HJ scholars have never stopped to consider, so it seems to me, is whether the basis of the Gospel narratives really was history interpreted through theology, or whether it was theology historicized.
In this respect they probably follow what I suspect are the presumptions of other historians when they enter their studies of Julius Caesar, the rise of nation states, the world wars of the twentieth century. Such events are taken for granted as being "real". Like the story of Jesus they are inculcated into us through trusted institutions as we progress through educational systems.
The very real difference between the story of Jesus and that of other historical persons gets trodden under foot along the way. Maybe I've been lucky but most of the books I've picked up to read about famous historical persons contain somewhere (often in the introduction) details of how we know what we know about the persons. There is no doubt that for nearly all historical persons so studied there is clear, primary and assuring evidence for their life and actions.
Jesus really IS the exception. He has slipped in by default through the luck of the West's religious heritage.
Jens Schröter unfortunately does not appear to question that assumption. He is spot on with much of what he does say, as I've quoted above. What is needed, however, is a more penetrating return to the basics. Technically it's not hard at all. It only means "analysing historical material [to] ask for their origin and character". We know that those sources are unlike any other historical writings. So . . . .
The following two tabs change content below.
Neil Godfrey
Neil is the author of this post. To read more about Neil, see our
About page.
Latest posts by Neil Godfrey (see all)
---
If you enjoyed this post, please consider donating to Vridar. Thanks!
---