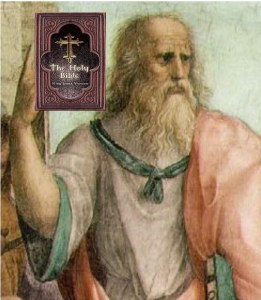 Before continuing with Book Two of Laws, there is a major theme in Book One that I ought to have included in the previous post as a significant point in common with one of the primary biblical themes. Both Plato and God emphatically stress the importance of testing the character of their people. The purpose of this test is to produce citizens worthy of the new state or kingdom. They will demonstrate their purity of character by obedience to the laws, living a holy life and hating everything that is against "nature", "wisdom" or a "noble spirit". Plato speaks of several ways people need to be tested for character so they can learn self-control and master their base passions and so become worthy citizens. Worthy citizens must learn to overcome unhealthy fear and the temptations of pleasures.
For you are the only people known to us, whether Greek or barbarian, whom the legislator commanded to eschew all great pleasures and amusements and never to touch them; whereas in the matter of pains or fears which we have just been discussing, he thought that they who from infancy had always avoided pains and fears and sorrows, when they were compelled to face them would run away from those who were hardened in them, and would become their subjects.

Now the legislator ought to have considered that this was equally true of pleasure; he should have said to himself, that if our citizens are from their youth upward unacquainted with the greatest pleasures, and unused to endure amid the temptations of pleasure, and are not disciplined to refrain from all things evil, the sweet feeling of pleasure will overcome them just as fear would overcome the former class; and in another, and even a worse manner, they will be the slaves of those who are able to endure amid pleasures, and have had the opportunity of enjoying them, they being often the worst of mankind. One half of their souls will be a slave, the other half free; and they will not be worthy to be called in the true sense men and freemen. . . .
One is reminded here of Herodotus's infamously curious line that concludes his Histories:
and [the Persians] chose rather to dwell on poor land and be rulers, than to sow crops in a level plain and be slaves to others.
Recall from the previous post the same theme of healthy and unhealthy fears that Plato spoke of through his characters. Note the last line of the following extract: the ideal legislators must bring their people to face many fears to learn to have the right kind of fear — which is the same dialogue explains is reverence, or fear of God. Continue reading "Plato's template for the Bible"