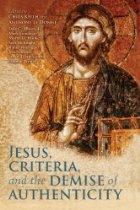 Continued from the previous post . . . .
We have a problem
Chris Keith explains that the serious problem for the criteria approach to historical Jesus studies is that the assumptions about the "nature of the gospel tradition" upon which those criteria (and form-criticism itself) were built upon "have now been shown to be untenable."
My own view is that it is a mistake even to speak of "gospel tradition" at this stage since such a concept is itself an untested assumption. What we have are gospels. Scholars generally assume they are products of authors compiling traditions. But I don't know if this has been argued with reference to evidence by anyone — though I have seen many arguments for it that are based entirely upon the hypothesis (or cultural tradition) that the core narratives ultimately originated with the life of an historical Jesus.
Keith points out that studies since the time of the classical form critics have shown that scholars may have overestimated the extent to which the Gospel authors reshaped the traditions they inherited. Further, the form-critical assumption that the Gospels can be dissected into various layers of traditions is now in serious doubt.
More specifically, Hengel's Judaism and Hellenism demonstrated conclusively that the distinction between early Palestinian Christianity and later Hellenistic Christianity, which the form-critics took as axiomatic and Bultmann even acknowledged was "an essential part of my inquiry," was a false dichotomy. This distinction provided for the form critics the foundational justification for separating the written Gospel texts. Scholars now routinely note its widespread rejection. (pp. 37-38, my bolding here and in all quotations)
Surely this fact (that Palestinian and Hellenistic Christianities are a false dichotomy) leaves us with less reason to assume that the Gospel authors were garnering and weaving "traditions" into narratives that so clearly appear to be creative imitations and adaptations of other literature.
But this assumption of "pre-gospel traditions" is not questioned by Keith. Another tool must be found to study these assumed traditions:
[I]n the words of Kirk, "Little of this tradition model can survive scrutiny in light of advances in research on the phenomenology of tradition." In view here are those Gospels scholars working in the increasingly-overlapping areas of oral tradition and social/cultural memory-theory. (p. 38)
So the problem with the criteria approach is not only that criteria are the wrong tools to uncover history (see previous post for details), but that "the Gospels are not the type of ground in which one can dig."
It is now widely accepted that
one cannot peel through the layers of faith to an "original": "We can never succeed in stripping away that faith from the tradition, as though to leave a nonfaith core. When we strip away faith, we strip away everything and leave nothing."
Thomas L. Thompson has said essentially the same in another context:
Removing miracles or God from the story does not help an historian, it only destroys narratives. One can never arrive at a viable history with such an approach. (The Bible in History: How Writers Create a Past, p.44)
Historical Jesus scholars appear to be on the way to replacing one set of failed tools with a lot of postmodernist mumbo jumbo.
At this point Keith writes on behalf of many historical Jesus scholars when delves into abstract complexities that appear to be necessary solely because there is no evidence for Jesus that is comparable to the sorts of evidence historians generally study. The idea of first analysing the documentary evidence to assess what questions can be asked of it (as is correctly done in other historical studies) remains far from scholarly consciousness here. The tradition shapes the question and the evidence must be made to answer it no matter what. Continue reading "Criteria's Demise and the Black Hole of Historical Jesus Studies: Concluding Chapter 1 of Jesus, Criteria, and the Demise of Authenticity"