*
The Pauline Epistles – Part One
.
COVERED IN THIS POST:
Born of woman, born under the Law: authentic to Paul?
Jesus ministering to the Jews
a "missing equation": Paul's Christ = the Gospel Jesus
Romans 1:3 – "of David's seed kata sarka"
"brother(s) of the Lord": a preliminary look
"the twelve"
Paul's "Lord's Supper" a revelation
"betrayed" or "handed over" by God?
"at night"
1 Thessalonians 2:14-16: "the Jews who killed the Lord Jesus"
.
* * * * *
The Witness of Paul

(Did Jesus Exist? pp. 117-125)
.
I would like to think that Bart Ehrman could at least have provided a few new insights, some new arguments to explain the silence in Paul on an historical Jesus (and by extension in all the other epistle writers). But once again he disappoints the hungry historicist. This is the same old stale table fare, and it provides no nourishment for those starved of healthy evidence that Paul knew an historical Jesus.
By way of introduction to his 'evidence,' Ehrman appeals to the old bugaboo that mythicists are nothing more than interpolation experts, throwing out inconvenient passages right and left. Not only is this a vast exaggeration (certainly where I myself am concerned), he fails to grapple with mythicist arguments in favor of interpolation when they do occur.
.
Born of Woman?
The first Pauline passage Ehrman spotlights is one of those cases. Galatians 4:4 allegedly contained the phrase "born of woman, born under the Law." While it is possible to interpret this in a mythicist context (see below and Jesus: Neither God Nor Man, chapter 15, which discusses both the authentic and inauthentic options), I now believe interpolation to be the preferable choice. Ironically, Ehrman himself has given us some grounds to consider this.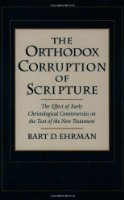 In his (far superior) book The Orthodox Corruption of Scripture, he points out that in the manuscript record this phrase was a favorite for doctoring by later scribes, who changed the operative participle to supposedly better reflect a fully human Jesus in opposition to Gnostics who were claiming that Christ was docetic.
Taken with the fact that Tertullian seems to indicate that the phrase was lacking in Marcion's version of Galatians, we are justified in suggesting that the phrase could earlier have been inserted in its entirety for the same purpose. It can also be demonstrated that the idea in the phrase itself serves no practical purpose in the passage. And it has been asked why Paul would have needed to make the obvious statement that an historical Jesus had been "born of woman."
"Ginomai" vs. "Gennaō"
On the authenticity side of the coin, for the word translated as "born" in regard to Jesus (including in Romans 1:3) Paul uses a different verb (ginomai) than that used for every other reference to anyone being born in the New Testament, including by Paul himself only a few paragraphs later, and for Jesus' birth in the Gospels (gennaō and occasionally tiktō). What distinction requiring a different verb (one generally meaning "come/become" or "arise") would Paul have had in mind for Jesus? Possibly a mythical 'birth' such as we see in Revelation 12, where the Messiah is born in the heavens to a woman "clothed with the sun"?
It is certainly true that he never tells us the name of this "woman." Was he simply giving voice to the 'prophecy' in Isaiah 7:14 about a young woman about to bear a son, just as he seems to have done in calling Jesus "of David's seed" on the basis of predictions in the prophets (Romans 1:2-3)? Did he have to understand any of it on a rational basis as long as it was to be found in scripture?
Either way, there is much reason to doubt the reliability of this phrase in Galatians 4:4 as a reference to an historical Jesus, and it hardly deserves to be characterized as simple mythicist interpolation mania. Continue reading "18. Earl Doherty's Response to Bart Ehrman's Case Against Mythicism – Pt.18"