Blogger Casey (of The Jesus Process ®©™ blog series now published on the internet) expresses regret and shock at the "frightful" work of Earl Doherty, notably because
with a regrettable lack of information about conventional scholarship, he shows no knowledge of the fundamental work of the anthropologist E. T. Hall, who introduced the terms 'high context culture' and 'low context culture' into scholarship — with his 1976 publication, Beyond Culture.
Truly regrettable. Simply frightful.
Paul and High Context Culture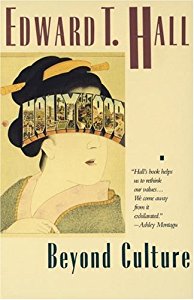 But there is one New Testament scholar who has done his homework and that's Professor Bruce J. Malina. In 1996 (twenty years after Hall's book appeared) he discussed Beyond Culture as if his scholarly peers needed to have Hall's argument explained to them for the first time (The Social World of Jesus and the Gospels). To my knowledge he has never blogged a post or essay on the internet, though.
Maybe Malina's absence from the web explains why Blogger Casey has shown absolutely no knowledge of this anthropologist's 1976 work in any of his books, From Jewish Prophet to Gentile God (1991, 2001), Is John's Gospel True (1996), Aramaic Sources of Mark's Gospel (1998), An Aramaic Approach to Q (2002), Solution to the 'Son of Man' Problem (2007, 2009), Jesus of Nazareth (2010), even when he was discussing various ancient and modern cultures. Or perhaps someone can jog my memory if it is failing me here.
Now this is a serious deficiency for Blogger Casey since he clearly struggles with self-contradictory arguments when he attempts to weave Hall's concepts into his criticism of mythicism. Casey argues that the reason no epistle writer in the New Testament, in particular Paul, mentioned any details of the life of an earthly Jesus was simply because the story was so well known and in a "high context culture" such as Paul's anything so well-known would simply never be mentioned.
But if Casey's understanding and application of Hall's thesis is valid, then we must also imagine all the members of the churches to whom Paul wrote never mentioning the life of Jesus among themselves, either. Not even in their weekly sermons. Christianity would be a strange religion indeed where no-one ever needed to speak about the life of their founder.
No gospel would ever need to be written for such a church! Continue reading "Blogger Godfrey's Blog Reply (2) to Blogger Casey's Blog Post on the Internet"