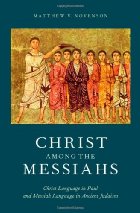 The previous post surveyed the range of arguments over whether Paul uses the word "Christ" (χριστός) as a personal name for Jesus or as a title. The answer to the question has implications for Paul's Christology and theology. (Did he view Jesus as a messianic figure in the traditional Jewish sense or not?) I also suspect the question has implications for the more radical question of Christian origins (Novenson does not address this broader topic, however) and whether or not the earliest concept of the Christian Christ is compatible with an itinerant Galilean teacher and/or healer, or to what extent, the original Christian Christ figure matched contemporary messianic understandings and how best to account for this match/non-match?
Earlier posts in this series examined how Jews of Paul's era did understand and write about the "messiah", and we saw Novenson's conclusion that the concept revolved around a small subset of texts in the Hebrew Scriptures and a limited range of syntactical expressions.
This post concludes an outline of chapter 3 in Novenson's Christ among the Messiahs, Names, Titles, and Other Possibilities. Having covered the arguments fueling the debate over whether Paul used χριστός as a name or a title, we conclude here with Novenson's own argument for how Paul understood and used the word.
.
Christ as an Honorific
Novenson does find a naming category that he believes is "just right" for the way Paul uses χριστός. The trouble is the particular category has been hidden beneath a range of other widely varying modern concepts: Continue reading "Christ among the Messiahs — Part 3b"