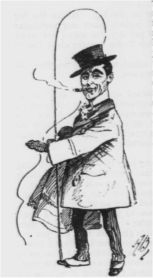 Gentleman Joe
Over on The New Oxonian, R. Joseph Hoffmann, leader of the Jesus Process©™® Triumvirate has deigned to comment on my post, "Proving This! — Hoffmann on Bayes' Theorem." As expected, his response is both cordial and understated. Ever the gentleman, he remains humble, even though Hoffmann's massive and mighty brain threatens to burst through his shiny, pink forehead. At first I had considered answering him right there on his site. However, since I respectfully disagree with so much of what he has written, I have decided to create a new post here on Vridar instead.
I'll quote chunks of Hoffmann's words here, interspersed with my responses.  He's reacting to a comment by a guy who goes by the screen name "Hajk." Hoffmann begins:
Yes @Hajk: I was laughing politely when Vridar/Godfey[sic] made the bumble about "pure mathematics" in scare quotes; it reveals that he is a complete loser in anything related to mathematics, and when he goes on to complain that Bayes doesn't "fear subjectivity it welcomes it" may as well toss in the towel as far as its probative force goes. Odd, someone conceding your points and then claiming victory. 
Continue reading "Hoffmann Serf-Reviews My Bayes' Theorem Post, "Proving This!""