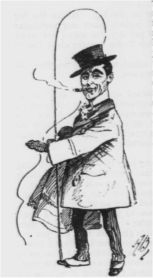 Gentleman Joe
Over on The New Oxonian, R. Joseph Hoffmann, leader of the Jesus Process©™® Triumvirate has deigned to comment on my post, "Proving This! — Hoffmann on Bayes' Theorem." As expected, his response is both cordial and understated. Ever the gentleman, he remains humble, even though Hoffmann's massive and mighty brain threatens to burst through his shiny, pink forehead. At first I had considered answering him right there on his site. However, since I respectfully disagree with so much of what he has written, I have decided to create a new post here on Vridar instead.
I'll quote chunks of Hoffmann's words here, interspersed with my responses.  He's reacting to a comment by a guy who goes by the screen name "Hajk." Hoffmann begins:
Yes @Hajk: I was laughing politely when Vridar/Godfey[sic] made the bumble about "pure mathematics" in scare quotes; it reveals that he is a complete loser in anything related to mathematics, and when he goes on to complain that Bayes doesn't "fear subjectivity it welcomes it" may as well toss in the towel as far as its probative force goes. Odd, someone conceding your points and then claiming victory.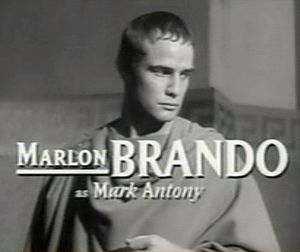 "All honourable men"
I have no doubt that he was laughing politely, since to do so derisively would be dishonorable.  "And, sure, he is an honourable man." (Julius Caesar, Act III, Scene 2)
However, condemning Neil Godfrey (with an "R") as "a complete loser in anything related to mathematics" seems a bit harsh and hasty. First and foremost, since Neil didn't write the post, he can hardly be held responsible for its content. The blame should fall instead to me, Tim Widowfield. Second, I was trying to make a rude joke, which I assumed Vridar readers would get. I used the scare quotes to signify my boorish disregard for credentialism. If that joke fell on deaf ears, then it merely demonstrates my lackluster sense of humor.
Of course I know the difference between pure and applied mathematics. (I admit I was a bit surprised to discover that Cambridge puts pure mathematics and mathematical statistics in the same department. In most U.S. schools, statistics and applied mathematics are grouped together.)
Branding me as "a complete loser" simply because of a failed joke is unwarranted. It would be as unfair as my saying that Hoffmann has reading comprehension problems because he didn't notice the post's byline, thus wrongly attributing it to Neil.  It would be as petty and pedantic as my condemning Hoffmann as an illiterate clod simply because he spelled the word "them" as "tham," and "Godfrey" as "Godfey." Such peccadilloes are normally overlooked by honorable men. "And, sure, he is an honourable man."
Now regarding "throwing in the towel" because BT accepts guesses in prior probability, I'm not sure how his conclusion follows from the premises. He seems to be saying that subjectivity automatically means "no probative force." I'd like to know how he arrived at this conclusion.
Quod erat remonstrandum?
Hoffmann continues:
Even well-wishers of Carrier's in various blog reviews have remonstrated that he should not have used the Jesus question as a test case, especially when the whole question of its application in historical studies is as yet unproved.
I had supposed that by now everyone knew why Carrier's book on BT focuses the question of the historical Jesus. He was, for all intents and purposes, commissioned to do so. He writes:
This all started long, long ago, four years in fact, when my wife and I were buried under student loan debt and I offered myself up to complete any hard core project my fans wanted in exchange for as many donations as I could get to fund my work. They all unanimously said "historicity of Jesus" and came up with twenty thousand dollars. Which cleared our debt and really saved us financially. It was a huge boon and I am extremely grateful for everyone who made that happen. (http://freethoughtblogs.com/carrier/archives/255)
Joe must not have known that, or surely he would have said so. In any case, I'm not sure why it should matter. NT scholars and ancient historians will judge the matter on its merits, since it is the honorable thing to do.  "For [Hoffmann] is an honourable man; So are they all, all honourable men . . ."
"Honk if you love cheeses!"
More from Joe:
Maybe we should plug in "Bayes is/is not useful in historical study" and see what happens with the probability. 
Now that's really deep. It ranks just slightly below "If guns are outlawed, then only outlaws will have guns," but slightly above "If you see this van a-rockin', don't come a-knockin'." Not bad.
Hoffmann follows with more deep thoughts:
Godfrey also doesn't know the difference between statistical/mathematical and epistemological probability, but it is clear that some people making claims of the later [sic] variety are hoping to present tham [sic] as "certainties" in the former category. 
As we've said before, not Godfrey, but Widowfield. I think rather than "later variety," he means "latter variety." As far as definitions, I suppose I'd go with Hacking:
Epistemological Probability: "the degree of belief warranted by the evidence"
Stochastic or Statistical Probability: "the tendency, displayed by some chance devices, to produce stable relative frequencies"
Now that we've sorted that out, what's the accusation again? Apparently, he thinks I don't know the difference, and that I (and others) want to make statistical probability claims and then present "tham" as "certainties" in the epistemological category. Having gone to all that effort to decipher the sentence, I'm still not sure why Joe has reached this conclusion. Anyone? Is it because he thinks frequentist statistics is the only "real" statistics?
And the trophy goes to . . .
More from Hoffman:
I also give you the trophy for the most rational BT comment of the day:
The parts in italics now are from Hajk, the recipient of Joe's (virtual) trophy:
William Lane Craig thinks that the probability that God would raise Jesus from the dead is "inscrutable". Should we plug [in] 50%?
I don't think so; do you? Does anyone? First of all, I doubt Craig would get involved in this sort of discussion, since he probably knows where it would lead. Note that if we were trying to determine the probability that God raised Jesus from the dead, in 30 CE, that's the conclusion. The numbers we'd plug in for prior probability would relate to the probability of an empty tomb signifying a reanimated corpse. So, how frequently do we think that sort of thing happens? Is it really 50 percent of the time?
Recall as well that Craig would classify the resurrection as a miracle. By definition miracles are physically impossible occurrences made possible by supernatural means. So if he were consistent, he would agree that the prior probability of a corpse being raised from the dead is zero — otherwise it's just a very rare, albeit natural, occurrence. For the resurrection to have meaning in Christianity it needs to be a miracle (i.e., an impossible event made real by supernatural means), which happened only once and which will not repeat until Judgment Day. This simply isn't Craig's game.
On the other hand, if apologists should choose to play along, I think they're going to be disappointed. Richard Carrier in this presentation explains it better than I can (cued up to 26 minutes and 48 seconds into the video):
[youtube=http://www.youtube.com/watch?v=HHIz-gR4xHo&start=1608]
I'll assume you watched at least a few minutes of the above video. If you did, you should understand that the prior probabilities are what matter in the resurrection question. Given our experience in the world, what is the estimated frequency of corpse reanimation?
Before we leave the subject of bodily resurrection, let me recommend a highly entertaining paper by Robert Greg Cavin entitled: "Is There Sufficient Historical Evidence to Establish the Resurrection of Jesus?" (Caution: PDF.)
Jumping to conclusions
Hajt writes:
I may think the probability that documents survived from the destruction of Jersalem [sic] that became the basis of Tacitus' knowledge of Christianity is 5%. You may think it is 0.0005%. I may think that the probability that something actually stood at the place where the Testimonium Flavianum now stands (after having read all arguments from both sides) is 3.87446%. You may think it is 0.845532%. J.P. Meier may think it is 50%. Crossan may think it is 42%. Josh McDowell may think it is 90%. Is Bayes going to tell us which to use? And if so, then it will only do so by assuming other probailities [sic] to begin with. How are we going to get these? 
Once again, these are conclusions. Of course, the probability that something else stood in place of the TF is both a conclusion and a point of consensus. Nobody thinks Josephus believed Jesus was the messiah. Hence, something else must have stood where the TF now stands. Now, what was it? Was it more than what we have now? Or was it less? Or was it nothing at all? From what we know about Christian interpolators, what can we estimate for the prior probability? I should think a discussion of these prior probabilities would shake our confidence about the supposed reconstructed TF presumed by NT scholars as "probably what Josephus wrote."
That is how 'Plugging in different values gives us different answers'. But to Vridar, this is natural because it is a "common feature of equations." So what?
The "so what" is this: Discussing the prior probabilities exposes our assumptions. If we can reach a tentative agreement on the foundations, then we can let the math do the rest. As I've said before, NT scholarship is rife with statements about things being probable or improbable. However, these statements are almost always nothing but intuitive assumptions.
The Sound and the Fury
Hoffman concludes:
As Morton Smith once said, I would rather put my trust in the myths of the Bible than in anything the mythics come up with: this is another example of hyperhypotheticalism with strong lashings of Macbeth 5.5 ( ". . . it is a tale
Told by an idiot, full of sound and fury,
Signifying nothing.")
Since he invented the term, I suppose Hoffmann has the definition for hyperhypotheticalism. Perhaps it's copyrighted.  I'll guess that it means taking hypotheticals to a ridiculous extreme. I'm a bit surprised we can have "another example" of a word that just got coined. We live in such interesting times.
[BTW, can anyone find a source for that Morton Smith quote?]
The following two tabs change content below.
Tim Widowfield
Tim is a retired vagabond who lives with his wife and multiple cats in a 20-year-old motor home. To read more about Tim, see our
About page.
Latest posts by Tim Widowfield (see all)
---
If you enjoyed this post, please consider donating to Vridar. Thanks!
---