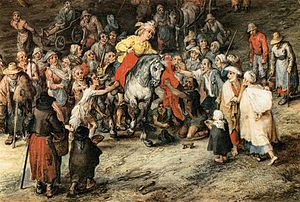 A few days ago while Neil and I were chatting, the subject of peer reviews came up. One of us (could've been me) said that perhaps one of the scholarly elites might do us the favor of reviewing some of our work. However, since we aren't peers, it would have to be a serf-review, in which a member of the nobility puts on his (or her) wading boots, slogs on down to the bad side of town, and renders his (or her) assessment to us peasants.
Well, it has happened! Stephanie Fisher has already reviewed two of my posts. We are truly honored by her gracious attention. I encourage everyone to read her detailed, erudite remarks carefully. This is the sort of thing I was talking about in my Processed Jesus post — real intellectual discourse, truly honest and reasoned responses from a bright, young, and promising scholar.
Be sure to set aside a reasonable amount of time to read through Steph's insightful counter-arguments.
It's hard to argue with her, don't you think?
Thank you, Steph. You've restored my faith in scholarship. Our future is secure! As I said before, "It's this kind of honest, cordial give-and-take that makes me happy to get up in the morning."
(Note: Brueghel's painting of St. Martin hangs in the Lobkowicz Collection.)
The following two tabs change content below.
Tim Widowfield
Tim is a retired vagabond who lives with his wife and multiple cats in a 20-year-old motor home. To read more about Tim, see our
About page.
Latest posts by Tim Widowfield (see all)
---
If you enjoyed this post, please consider donating to Vridar. Thanks!
---