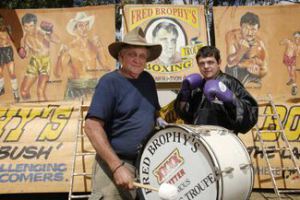 Here they come. The advance warning was R. Joseph Hoffmann's Mythtic Pizza and Cold-cocked Scholars. He promises that within a week (apocalypse coming!) we will see on his blog "three essay-length responses to Richard C. Carrier's ideas: The first by [R. Joseph Hoffmann], the second by Professor Maurice Casey of the University of Nottingham, and the third by Stephanie Fisher as specialist in Q-studies." I haven't been this excited since I was a little kid in side-show alley at our city's annual exhibition. Recall the tremors as I came to the tent-boxing pavilion. You knew you were approaching it when you heard the war-like beating of a bass drum. On a raised platform iron-faced and red and gold robed boxers stood in a row beside the drummer yelling out the challenge for anyone to dare enter the ring.
[youtube=http://www.youtube.com/watch?feature=player_detailpage&v=QYmpel5Aznk#t=4s]
Hoffmann whets our blood-craving appetite by announcing the intellectual weapons to be pitted against each other. Those championing the historical Jesus have "the complex evidence of textual and linguistic studies" and "hermeneutics". (By "hermeneutics" I think he might mean in particular the full spanner-set of criteriology: the criteria of embarrassment, double dissimilarity, multiple attestation, coherence, etc.) Against these we have the mythicists using scientific method:
these same folk who hold up the scientific method to religionists want to walk past the complex evidence of textual and linguistic studies as though it weren't there. "Hermeneutics" for them is just a word theologians like to throw around to impress seminarians . . .
Textual and linguistic studies as weapons for historicity? I think that must include those incisive analyses that identify Aramaic words in the Gospels or lying behind the current Greek words. I wonder how the scientific method will compete against that slam-dunk evidence that the Gospels really were quoting the Aramaic words of an Aramaic speaking historical Jesus? It's going to be a tough fight.
Just like a pugilist taunting his opponent to build pre-fight publicity Hoffmann has come out and called his opponents ghetto dwellers, loudmouths, mosquitoes, buggers, nutters, carriers of dengue and malaria, flat-earthers, conspiracy theorists, a rabble, sensationalists, impetuous amateurs, spewers of lunacy, inanity and idiocy. But what's the most damning indictment of all? They insult their opponents. How low can these spewing ghetto-dwelling buggers, nutters and disease-carrying mosquitoes get?
And Hoffmann knows his insults are powerful weapons. He writes:
Insult works. Spew works. Faitheist baiting works. What works works.
And all for what? Why all Bart Ehrman ever did was have "the audacity to suggest that Jesus actually existed." Honest and cross my heart and hope to die! That's all Ehrman was guilty of! So Bambi-eyes innocent Hoffmann assures his readers. (Curiously he has no room to cite Carrier's supposed insults, either. No doubt for good reason. Had he quoted anything of Carrier's it would have likely demonstrated that Carrier was more about calling a spade a spade than stooping to labeling others "disease-carrying mosquitoes".)
Thus we have on the one side those who are dedicated to "the calm and considered academic study of religion", "the discussion of the lacunae of ancient history", "textual and linguistic studies" and "hermeneutics". And on the other, well, disease-carrying mosquitoes.
Hoffmann has made it abundantly clear that he is not interested in academic discussion with anyone arguing a mythicist hypothesis. There is no room for debate. One cannot argue with one who questions the establishment view. Ehrman himself said the same. He wrote in his book, Did Jesus Exist?, that it was not written to engage with mythicists, because, he claimed, mythicists will not change their minds. So he didn't even try to present a serious academic dialogue for neutral bystanders to assess. All the hard work disappears if you can label your opponents as "closed-minded" and thereby excuse yourself from having to address their arguments. Insult and spew work much better among the converted.
Hoffmann's tactics are the tactics of fear. He fears mythicist arguments:
the single greatest threat, next to fundamentalism, to the calm and considered academic study of religion. . . . .

But more to the point, the endorsement of amateurs by amateurs is becoming a rampant, annoying and distressing problem for biblical scholarship—one that apparently others in my discipline think will go away by assuming, as I do not, that saner heads will prevail.
You don't try to reason with disease-carrying mosquitoes. You exterminate them.
Hoffmann touches on the fulcrum of what this debate is truly about. It is between those scholars who like the calm and considered deliberations undertaken in their isolated ivory towers, well away from the mosquito-infested ghettos of what people can see to be common sense. The likes of evolutionists Jerry Coyne and P. Z. Myers might dirty their grubby ghetto-tainted hands by sharing their research and studies with the mob out there and demonstrate that belief in evolution is indeed a simple matter of common sense to anyone who looks at the evidence. But never let a New Testament scholar stoop to such vulgarities. Textual and hermeneutical studies are far too intellectually refined to be exposed to the ghetto-dwellers.
The double irony here is that anyone who has read Hoffmann's words over past years will be entirely excused for thinking he himself is an atheist and even a "Christ Mythtic". But one also soon learns on reading more of R. Joseph Hoffmann that his ego will never allow anyone to identify him with any entirely common and banal concept as "atheist" or "mythicist". Push him for a response to either of these positions and you will be fed an eruption of jargon that will leave all but the most ardent groupie fans like Stephanie Fisher drooling over his ever-so-erudite and incomprehensible views. His intellect is far too ethereal to be identified with entirely common "atheists" or "mythicists".
But let's not hide the best arguments Hoffmann has to offer. He draws them out even here in this initial foray.
We know more about Jesus than we know about a great many figures that we think existed, from far fewer sources—often from faint allusions in the work of only one ancient writer. Did Diogenes exist? Cincinnatus? Outside the gospels, Pontius Pilate is virtually unknown except for a reference in Tacitus and mentions in Philo and Josephus, if we discount the so-called Pilate stone.

Gosh, apart from Pilate being mentioned in Tacitus, and again in Philo, and also in Josephus and then again in his own inscription — he's about as unattested in the record as is Jesus!
The simple fact is that Hoffmann, like Ehrman and most scholars of historical Jesus whose works I have read, has never stopped to question till now exactly how historians know of the existence of past figures. They truly have always taken the existence of Jesus for granted and never stopped to ask — at least not stopped to ask seriously — how we know. They have been content with the same answers that satisfy the apologists. Why, we find him mentioned in records 80 or more years after he was supposed to have existed. And the earliest of those are ambiguous about whether they are referring to someone named "Jesus" and whether he was a literal historical figure. Except for Josephus. Historians used to reject those passages in Josephus as outright forgeries up until the aftermath of the Second World War when Holocaust guilt led academia to find worthy values in all things Jewish. Jesus was the best of the Jews and recognized by the Jews. Any expressions of doubt were kicked out as anti-semitic. Even Judas became a well-meaning lover of Jesus.
The simple answer is that we know certain people existed because of primary evidence (e.g. coins and stone monuments from their time), and because of writings of a certain genre (with an interest in discussing facts) and established provenance, multiply and independently attested and supportable by reference to the primary evidence, give us good reasons for believing in the historicity of certain persons:
Scholars like Hoffmann and Ehrman and others give us no indication that they have ever stopped to think this through. As Thomas L. Thompson himself has pointed out from the prudent safety of his retirement, they have always simply assumed that there was a historical Jesus to discover.
Hoffmann repeats Ehrman's curious claim that mythicists regularly cite Albert Schweitzer in support of mythicism. I never knew that and Hoffmann does not give us a citation. I myself have cited Schweitzer, but I have also always made it known that the reason I do so is because he is not a mythicist. That is what lends strength to the point I am making when I do quote him. Schweitzer understood the limitations of what generally passes for historical method far better than nearly every contemporary historical Jesus scholar I have read:
In reality, however, these writers [those arguing for the historicity of Jesus against mythicists] are faced with the enormous problem that strictly speaking absolutely nothing can be proved by evidence from the past, but can only be shown to be more or less probable. Moreover, in the case of Jesus, the theoretical reservations are even greater because all the reports about him go back to the one source of tradition, early Christianity itself, and there are no data available in Jewish or Gentile secular history which could be used as controls. Thus the degree of certainty cannot even by raised so high as positive probability. (From page 402 of The Quest of the Historical Jesus, 2001, by Albert Schweitzer.)
Little wonder that Schweitzer called upon Christians to let go of their faith in an unknowable historical Jesus (whose very existence could not even pass the theoretical norms of positive probability) and turn to a new metaphysic. Those suburban churches that I see with banners proclaiming the heavenly existence of Jesus and his life today in our hearts, I wonder, have grasped far more of Schweitzer's intent than many scholars.
[youtube=http://www.youtube.com/watch?v=iXBGr-U5PIs]
The following two tabs change content below.
Neil Godfrey
Neil is the author of this post. To read more about Neil, see our
About page.
Latest posts by Neil Godfrey (see all)
---
If you enjoyed this post, please consider donating to Vridar. Thanks!
---