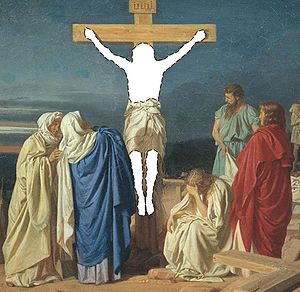 Joel Watts, now a master of theological studies, has posted The Schizophrenia of Jesus Mythicists. Since I am always on the lookout for serious arguments addressing the Christ myth argument I had hoped that, despite a title imputing mental illness to those who argue Jesus was a myth, I would find engagement with a mythicist argument. But, sadly, no.
Watts does not want anyone to think he is merely defending a faith-position. He explains that his post is about "verifiable proof" and is not a "matter of faith".
I can accept that approach. Faith is about things we cannot prove or see. Verifiable proofs would undermine faith. One can only believe Jesus was resurrected and is God etc. by faith. (Does not N.T. Wright undermine faith in the resurrection of Jesus when he claims to have historical proof of the resurrection?)
But here Watts is talking about the historical man, Jesus. His faith presumably would be harder to sustain if there were no generally recognized human of history at the start of it all. So, like Marxists, he must first believe in history.
Here is his argument against mythicists and for "verifiable proofs":
Remember, the birth narratives aren't in Mark, but were added by both Matthew and Luke. I would say it was added by Matthew and expanded by Luke. Notice Matthew's pattern of the validation of Jesus by the Old Testament. This is where the idea of prophecy must be understand (sic) as employed by Matthew. It wasn't about making predictions and fulfilling them years, decades or centuries later, but for Matthew, it was validation of the mission of man of Jesus. For instance, the arrival from Egypt is put next to Hosea as a way of validating Jesus as the incarnation of Israel. So then, literally speaking, the naming of Jesus to mimic Joshua could have been 'invented' by Matthew as a further validation of Jesus and his mission. This doesn't take away from the reality of Jesus as a historical person (or even the idea held by Jesus and his disciples that he was to be the second Joshua), but follows Matthew's actions of validating Jesus through the Hebrew Scriptures. Names signify missions and were a special dispensation of God.
I can fully agree with nearly everything Joel Watts has written here. No argument. Early Christians used the Jewish scriptures to "validate" Jesus and even their own place in history as evangelists for this Jesus. The only quibble I have is the implication in his last sentence that God gave Jesus his name. If we are talking about verifiable proofs and not matters of faith I would suggest it is more reasonable to think that Jesus acquired his name in a manner consistent with how anyone acquires their public name.
One more thought (put into my head by Tim, so blame him for this). It is easy to structure an argument around the clearly mythical nature of the birth narratives. But mythicists that I have read don't use those to clinch a case that Jesus was mythical any more than historicists use them to argue Jesus was historical.  But the Passion Narratives are surely just as mythical, filled with as much supernatural happenings and validated just as thickly from OT scriptures as the birth narratives. Angels appearing in Gethsemane, disciples fleeing according to the prophecies, Jesus silent before his accusers according to the prophecies, miraculous darkness at noonday, Jesus' clothes parted according to the prophecies, Jesus' last words according to the prophecies, Jesus miraculously resurrected from the dead. Why do historians generally dismiss the birth narratives as having no historical basis while at the same time generally accepting the Passion narrative as historical?
Anyway, Watts continues:
The problem with mythicists, and there are many, boils down to the simple fact that they still take Scripture as if it was written with the same standard of fact which Westerners have and they miss the subtle things which are extremely important in decision making. Simply because Matthew validated Jesus's mission by various Old Testament passages, this does not take away from the reality of Jesus' existence. I mean, Vespasian's reign, and in some ways, his existence, was validated by the Jewish Scriptures as well, and yet, no one doubts that he was actually Caesar. An excellent book on evidence of Jesus outside the New Testament can be found here. I doubt that I'll get to blog through it anytime soon, but hopefully.
I don't follow the first sentence here. By using the word "Scripture", whether applied to the OT or NT, it seems to me that Watts is viewing the writings of the Jews and Christians as faith documents. But even if not, I don't know anyone (apart from fundamentalists or conservatives) who consider them as genuinely factual narratives.
I do, however, follow and agree with the next sentence: "Simply because Matthew validated Jesus's mission by various Old Testament passages, this does not take away from the reality of Jesus' existence."
True. Agreed. But only if we have established the reality of Jesus' existence to begin with. One might just as plausibly express the same idea as: "Simply because Matthew validated Jesus' mission by various OT passages, this does not mean Jesus was himself a myth".
That is 100% true. No argument.
I have said many times — it is a simple truism — the fact that Egyptian, Greek and Roman kings and emperors identified themselves with various gods or semi-divine heroes does not mean that these figures did not exist in real life. It is silly to suggest otherwise. So what makes it different with Jesus? What makes it different is that when you remove all the mythological claims that were attached to a clearly historical figure we are left with lots of the historical figure left over that is not mythical. We are left with many other accounts independently testifying to the historicity of these figures. With Jesus, however, remove the mythical — that is, remove the "Christ of faith" from the gospels — and you are left with empty pages. Nothing is left remaining.
This is why historical Jesus scholars say they cannot rely on the Gospels as historical documents and why they must, as they say, "dig beneath" the words of the Gospels. They speak of "getting behind" the narrative about Jesus.
The question then should be: how will one know what it is that one finds "behind the text"? How will one know whether what one imagines to be there is anything other than an imaginary figure? Is not such a figure going to be yet another Jesus of faith? The doppelganger of one's Christ of faith?
I happen to think there are valid ways to reach a valid conclusion.
If one finds that a narrative is made up of phrases and ideas from other literature, and there is nothing to the narrative of Jesus that cannot be identified as a borrowing from other literature, then is it not a valid conclusion that Jesus was a literary creation?
.
Watts links to a book by Van Voorst as if that volume supplies all the evidence for historicity that one might need. I found Voorst's book so redundant and elementary I have not bothered to write about it much. Only passing references here and here. But Earl Doherty has done a fuller treatment of it here. Now what I'd like to see is a scholar seriously engage with that critique, but I will not be holding my breath.

The following two tabs change content below.
Neil Godfrey
Neil is the author of this post. To read more about Neil, see our
About page.
Latest posts by Neil Godfrey (see all)
---
If you enjoyed this post, please consider donating to Vridar. Thanks!
---