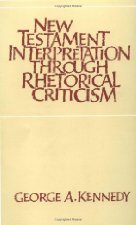 George A. Kennedy makes some interesting observations about the order of the New Testament books that probably many Christians have at some time thought about. I suppose when a professor of classics publishes the same it gives us an assurance that our senses have not failed us.
The canon of the New Testament was established by Councils of the Church in late antiquity. Whether consciously determined or not, the order assigned to the books is interesting, for it is consistent with conventions of rhetoric as taught in the schools.

First come the Gospels, which proclaim the message;

then the narrative of Acts, which describes its reception;

then the epistles, which may be viewed as arguing out interpretation of the message;

and finally the Apocalypse, as a dramatic epilogue.

(p. 97, New Testament Interpretation Through Rhetorical Criticism, my formatting and numbering.)
It's not quite true, of course. Acts can hardly be said to describe the reception of the message we read about in the Gospels, unless the message of the Gospels is confined to their final verses. And the epistles appear to be even less interested in arguing out the interpretation of anything we read in the Gospels. But the order of the books as bound in canonical black with gold edging does rhetorically convey the impression that it is quite true.
And then there is the order of the Gospels.
The order of the four Gospels probably reflects what the Church thought was the chronological order of their composition and is consistent with Eusebius' reports on the subject. But it is also rhetorically effective in that

Matthew, with his introductory genealogy, account of Jesus' birth, and extended speeches, gives a comprehensive initial picture of Christianity and links it to the Old Testament;

Mark, with his emphasis on what Jesus did, approximates a narration;

Luke works out details and smoothes over problems to create a plausible whole;

and John supplies a moving epilogue.

(p. 97 ditto)
The following two tabs change content below.
Neil Godfrey
Neil is the author of this post. To read more about Neil, see our
About page.
Latest posts by Neil Godfrey (see all)
---
If you enjoyed this post, please consider donating to Vridar. Thanks!
---