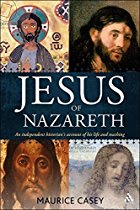 The stated purpose of Maurice Casey's book Jesus of Nazareth is "to engage with the historical Jesus from the perspective of an independent historian." Casey explains what he means by his independence:  "I do not belong to any religious group or anti-religious group. I try to . . . establish historically valid conclusions. I depend on the best work done by many other scholars, regardless of their ideological affiliation." (p. 2)
For Casey, the only correct interpretation of Jesus is one which explains Jesus within a thoroughly Jewish matrix. This means he in fact begins with the assumption that there is an historical Jesus to place within that matrix. He would disagree with that and argue that his book proves the existence of such a figure. On page 43 he writes of "people who deny Jesus' existence" that
the whole of this book is required to refute them.
This brings to mind the frequent claims of one of another independent scholar who once quite regularly left a similar comment on this blog, saying that a whole book would be required to refute mythicism. Unfortunately, when a scholar says that his book is a refutation of mythicism, one is likely to find that the arguments of mythicists are avoided rather than refuted. I will return to this point.
Casey's assertion that only a thoroughly Jewish Jesus is a correct Jesus means that for him many publications about the historical Jesus have missed the mark:
The vast majority of scholars have belonged to the Christian faith, and their portrayals of Jesus have consequently not been Jewish enough. Most other writers on Jesus have been concerned to rebel against the Christian faith, rather than to recover the Jewish figure who was central to Christianity in its earliest period. (p. 3, my emphasis)
This reminds me of Craig Evan's pop psychoanalysis of scholars such as Robert M. Price and Bart Ehrman, and his assumption that their motives can only be "anti-Christian". If you're not for us, you're against us, is the idea. No allowance is made for the possibility that non-Christian scholars who reach conclusions that are not supportive of Christian fundamentals could be aware of their biases and make allowances for these in an honest intellectual inquiry. Similarly, Casey begins by suggesting that those who do not stand where he does are either inevitably overly motivated to support the Christian faith or rebel against it.
As for the scholars whom Casey believes have come close to the mark, he lists and discusses the work of Albert Schweitzer, Geza Vermes and E. P. Sanders. He also has high commendation for Tom Wright, Bruce Chilton, James Dunn, J. P. Meier and Martin Hengel with Anna Schwemer.
On E. P. Sanders, Casey writes (p. 16, my emphasis):
Sanders's first positive achievement was to direct attention away from sayings of Jesus to the prime importance of facts which can be established beyond reasonable doubt. At the beginning of his excellent outline of Jesus' life for general readers, he listed the following:

Jesus was born c.4 BCE, near the time of the death of Herod the Great;

he spent his childhood and early adult years in Nazareth, a Galilean village;

he was baptized by John the Baptist;

he called disciples;

he taught in the towns, villages and countryside of Galilee (apparently not the cities);

he preached 'the kingdom of God';

about the year 30 he went to Jerusalem for Passover;

he created a disturbance in the Temple area;

he had a final meal with the disciples;

he was arrested and interrogated by Jewish authorities, specifically the high priest;

he was executed on the orders of the Roman prefect, Pontius Pilate.

In retrospect, this may look both obvious and not much. Its importance in 1993, and of the earlier version already in Sanders's 1985 book, was the certainty with which these points can be established. Sanders showed that the main points of Jesus' ministry ought not to be in doubt.
I have addressed two of those points in detail as presented in Sanders' 1985 book, The Temple Act Not Historical and John the Baptist. (These and other discussions of Sanders within the context of mythicist-historicist discussion can be accessed via the Sanders entry in the "Categories" in the right margin.) I attempt to demonstrate, particularly in the Temple Act post, that there is no unanimity among scholars on the facticity of these supposedly indisputable facts of Jesus' life. I argue that the so-called certainty of these facts is grounded in circular reasoning: the supposed "proofs" for their reality presuppose the existence of Jesus to begin with. Thomas L. Thompson has said the same of most scholarly work on the historical Jesus, and James McGrath belatedly responded to my Sanders posts — they had been written in response to his challenge that Sanders, as Casey says, did supposedly establish the certainty of the facts of Jesus' life — with nothing more substantive than a statement that he "disagreed".
As for the question of the existence of the historical Jesus, Casey appears to consider the question as having been settled long ago:
. . . professional scholars generally regard it as having been settled in serious scholarship long ago. (p. 33)
Casey footnotes this claim with references to 1912/1928 work The Historicity of Jesus by S. J. Case and the 1925 Jesus the Nazarene by M. Goguel. Both works are available online, and the links I provide are to my recent discussions of just how far removed they really are from either "serious critical scholarship" (S. J. Case) or actually addressing the questions raised by mythicists (M. Goguel). Doherty has shown (for the benefit of anyone who has not read Goguel's book for themselves) how Goguel in a significant portion of his book really does little more than rationalize side-stepping the arguments of mythicists entirely. Maurice Casey's book is for most part a discussion that sits entirely apart from Jesus myth arguments. If the entire book is required to "refute" mythicists, it only does so by obliging readers to forget mythicist arguments and immerse themselves in Casey's assumptions and arguments instead.
Nevertheless, Casey still chooses to discuss what he says are the main arguments of mythicism "which are still being repeated." He takes "the first ones" from Price's book, The Incredible Shrinking Son of Man: How Reliable is the Gospel Tradition. He begins:
Price proposes ludicrously late dates for the Gospels, a major feature of arguments against the historicity of Jesus. For example, he suggests that Mark 13, which predicts the destruction of the Temple, must have been written after the destruction of Jerusalem in 70 CE . . . . The point of these unconvincingly late dates is to allow Price to argue that the Gospels are fictional . . . . (p. 33 and 35, my emphasis)
"Ludicrous" is a strong word. It tells us that Casey thinks Price is simply, well, being ludicrous for suggesting not only that the Gospel of Mark could possibly have been written as late as the second century, but also merely for going so far as to place the Gospel a whole 40 years after Jesus' death!
Curiously, Casey discusses the 70 date for Mark without resort to the "ludicrous" word when he addresses arguments of scholars who do not question the historicity of Jesus:
There are two different conventional dates in scholarship. Some scholars, especially in Europe, date it c.65-69 CE, not long before the destruction of Jerusalem by the Romans in 70 CE, whereas others, especially in the USA, date it c.75 CE, not long after the same event. (p. 65)
One will suffer terminal brain injury holding one's breath till one finds where Casey actually gives any reasons to explain why a second-century date for Mark's gospel is "ludicrous" and "unconvincing", why a 70 date is ludicrous when Price alludes to it, but conventional when other scholars use it.
Casey also faults Price for representing the "worst of all things American". Thus Casey explains that R. M. Price was to be one of the co-chairs of the "Jesus Project", which he describes as "another American subgroup". On the same page Casey speaks of another American "social subgroup" as being the source of "bizzare discussion". The term "subgroup", and especially an "American subgroup", within a chapter that never fails to repeat the "American" adjective with every mention of a study or author Casey despises (e.g. the "American Jesus Seminar") is obviously intended to be as pejorative as one can get. So Price is doubly tarnished.
But I will leave this post at this point and save discussions of Casey's specific responses to certain authors for another time.
This post is an attempt to bring out some of the more general views of Casey on the "mythicist-historicist" divide, and to point to a couple of strands of evidence that suggest a certain amount of prejudice fuels his discussion. Unfortunately, Casey has clearly brought nothing new to the debate, apart from addressing some of the details of arguments of the likes of Price and Zindler. I will be addressing some of these specifics in future posts, though this post should indicate to anyone familiar with the debate the sorts of responses to expect.
The following two tabs change content below.
Neil Godfrey
Neil is the author of this post. To read more about Neil, see our
About page.
Latest posts by Neil Godfrey (see all)
---
If you enjoyed this post, please consider donating to Vridar. Thanks!
---