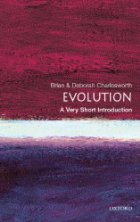 I tried to explain a technical computer fix to someone once over the phone. I ended up saying something like, "Press the X and Y keys, and a little man inside the computer will do ABC for you."
Isn't that the sort of fantasy nonsense that is required to reconcile evolution with a belief in a personal God who has a special thing for humans?
How does evolution work?
The combined effects of mutation, natural selection and the random processes of genetic drift cause changes in the composition of a population. Over a sufficiently long period of time, these cumulative effects alter the population's genetic make-up, and can thus greatly change the species' characteristics from those of its ancestors.
That's from Evolution: A Very Short Introduction by Brian and Deborah Charlesworth. The back cover blurb contains a panegyric by Richard Dawkins.
Now that makes humans no more unique, or pre-ordained, than sponges. There is no room for supernatural intervention in the terms "natural selection" or "random processes."
If we like to think we can believe in evolution BUT God somehow guided it to make sure it produced us for Jesus Christ or Jehovah or Allah, then aren't we kind of copping out, kidding ourselves, and really no different from the person who believes a computer works because there is a little man inside the thing making it work just right?