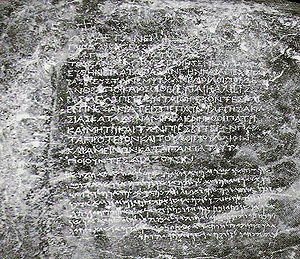 Maurice Casey considers historical plausibility to be "of central importance" (p. 106).
Our early and primary sources are unanimous and unambiguous in placing Jesus within a context of first-century Judaism. It follows that our picture of Jesus should be comprehensible within that cultural framework, and further, when a piece of information about Jesus or those present during the historic ministry fits only there, that is a strong argument in favour of its historicity.
Surely this is begging the question. Casey has declared what is historical before he begins the inquiry, and then writes the rule to justify it. The Gospels place Jesus within a context of synagogues and Pharisees but external evidence indicates that these are anachronisms, not becoming features of the Galilean landscape till after the year 70. Casey has simply declared them by fiat to be historical of early first-century Galilee.
Hellenism and regional contrasts (Galilee and Judea are only two) were a reality of first-century Palestine. See, for example, Hellenism in the Land of Israel. Scholars like Crossan and Mack, whom Casey dismisses, grapple with the evidence for these realities. Continue reading "Casey's historical method (2): Aramaic and the fallacy of 'historical plausibility'"