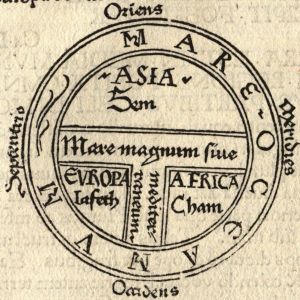 The idea that the earth was flat was never part of medieval Christian doctrine.
Men and women of any education around AD1000 were perfectly well aware that the earth was a sphere.
I never knew that till I read God's Philosophers: How the Medieval World Laid the Foundations of Modern Science by James Hannam. The only thing I know about James Hannam is from the dust jacket blurb that says he is a graduate of both Oxford and Cambridge where he gained a PhD in the history of science, and that he has written a very interesting book.
So where did the idea that medieval folk believed the earth was flat come from?
James Hannan attributes this understanding to Sir Francis Bacon:
The myth that a flat earth was part of Christian doctrine in the Middle Ages appears to have arisen with Sir Francis Bacon (1562-1626), who wrongly claimed that geographers had been put on trial for impiety after asserting the contrary. (Hannam's citation for this is John Henry, Knowledge is Power: How Magic, the Government and an Apocalyptic Vision Inspired Francis Bacon to Create Modern Science, 2003. p.85)
Hannan does add that "there were a few authentic flat-earthers in antiquity, but none among the scholars of the Middle Ages proper."
So why have some historians fallen for the idea of the flat earth idea?
One of the main reasons that some historians have previously fallen for the flat earth idea is because of the existence of mappae mundi (Latin for 'maps of the world') like the famous example at Hereford Cathedral.
Hannan illustrates with the map depicted here. Known as the T-O map, the O represents the ocean that encircles the inhabitable landmass, while the T represents the Mediterranean Sea, the River Nile and either the River Volga or Don. This T sea/river pattern split the landmass into the continents of Europe, Africa and Asia. Jerusalem was usually placed near the centre.
It is easy to assume from such a map that those who drew it thought the earth was flat. But in fact the map was only intended to show the area of the earth that is inhabited.
Image via Wikipedia
The following two tabs change content below.
Neil Godfrey
Neil is the author of this post. To read more about Neil, see our
About page.
Latest posts by Neil Godfrey (see all)
---
If you enjoyed this post, please consider donating to Vridar. Thanks!
---