[This post concludes my review of "Mark's Missing Ending: Clues from the Gospel of John and the Gospel of Peter," by Dr. James F. McGrath. You may want to read Part 1 and Part 2 first.]
Fish stories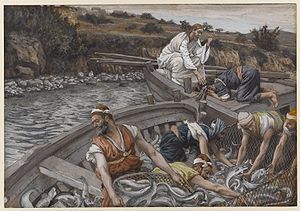 At the end of part 1, I mentioned that McGrath commits the fallacy of relying on other gospels to shape his expectations of how Mark should end and then magnifies that error by looking for clues to the end of Mark's "story" in other written gospels. I had to delay this discussion until now, because I spent so much time writing about oral tradition and "orality" in part 2.
The idea that a possible continuation of Mark's story might be found in the incomplete, apocryphal Gospel of Peter or perhaps in the canonical Gospel of John is not a new one. McGrath reminds us that Burnett Hillman Streeter back in 1924 (The Four Gospels), building on C. H. Turner's work proposed that very thing.
McGrath writes:
Streeter was of the view that not only the story in chapter 21, but also the appearance of Jesus to Mary Magdalene in the garden, were derived from the Gospel of Mark. (See Streeter, 1924, pp. 351-360)
To be fair to Streeter, he presented this notion as a "scientific guess" — a "speculation" he said should not be mistaken for the "assured results of criticism." While he seemed rather enamored of the idea, he acknowledged that it would be difficult to prove.
Streeter thought that the authors of the Gospels of Peter and John were aware of an earlier version of Mark that contained the appearance to Mary Magdalene and the miraculous fish fry on the lake, and that the later evangelists built on those stories. Continue reading "McGrath's "Missing Ending": What Was Mark's Story? — Part 3"