[This post concludes my review of "Mark's Missing Ending: Clues from the Gospel of John and the Gospel of Peter," by Dr. James F. McGrath. You may want to read Part 1 and Part 2 first.]
Fish stories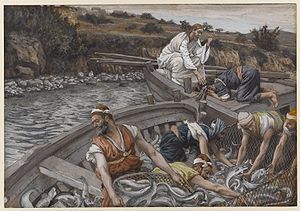 At the end of part 1, I mentioned that McGrath commits the fallacy of relying on other gospels to shape his expectations of how Mark should end and then magnifies that error by looking for clues to the end of Mark's "story" in other written gospels. I had to delay this discussion until now, because I spent so much time writing about oral tradition and "orality" in part 2.
The idea that a possible continuation of Mark's story might be found in the incomplete, apocryphal Gospel of Peter or perhaps in the canonical Gospel of John is not a new one. McGrath reminds us that Burnett Hillman Streeter back in 1924 (The Four Gospels), building on C. H. Turner's work proposed that very thing.
McGrath writes:
Streeter was of the view that not only the story in chapter 21, but also the appearance of Jesus to Mary Magdalene in the garden, were derived from the Gospel of Mark. (See Streeter, 1924, pp. 351-360)
To be fair to Streeter, he presented this notion as a "scientific guess" — a "speculation" he said should not be mistaken for the "assured results of criticism." While he seemed rather enamored of the idea, he acknowledged that it would be difficult to prove.
Streeter thought that the authors of the Gospels of Peter and John were aware of an earlier version of Mark that contained the appearance to Mary Magdalene and the miraculous fish fry on the lake, and that the later evangelists built on those stories.
Reliable sources
For his part, McGrath can't believe John used Mark (i.e., a form of Mark with a longer ending) as a source for the resurrection stories in chapter 21, because the theory does not adequately explain —
"

the Johannine style of these stories in the form in which they are found in the Fourth Gospel

" or
"the awkwardness of having Jesus appear in Jerusalem to anyone after the angel announced that Jesus was going before the disciples to Galilee and that the women told no one."
His first point demonstrates a trend among NT scholars who believe that John "must be" independent from the Synoptics, because he didn't copy them word for word. In Streeter's day, one could find many scholars who thought it quite plausible that the author of the Fourth Gospel was perfectly capable of reading a story in Mark (or of recalling it from a public reading) and reformulating it in accordance with his own style. As Streeter himself put it:
Whenever John adopts a story from Mark, he does so with a considerably greater freedom in regard to language and details than do Matthew and Luke. Nevertheless, except where he is conflating material from Mark with another source, John does not seem substantially to alter the main facts and the general impression. (pp. 351-352)
Of course, Streeter lived in an era of even greater credulity, a time when it was fairly common to believe that Mark was Peter's personal secretary and that John really wrote the Gospel of John (or at least the first draft). However, a great many commonly held beliefs have fallen by the wayside, so the precious few tenuous links to the past need to be clutched in a death grip. We should try to remember this sad fact when scholars compare mythicists to holocaust-deniers. They can't help it; it's simply the anxiety of historicity. They need John to be independent, especially if they're Q skeptics.
As for point two — the awkwardness of an appearance of Jesus "in Jerusalem to anyone after the angel [sic]" told them Jesus was heading north — this sequence of events is exactly what occurs in Matthew's Gospel, and I can't remember anyone ever calling it awkward.
7. Then go quickly and tell his disciples that he has risen from the dead, and behold, he is going before you to Galilee; there you will see him. See, I have told you."

8. So they departed quickly from the tomb with fear and great joy, and ran to tell his disciples.

9. And behold, Jesus met them and said, "Greetings!" And they came up and took hold of his feet and worshiped him. (Matt. 28:7-9, ESV)
What McGrath must find awkward is not that Jesus' itinerary is confused ("Hey, I thought you said he was on his way to Galilee!"), but that he would appear to the women after Mark emphatically writes that they told no one.
A New Orthodoxy
A slight digression is in order here. His second point about "awkwardness," betokens yet another post-higher-critical phenomenon. Today's mainstream NT scholars espouse a New Orthodoxy that, whenever possible, tends to view documents in the New Testament as representing points along the same historical trajectory. A case in point is McGrath's understanding of Mark. Starting from the presumption of a historical Jesus, who was "almost certainly" an apocalyptic prophet-healer-teacher-exorcist, where do we plot the works of Mark, Matthew, Paul, the patristic writers, and so on? Do they exist along the same general continuum, or do they sometimes represent radically different views on Christianity and its beginnings?
New Orthodoxy tends to assume the Gospel of Matthew and the Gospel of Luke are simply expansions of Mark; hence scholars of the New Orthodoxy will recognize stylistic and even doctrinal differences, but they will endeavor to harmonize the historical aspects. They will grant that the view of the Torah differed among the writers. They will agree that the Christology of Mark was not the same as that of Luke or Matthew. They will even concede that some parts, like the birth narratives, are embellishments or pure fiction. But they will continue to assert that all are witnesses to an oral and written tradition, some of which "must" go back to Jesus and his disciples.
The thesis that Mark's Gospel is a relentless condemnation of the disciples and his family, and that Matthew and Luke deliberately subsumed and consumed Mark — i.e., that they took over Mark's story with an eye toward replacing the earliest gospel — makes no sense to a scholar like McGrath. We should not be surprised, then, that Marxsen and Weeden don't even register with him. (We should view his citation of Kelber, which we discussed last time, as an aberration, since he could hardly have found a scholar more diametrically opposed to his views either on the processes of oral and written composition or on the ending of Mark.)
Awkward endings?
Notice that McGrath says he would find it awkward for Mark to have told stories about the risen Jesus visiting people in Jerusalem after the resurrection, since he had relayed his promise to be seen in Galilee. However, he appears to find it not at all awkward for Galilean resurrection appearances to be in "Mark's continuing story" despite an extremely emphatic and disastrous ending. For while many argue that 16:8 is an abrupt ending, it is also clearly a bold, decisive, and arresting ending. It's the final, tragic failure, underscored by Mark's use of the double negative — ". . . they said nothing to nobody, for they were afraid." To follow this verse with the statement that they went and told Peter is more than awkward; it's contradictory. To imagine that Mark's post-gospel story included appearances to Peter and company in Galilee after the final catastrophe of 16:8 is to engage in unwarranted wishful thinking.
I don't mean to single out McGrath. This selective disbelief is common in NT scholarship. Many scholars have written about how they simply can't imagine Mark didn't know about resurrection appearances in Galilee. He "must have" known about them — after all, how did Peter and the other disciples come to believe that Jesus had been resurrected? Rather than take Mark at his word, they would prefer to harmonize his gospel with the other three in the NT. They'll even dig into the Gospel of Peter, if need be. Sure, they'll turn their noses up at Crossan's reconstruction of the Cross Gospel, but the fishing trip in the Gospel of Peter? That's pure gold.
More Harmonizing
And McGrath hasn't finished harmonizing the NT text. What does 1 Corinthians 15 have to say about resurrection appearances? We know Paul "must have" gotten this information from the disciples who "must have" really existed and "must have" passed it onto him. Could it be that Paul's confession that Jesus was seen by the Twelve provides some clues?
Could the inclusion of Judas (either implicitly or explicitly) have been one of the reasons for the modification of the ending?
Modification of what ending, you ask? Well, it's a bit hard to pin down McGrath on this point. Most of the time he seems to be talking about a theoretical ending Mark and his community knew from the oral tradition; however, at some points he argues that we can't close the door on a written ending that was lost or suppressed. If there was a written ending, he muses, it may have fallen out of favor.
It seems fair to state that the ending of the story Mark knew (and may or may not have told in writing) fell out of favor – just as the ending we now have fell out of favor. But if the proposal we have made here about the way Mark's story originally continued is correct, then perhaps there is more that can be said about the reasons why Mark's ending fell out of favor, which may have resulted in, if not the intentional mutilation of the Gospel, at the very least a lack of interest in preserving the continuation of the story.
Was there a written ending? Maybe. Was it suppressed? Possibly. Did lack of interest cause it to be lost? Could be. Was it mutilated? Who can say? Are we covering all the bases? You bet.
The importance of seeing
Finally, McGrath asks whether the ambiguity of the empty tomb story (or stories) in Mark indicates a high premium placed on post-resurrection visions and not so much on the immediate contact with the fleshly resurrected Jesus in the days following Easter. In other words:
[S]ince the women tell no one, the rise of resurrection faith among the disciples in Galilee must derive wholly from the experiences which are usually described as "seeing Jesus."
He continues:
For only a community of believers for whom visionary experiences were an ongoing part of their lives could treat the account of the earliest appearances as something unnecessary to narrate. At the same time, their resurrection faith may well have included a claim that God had rescued Jesus' body from its dishonorable burial in the tomb, however they understood the relationship between that body and their experiences of seeing Jesus.
This terminology — "seeing Jesus" — is a crucial point. The word the young man uses in this case is ὄψεσθε (opsesthe), literally: "you will see." Several scholars over the years have pointed out that Mark uses this same word only one other time, during the Sanhedrin trial when Jesus says, "I am, and you will see the Son of Man seated at the right hand of Power, and coming with the clouds of heaven." (Mark 14:62, ESV)
In his landmark work, Das Evangelium des Markus, Ernst Lohmeyer explains that "you will see" is an indication of the parousia, not the appearances of the resurrected Christ.
Because "see Him" in the Synoptic Gospels and Acts is not the term for appearances of the risen Lord; it is ὤφθη, and Paul has it only once (1 Cor 9:1 [Have I not seen, etc.?]), while John's Gospel with its Easter report, which is in every way his own explanation, has it three times: "I have seen the Lord," meaning appearances of the resurrected One. But even in John (not in Paul, who uses other expressions), "You shall see Him" is the fixed term for the parousia of the Lord, and it comes from the apocalyptic prophecy of the Son of Man, which Jesus used — "You will see the Son of Man (cf: 14:62, 13:26, and 9:1). So this word heralds the appearance of the resurrected One, not with reference to resurrection witnesses, but it speaks of the parousia, which is the ultimate fulfillment of the eschaton. (p. 356) [my translation of the original German, emphasis mine]
As Theodore Weeden explained in Mark: Traditions in Conflict, the young man at the tomb is telling the women that Jesus has been raised to the Father. He isn't out and about in Jerusalem dragging around his battered human body, but has been transformed (or as Neill Hamilton put it, "translated") into the resurrected Christ — raised, exalted, and now sitting at the right hand of God.
"He is not here. See the place where they laid him." These words don't refer simply to the resurrection, but to the fact that Jesus has left the world. Weeden writes:
Jesus is absent! He is absent not just from the grave. He has completely left the human scene and will not return until the parousia! He has been translated (ἠγἐρθη) [citing Hamilton in Jesus for a No-God World] to his Father. There he must await the time when the kingdom dawns in power (9:1) and he is reunited with with his community (13:26-37). (p. 110)
So, contrary to McGrath, Mark's narrative did not imply "a certain ambiguity about the relationship between the body that had been in the tomb and the beginnings of resurrection faith," for it is the very absence of the body that signifies the ending of Mark's story. It's the end of the story, because it is the end of Jesus' presence on Earth. In fact, Mark has shifted the proof of resurrection from post-resurrection stories (cf. Paul "seeing" Jesus) to the young man's announcement, witnessed by three women on the same day Jesus was raised.
Before Mark there is no evidence that the early church ever sought to verify its resurrection faith through recourse to Jesus' empty tomb. Nor is there any hard evidence that the early church ever knew of Jesus' grave being empty. (Weeden, p. 102)
Again, contrary to McGrath, Mark's community did not rely on "seeing Jesus," because they would not see him until the parousia. Now I fully recognize that many scholars simply do not accept this interpretation of Mark's Gospel, but at the very least it has the virtue of using all of Mark and only Mark to explain Mark. We don't have to invent post-resurrection stories from an oral tradition. We don't have to appeal to other gospels — apocryphal or canonical. Finally, we can stop looking for a "lost ending," either written or oral in Mark's Gospel or in his community's tradition.
One sometimes wonders if the proponents of a "lost conclusion" are not more interested in harmonizing the literary and theological characteristics of early Christian literature than with defending the integrity and particularity of the Markan composition. (Weeden, p. 46)
We know the ultimate end of Mark's story. True, it is not the end of Mark's Gospel, but it is foretold in his gospel. The conclusion of the story will be the parousia. When the Son of Man descends on a cloud on the day of judgment, Mark's story will end. In the meantime, Mark's community must wait before they will see him again.
The following two tabs change content below.
Tim Widowfield
Tim is a retired vagabond who lives with his wife and multiple cats in a 20-year-old motor home. To read more about Tim, see our
About page.
Latest posts by Tim Widowfield (see all)
---
If you enjoyed this post, please consider donating to Vridar. Thanks!
---