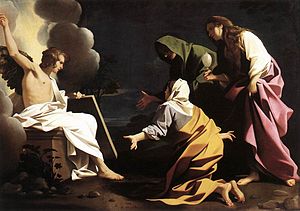 Stopping short
In his paper, "Mark's Missing Ending: Clues from the Gospel of John and the Gospel of Peter," Dr. James F. McGrath asks some interesting questions about the last chapter of Mark and what "story" the author may have understood to lie beyond it. This sort of question reminds me of the difference between the larger story arc of a character's life in a play or film and the limited, internal story within the work itself. We have the backstory of the characters leading up to the opening scene, and we often also wonder what will happen after the curtain falls.
Mark's Gospel, like many stage plays, covers a focused narrative that depends on our familiarity with a rich backstory (the entire OT?).  And similar to many plays based on well-known myths or historical events, we know (or we think we know) what will occur afterward. So the question at hand is, "What did Mark think happened next?" Surely such a question is legitimate, since the story of the early Christian church presumably begins somewhere in the murky shadows beyond the grave in Jerusalem. How did the early church emerge from two silent, terrified women?
McGrath's paper addresses four major questions.
Why do we perceive the short ending of Mark to be problematic?
Why might Mark's original audience not have thought it was problematic?
Can we find clues to the ending of Mark's Gospel (beyond the written ending, that is) in the Gospels of Peter and John?
Does the ambiguity of the empty tomb story in Mark point to a greater reliance on religious experiences in Galilee that gave rise to the belief in the resurrection?
He must have died while carving it . . .
[youtube=http://www.youtube.com/watch?v=XiT_5cr3tYI]
Just to be clear here, McGrath is not talking about a written ending that somehow got lost or was mysteriously suppressed. Nor does he posit that Mark died in the middle of chapter 16 — ". . . for they were very afraid — Aaaaagh!" Most modern scholars now believe Mark's Gospel ended at 16:8 (often referred to as the Short Ending or "SE"). McGrath is asking what the author of Mark and his community believed happened after the disciples had scattered. That is, what happened once the curtain fell on the final scene with the women too afraid to tell anyone what had happened?
McGrath reminds us that at one time a majority of scholars held that the "real ending" of Mark was lost. To his point, let me remind you that in 1963, Bruce Metzger wrote in The Text of the New Testament:
But did Mark intend to conclude his Gospel with the melancholy statement that the women were afraid (ἐφοβοῦντο γάρ)? Despite the arguments which several modern scholars have urged in support of such a view, the present writer cannot believe that the note of fear would have been regarded as an appropriate conclusion to an account of the Evangel or Good News. (p. 228)
A sea change in NT scholarship occurred in the last quarter of the 20th century that swung the consensus around the other way. McGrath writes, "It was the shift of focus onto narrative approaches to the Gospels that led to the change in the consensus about Mark's ending." I cannot disagree with this assessment; however, I must point out that McGrath has neglected to mention a significant group of critical scholars in the early part of the last century who presented fascinating arguments in favor of the Short Ending, explaining why it fits with the overall message of Mark's Gospel.
Airbrushed out of history
A novice could read McGrath's paper and come away thinking that the SE was a complete mystery until the narrative critics came along and explained 16:8 as an "open-ended invitation to the reader." But that just isn't so. R H Lightfoot, Willi Marxsen, Norman Perrin, and Theodore Weeden had already offered a simple, persuasive idea: That the young man at the tomb was inviting the reader to come to Galilee to see the parousia, not to witness some random resurrection events with Jesus performing parlor tricks.
Yes, it was indeed narrative criticism and reader-response studies such as Robert M. Fowler's Let the Reader Understand that gave conservative scholars a fig leaf, a sophisticated way to explain an ending that makes them very uncomfortable. But it's quite telling that certain major-league scholars are ignored today because their conclusions are too troubling — not cited and refuted, just ignored. Where Metzger had relegated them to the footnotes, today's scholars simply airbrush them out of the photograph. I'll have more to say about this subject later on.
Why is the Short Ending "problematic"?
Even with the fig leaf of sophisticated narrative criticism, we're still left with unanswered questions about the seemingly abrupt ending. Rather than leaving Mark's Gospel "open-ended," McGrath says:
In fact, it is possible to reach the opposite conclusion: these words bring about an abrupt and awkward closure to the narrative, not least because, if they are true, then there is no way we could possibly be reading that particular part of the story. [emphasis mine] To quote Robert Fowler, "The story in Mark's Gospel seems to preclude the telling of Mark's Gospel." (Let the Reader Understand, p. 250)
I find this argument a bit odd from both McGrath and Fowler. If I'm following their reasoning correctly, they're saying that the fact the women never told anyone should mean that no one ever heard the story of the empty tomb. Yet Fowler himself describes in detail the narrative "stance" of the author of Mark. He is, if not omniscient, at least "unlimited or unrestricted" (see p. 64). He knows things that we would expect no mere mortal could know.
Not even Jesus knows as much as our narrator; we may wonder whether God knows more. (p. 65)
A godlike narrator such as Mark could surely know what the young man told the women at the tomb, whether they ever told anyone or not.
So does the dissatisfaction with the SE stem from our concern over how, when, or if the disciples got the message to return to Galilee? No, says McGrath, since the order to return is a reminder of what they were already told in 14:28:
"But after I have been raised, I will go ahead of you to Galilee." (NASB)
At this point, McGrath addresses the issues surrounding 14:28. Critics have long known that verse 28 was awkwardly wedged in by a redactor. Given that the oldest versions of Mark contain this redaction, the likely explanation is that the evangelist himself is the redactor, inserting the prediction into his traditional material at 14:28, and echoing that very prediction in 16:7:
"But go, tell His disciples and Peter, 'He is going ahead of you to Galilee; there you will see Him, just as He told you.'" (NASB)
The Fayyum Fragment comes into play here, since verse 28 appears to be missing from the text, although the papyrus is badly damaged and it could be an abridged version of Mark. McGrath rightly points out that Matthew copies Mark here, indicating that his version of Mark's Gospel (presumably with the ink still wet) already contained the words in 14:28.
As Willi Marxsen explained in his landmark book on redaction criticism, Mark the Evangelist, the insertion of "Galilee" and the reminder "as he told you" come from the author himself. Mark added it to his source material. In fact, we should see the two verses as a doublet, each pointing to the other. They "stem from one saying whose original form would be better preserved in 14:28." (p. 88) A New Testament scholar of McGrath's caliber can hardly be unaware of the late German scholar's work, so we might wonder why he chose not to cite Marxsen.
Yet even with the somewhat comforting realization that Jesus had already told the disciples he would see them in Galilee, it's difficult to reach the end at 16:8 and not feel a sense of incompleteness. (Perhaps "somewhat comforting" is an overstatement; after all these are the same disciples who misunderstood nearly everything they were told.) Even if we take the young man's command as an open invitation to us, the reader, it still feels like an abrupt ending in Jerusalem, not a fresh beginning in Galilee.
McGrath's thought experiment
At this point, Dr. McGrath asks us to imagine the ending of Matthew with Mark 16:8 tacked on.
". . . And surely I am with you always, to the very end of the age." But they said nothing to anyone, for they were afraid.
Would that be an open-ended gospel? McGrath writes:
On the contrary, in the context of Matthew's Gospel, this would represent an abrupt closure, one that undermines the very story being told. For unless someone went and told, how can we now be reading about what happened, much less be invited to participate ourselves?
The effect is not the same, of course, since in Mark's Gospel, Jesus never appears in the story after he is laid to rest by Joseph of Arimathea, and the disciples never appear again once Peter denies Jesus for the last time. So I would argue that in Matthew's Gospel it is a confusing non sequitur, while in Mark's Gospel it is one final indictment against a group of followers who failed Jesus at every turn. In one last ironic twist, Jesus, who had been telling people to be silent throughout the narrative only to be disobeyed, now asks the women to deliver the good news to the disciples.  But they disobey and remain silent.
McGrath is not so pessimistic as I am. He finds solace in the fact that the disciples had already been told that they will meet him in Galilee back at 14:28. Perhaps they will stumble home without even thinking too much about it.
The problem, McGrath asserts, isn't that we worry nobody will ever get the message; the problem is rather the "the abrupt character of the ending." In a nutshell, we find it abrupt and unexpectedly dissatisfying, because he says, quoting Donald Juel, "As readers, we have been led to expect something other than verse 8 [of chapter 16]."
Great expectations?
However, none of us who are familiar with the Gospels can say for certain that Mark's Gospel leads us to expect something more than the ending at verse 8. For one thing, in my childhood I never even knew that it should end at verse 8. I read Mark in the King James Version, never suspecting it was incorrect. Furthermore, I knew the other three gospels ended with resurrection appearances, followed by (at least in Luke and Acts) the ascension.
Now each time I read the Gospel of Mark I try to imagine what it was like in the first or second century to hear it for the first time — with no preconceptions of what a gospel is supposed to be. I try, but I can't do it. I know how Matthew, Luke, and John end, and I can't help but think something is missing.
But this is exactly what Juel and at least to some extent McGrath appear to be missing. The first hearers of Mark's Gospel probably understood it in a way that we will never quite be able to capture. On the other hand, we are always going to find it strange, because we're all too familiar with the long ending of Mark and the resurrection stories in the other gospels.
In the next post (part 2) we'll see how McGrath compounds the error of judging the story of Mark by using the expectations and criteria derived from other gospels when he looks for clues in the Gospels of Peter and John to find out what happened after Mark laid down his pen.
The following two tabs change content below.
Tim Widowfield
Tim is a retired vagabond who lives with his wife and multiple cats in a 20-year-old motor home. To read more about Tim, see our
About page.
Latest posts by Tim Widowfield (see all)
---
If you enjoyed this post, please consider donating to Vridar. Thanks!
---